How to grow "LOVE" ??

1. Pick a good heart
2. Plant it in a bucket of Trust
3. Water with Care & Good thoughts
4. Add some Romancing occasionally
5. Remove the misunderstanding leaves
Ingredients of LOVE
Understanding - 4 Cups
Caring - 200g
Forgiving - 1 Packet (frozen)
Unsalted Romance - 375ml
Hugs - Handful
Sweet Kisses - 2 Tsp
Love - Lots
*add some sprinkling of magic to make it special
HOW TO 'MAKE LOVE' ??

Ingredients:
4 Laughing eyes
4 Well-shaped legs
4 Loving arms
2 Firm milk containers
2 Nuts
1 Fur-lined mixing bowl
1 Firm banana
[U]'r3 [B]eInG [L]oVed [B]y [M]3

snow fairy at 23:15;













I have installed my wirless modern le....Woke up at abt 10.30am to prepare liao and get my ass seated to wait for the arrival of the technician...He came abt 11am bah...he faster faster chop chop done wif the configuration...The wirless modern is amazing..in future i dun have to click any button to connect...it will perform auto connecting by itself...after the technician left, i went back to my dreamland cos still feeling tired...2hr later, i received a call frm dear asking me to wake up and go out for lunch...so there i went to doll up myself and meet him....

Went Suntec City...*haiz*..The National Parade is causing alot of trouble to those who dun fancy tis kind of shit...Road closure everywhere near there...Traffic jam here and there...Suntec was juz in front and yet we have to travel a very big round in order to get there..so near but yet so far away...Y can't they have their shit performing at the Kallang Stadium??

Went for a movie 'The Island'...it was action packed, entertaining and interesting...a nice one i should say..rating: 4/5...*thumb up*...Went for our dinner after the movie..There is where all our walking started...Went Cafe Cartel @ Suntec...wanted to order their Pork Rib tat my dear wanted but is out of stock at their store..so we decided to walk to the Marina Square branch..too bad they are out of stock too...so again we decided to walk to the City Hall branch to try out luck there...*haha*...god is playing trick on us...they are out of stock too...*gOsh*..in the end we had Subway for our dinner...the best part was we have to again walk all the way back to Suntec cos we parked our car there...my day end wif a real gd walking exercise...kinda tiring...

'Knock Knock'..i'm heading to my dreamland le...will be meeting my dear tomolo for our sunday routine...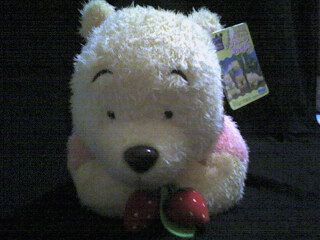 Oya...tis is my 11th Disney Soft toy(Winnie the Pooh)...Got it from Suntec today...
[U]'r3 [B]eInG [L]oVed [B]y [M]3

snow fairy at 00:11;

___________________________________

me2y0u@singnet.com.sg ...Note: the word '0' is a ZERO instead of an alphabet 'o'...Love tis userID till bits...

Juz got my hair done...so nice and is kinda costly ($45) too..my dear foot the bill for me first...*gosh*..cum to think abt it..i haven't return him the $$ yet...i guess the manager there like my dear alot...gave him a membership cum discount card..if i'm not wrong is a 10% discount...*haha*...i can used it too...

i din went to the ZOUK event...sumhow i feel like going but sumhow i feel sianz so tomolo i still have wake up quite early...i need my beauty sleep very much..always din really get lot of slp during weekdays...




[U]'r3 [B]eInG [L]oVed [B]y [M]3




snow fairy at 22:57;













Blogging in the office rite now...*keke*..din do much work today...so relax...Went for a detour wif my boss in the afternoon cos we are having an event today...a spot Pioneer decal event(surf & win)....a total of 60plus pioneer car will be touring ard Orchard Rd, Suntec, Sherton Way, Padang rd and etc during lunch time and also after working hrs...and follow-up wif a happy hrs event at ZOUK...tis is to create our company brand image & also awarness...abt 90% of the staff participated...sum sending out SMSs, sum help out wif the lunch cathering, preparation and etc...

Going to knock off soon le...will be meeting my dear for a hair cut later at bugis....*haha*..we will sure to go to the amusement centre again...still thinking whether if i should go for the ZOUK event anot..my colleagues keep asking me to go...*haiz*..i will c how then....

Tried to log in into my Singnet account yesterday but sad to say tat i can't...Call the technician support and then i realised tat i have done the wrong steps...so will be going back hm later to try again and c how it goes...Was damn boring yesterday w/o any internet service...Nothing much to do so i did manicure..a very simple & plain one cos now my nails are still quite short....(all bcos of my company bowling event tat caused my nails to chip)...

Check it out!! Great prizes to be won...Register before 1st Aug, 12pm... http://www.pioneer.com.sg/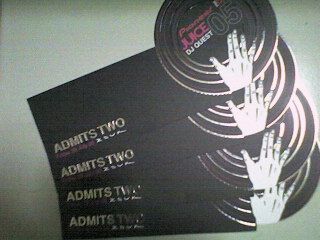 Admission tickets..*keke*..i got 4 sia..It's free...Free-flow till 11pm...
Close-up look
[U]'r3 [B]eInG [L]oVed [B]y [M]3

snow fairy at 17:55;

___________________________________



Checked my bank account through ATM machine today...haiz...realised tat i had overspent for tis mth...*ooH mi gOsh*...my bank suffered from a serious downfall...It was so obvious...sumtimes really feel tat i kinda spendthrift...always buy this & tat...Guess i have to control myself after the clock hit 12am today($$$ day)...i gotta freeze my saving le...

oOk le..knocking off in another 5mins....Gonna pack pack and go back hm for dinner le...




[U]'r3 [B]eInG [L]oVed [B]y [M]3




snow fairy at 17:49;

___________________________________


i'm not suppose to care,
i'm not suppose to live my life
wishing you will there,
i'm not suppose to wonder
where you are or what you do,
i'm sorry
but i cannot help myself cause
i'm in love with you.




[U]'r3 [B]eInG [L]oVed [B]y [M]3




snow fairy at 17:55;

___________________________________





Friday



Meet my dearie after my work...Went Causeway Point again...Cos i told him tat there're Eflin Cupid catcher machine there too...He's so excited and wanna have a look at it..The first thing when we reached we headed straight to the amusement centre...*haha*...After spending less than $10 we got ourselves a 'Mickey Mouse"..*lalala*...i got a pair of Mickey & Minnie Mouse le...My wish came true...Had our dinner at Mos Burger...After dinner, we went back to the centre again and tried our luck if we can get another one..*we are so GREEDY*...After spending after $30 we gave up...Went hm wif only my Mickey Mouse...



Saturday & Sunday



Did nothing much tis weekend...Dear got his car audio & iPod fixed..It look nicer now...Watched the movie 'Fantastic 4'..ErmM...is a very very so-so movie..dun really enjoy it very much..find it kinda boring...Rating: 2/5..Went for late dinner and off we went hm sweet hm le...A routine Sunday for me...Once again my dear got me a 'Pigglet'....*Love it so much*....In return i bought him a GUESS watches tat he wanted...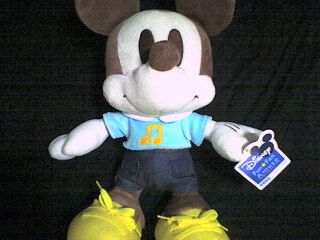 my 9th Disney Soft toys from Causeway Point...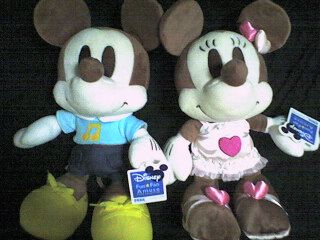 It's a pair of Mickey & Minnie Mouse..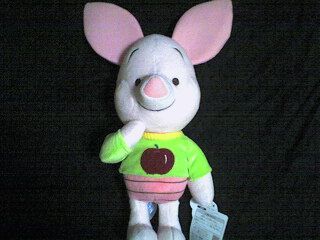 my 10th Pigglet @ Plaza Singapura..Isn't it cute??
Random Photo Updates...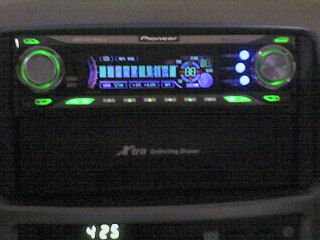 The new car audio inside my dear's car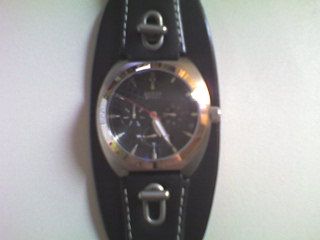 The GUESS watches tat i bought for him..
Tis love charm was given to me by Violet...She got it from HK and she hoped tat my love life will be a smooth & happy ending ones..Thank you so much..Love u, bitch!!..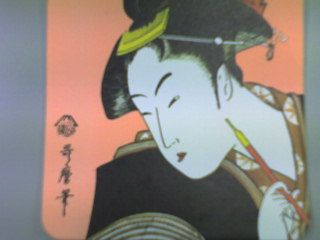 Tis is given to me by my BOSS..Bought it from Japan..A Coaster...

Tis is from Japan oso...Given to me by my colleague who went Japan wif my BOSS...so cute..


my dear's toy collection..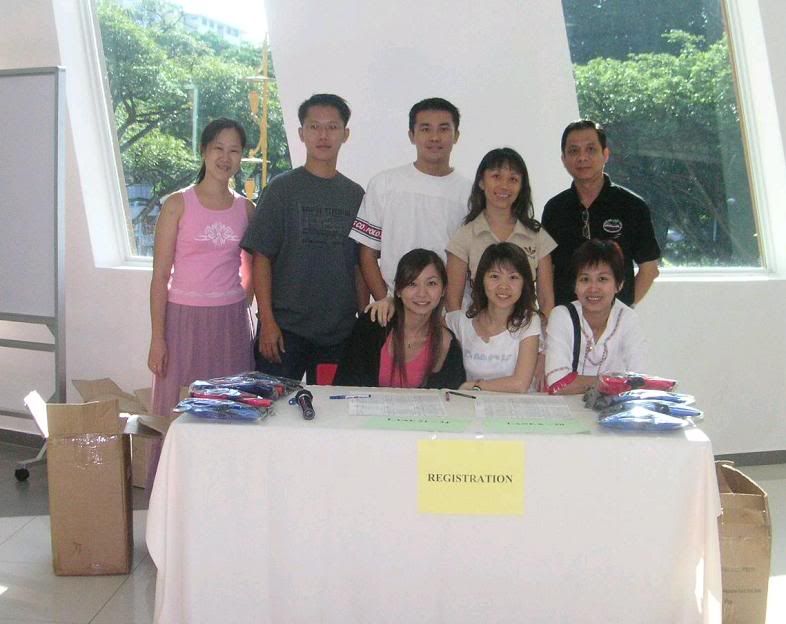 my Company Bowling Committee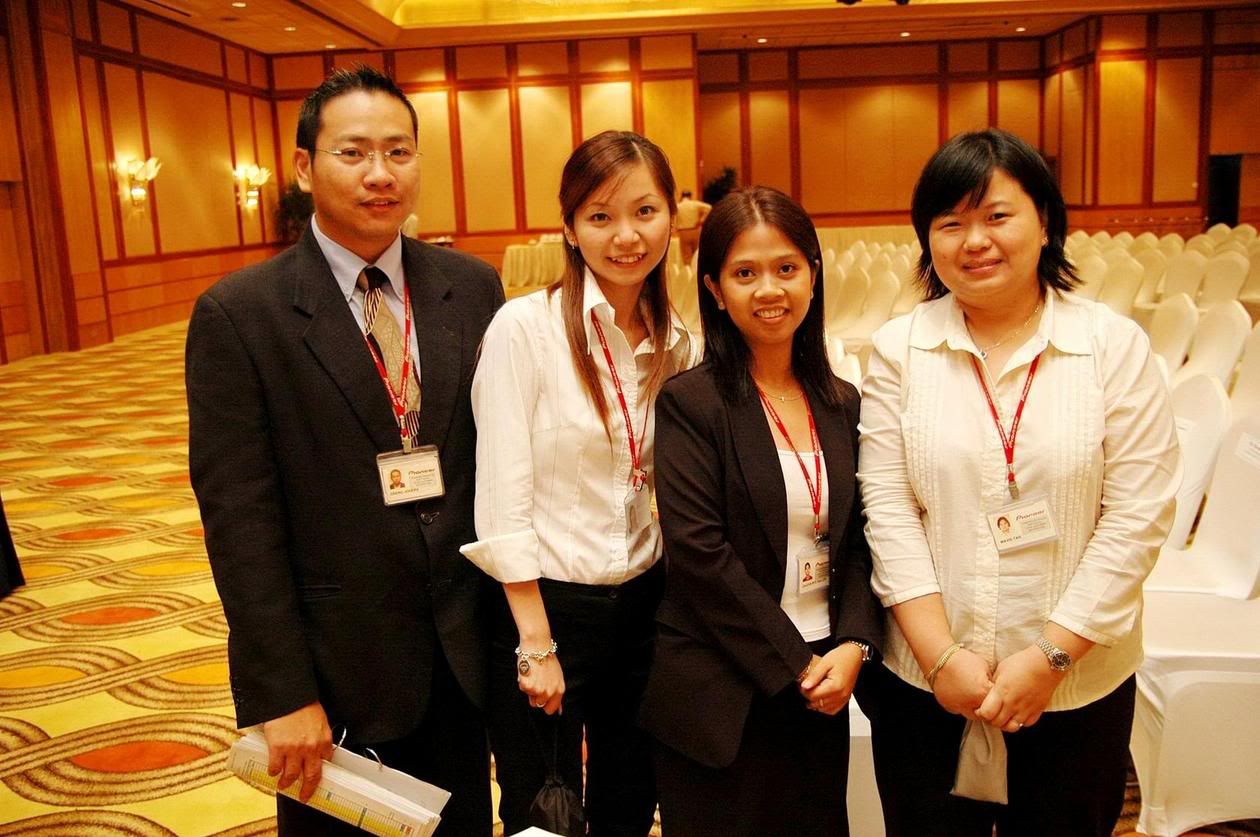 Photo taken wif my dept members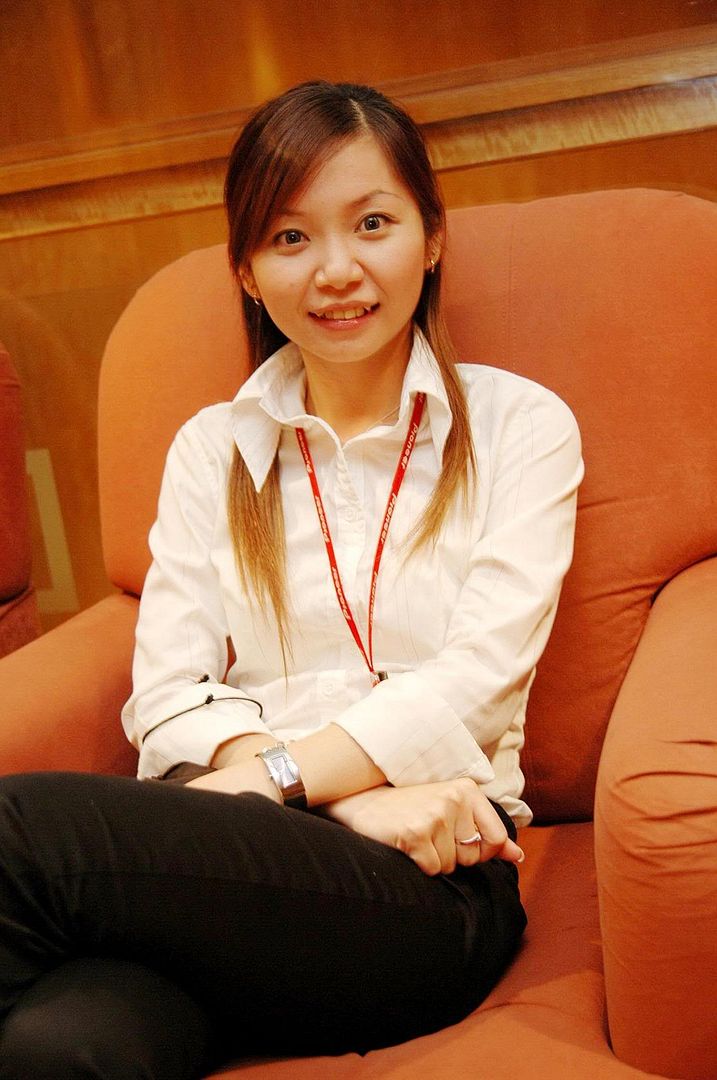 Myself @ Supplier Conference Meritus Mandarin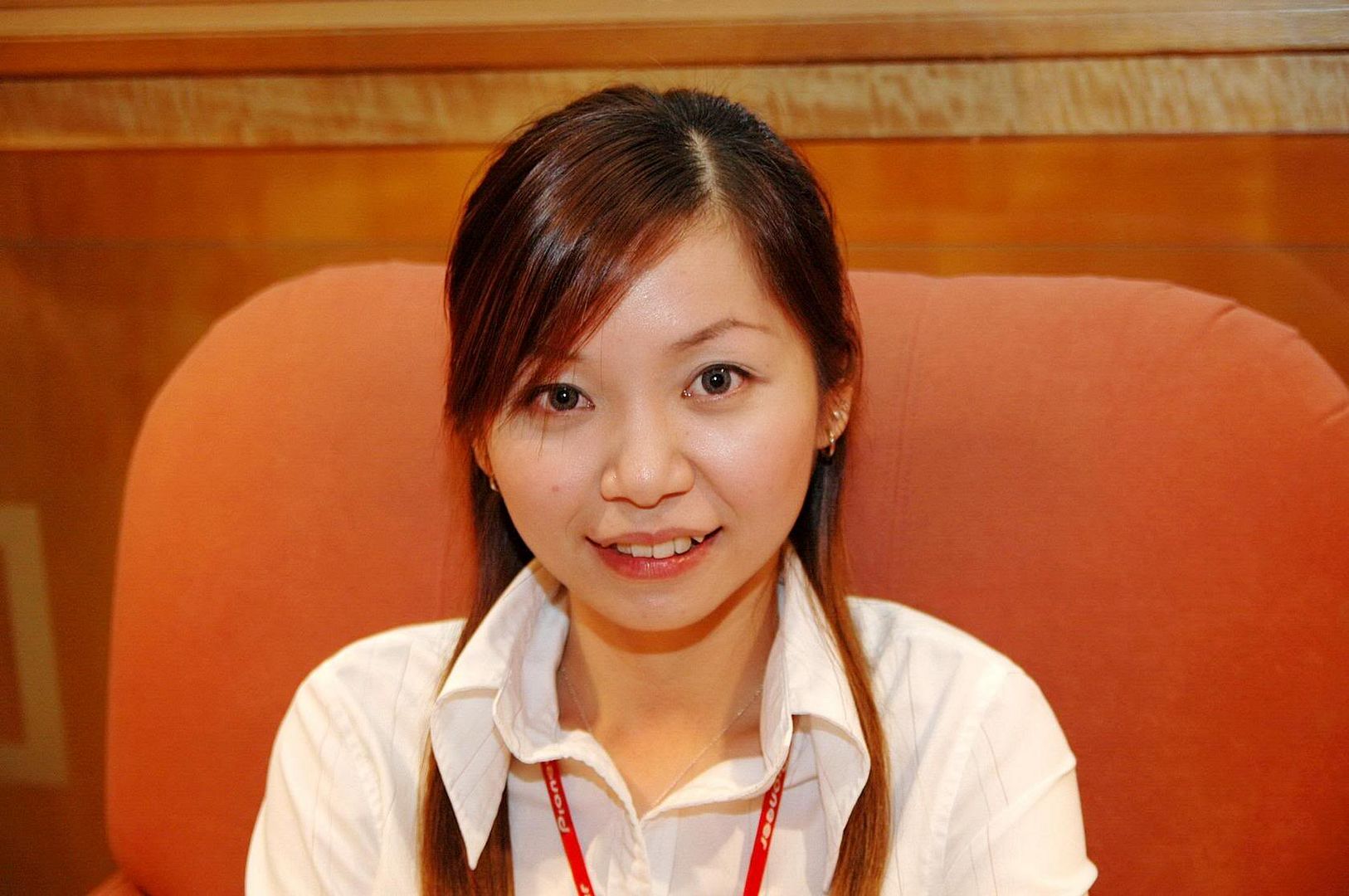 Close-up
[U]'r3 [B]eInG [L]oVed [B]y [M]3

snow fairy at 22:29;

___________________________________



Today at work is a boring one...Have been weeks tat i'm doing the updating of the survey form for our Supplier Conference...having phobia over it..*Ooh mi GosH*...Now trying to eat sum snake..slack here and there..*haha*..blogging my way....encounter sum problem wif my staff purchase...have to do sum checking b4 i can confirm the buying if not buy liao i scare it cannot be installed into my dear's car...Haiz...so troublesome to juz install a car audio set, iPod adaptor and a din pocket..if everything goes on smoothly, we will be installed it tis cuming Saturday...




[U]'r3 [B]eInG [L]oVed [B]y [M]3




snow fairy at 16:29;

___________________________________



Had been pondering abt sum stuffs recently...sumthing related to BGR....dun knw how to explain but it kinda floating in my brain..i dun knw y...maybe is bcos wat i see from my babelicious is tat their relationship din turned out smoothly as wat they expected...i kinda scared it a way...Dun worry!! Nothing cum in between us....but i din knw wat i actually scared of...maybe i'm scared tat one day our love juz fade off or maybe i'm scare tat our relationship won't lasts...which i dun wish either one to happen...i guess i'm emotional over tis issue...but i'm sure tat my love towards him is getting stronger & stronger each day...*mushy mushy*

'Ding Dong'..Going back to work le...Sianz...Monday blues...

Beautiful Quote tat i saw recently....find tis meaningful...

No person will purposely have a change of heart. At the point in time when he loves you, he really loves you. But when he doesn't love you anymore, he really doesn't love you anymore. When he loves you, he can't pretend that he doesn't. Same goes, when he loves you no more, there's no way he can pretend he loves you.

When a person doesn't love you and wants to leave you. You must ask yourself if you still love him. If you also don't love him anymore, do not keep him just to save your pride. If you still love him, you should wish him happiness, and hope that he will be with the one he loves most, not stop him from it. If you stop him from finding true happiness with the one he loves, it shows you already don't love him, And if you don't love him, what rights do you have to blame him for a change of heart?

Love is not possessive, if you like the moon, you can't just take it down and put it in your basin. But the moonlight still shines upon you. In other words, when you love a person, you can use another method of possessing the person. Let him become a permanent memory in your life. If you really love a person, you must love him for what he is. Love him for his good points, and the bad. You can't wish for him to become like what you like him to be just because you love him. If he can't change to become what you like him to be, you don't love him anymore. When you really love a person, you cannot find a reason why you love him, you only know that no matter when and where, good mood or bad mood, you will wish to have this person be with you.

Real love is when two people can go through the toughest problems without asking for promises or listing criteria. In a relationship, you have to put in effort and give in at times, and not always be on the receiving end. Being away from each other is a type of test. If the relationship isn't strong, then you can only admit defeat. Real love will never become hate.




[U]'r3 [B]eInG [L]oVed [B]y [M]3




snow fairy at 12:52;













Did nothing much tis weekend...Everything was in a routine basis...Watched movie, played UFO catcher, shopping and blah blah blah...but I juz feel kinda great..*keke*..maybe is bcos wif my dear by my side bah...my dear got me two new soft toys on Saturday...One Marie Cat from Plaza Singapura & One Minnie Mouse from Bugis which I long wanted to have it sum time ago..Yup..Two in a day..*haha*...Din really spent a lot on these two...Less than $30 bah...We were juz been lucky...*ho ho ho*...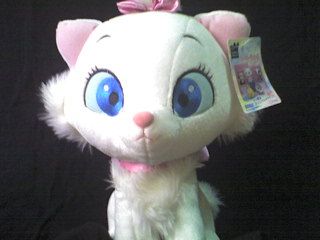 my 7th Disney SEGA Soft toys Collection...Marie Cat..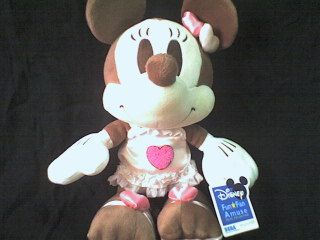 Luv this so muchz...How I wish to have the Mickey mouse too...so tat I can make up a pair...*shan so greedy*...
The first Minnie Mouse tat my dear got for me @ Bugis beginning tis month..hahah..Spent nearly $100 on this...
[U]'r3 [B]eInG [L]oVed [B]y [M]3

snow fairy at 00:15;

___________________________________


To me, Tis is a shame of our national...Felt cheated and TL in a way...although i seldom donate but i juz feel there's no justice or fairness and my dear have juz made a donation last sunday...and now tis news came out...Can we dun pay?? NKF organisation had misused the money that we folks have donated..In the end i'm thinking had our money been donated to the needy or to the CEO of NKF Mr Durai who earn himself a annual salary of $600,000.Is this excessive?? The most TL part was tat Ms Goh commented tat his salary was juz a peanut...Yup!!Yup!! A tiny little peanut to her...OOh mi gosh...A peanut...then wat's ours?? I never ever dare to wonder when will i have a chance to own such amount on hand...i guess never in my whole life will i earn tat much or own tat much of $$....Lots of ppl participated in the petition, sum comments tat they will not donate any single cents to NKF anymore, sum donors had even withdrew their monthly GIRO contribution...In my heart, seriously i feel tat the only victim in this whole incident will only be the patient itself...

My day started wif a stinky guy tat i met on the train..damn smelly till the max that i wish to get out but in my heart i'm thinking, i'm already going to be late if i will to step out i sure to be even more later...left wif no choice i have to squeeze myself to the other side of the train...i juz simply dun understand y am i so suay...always kanna stinky guys by my side when i'm in the train recently...damn sad...i'm not being mean but i really cannot stand their smell...(i guess they dun bathe before they are out to work)..Ooh mi gosh....i hate it..Pls help me!! Can everyone of you bathe before you are out to work?? Give my nose a peace....

Met my babelicious last nite after my work @ bugis for dinner & oso gossiping...Meet Tine for shopping first as Fie will be late...Got myself a sum lingerie...*love it so much*..*keke*..after tat, fie came so off we go for our dinner...after dinner we are on my crucial topic..a listening ear to their sorrows...Feel sad for the both of them..hope tat they will get over it soon and have a better relationship in their near future...

Yup!! Tis thing juz slipped into my mind...Happy 23rd Birthday, Jolin..have a great day today wif yr loved ones bah...Stay pretty & of cos sweet always...




[U]'r3 [B]eInG [L]oVed [B]y [M]3




snow fairy at 10:55;

___________________________________
[U]'r3 [B]eInG [L]oVed [B]y [M]3

snow fairy at 21:23;

___________________________________



Two bad news have been announced to me yesterday nitez...Fie & Tine both broke off wif their bf...Both fall on the same day..kinda sad to receive their calls or msgs...both couples supposed to be a lovely ones...but din expect things to have such a sudden changes...Can't really do much help to it but to lend them a listening ear...Feel free to call me, k?? Do hope tat u both can get over it real soon...




[U]'r3 [B]eInG [L]oVed [B]y [M]3




snow fairy at 21:32;

___________________________________



Meet my dear after work to Bras Basah to collect my medals...It was nicely done, glad tat it look great...*thumb up*...When i saw it, i was feeling tat another big stone have falling down frm my shoulder....but i have to carry it to office tomolo myself..haiz...damn heavy leh..*think abt it first*..Went Bugis after tat, guess wat?? Again off we went to play UFO catcher...When we reached there, there was a grp of ppl playing le..They look pro cos they actually have big bags of soft toys wif them...Overheard tat they actually spent $150plus and they still haven't get it(Minnie Mouse(big version))...They keep on trying & trying like mad and we keep on watching & watching..In my heart i'm thinking, when will i have the chance to touch tat machine... Tis time round they have nicer soft toys..*keke*..Btw they always have nice soft toys..but only tat most of the time was different pattern of Winner the Pooh, Donkey, Tigger...tis time was Minnie Mouse...(big version & small version)..i was excited sia...cos i wan Minnie Mouse badly..so i din stop my dear frm changing...*haha*...Knew tat we din even have a single chance to touch Minnie Mouse (big version) so we try our luck for the small version...*keke*...Guess wat?? we got it after we spent abt $14(on tat day itself only...Earlier on we had already spent $50plus)...i will god damn happy...thks, dear...

Leave Bugis and headed back his hse for dinner...Slack awhile and off he sent me back hm le...Now heading for my dreamland...




[U]'r3 [B]eInG [L]oVed [B]y [M]3




snow fairy at 23:14;

___________________________________



Went shopping wif VioLet after sum OT @ work today..Finally i got my GUESS watches leh...The black one wif the 'GUESS' word in it..so happy...yesterday have iPod..today i got my GUESS watches...Hurray!!Hurray!!...Walked ard Orchard but too bad...Nothing much to buy...Went back quite early cos both of us tired tired liao le...Dear is still feeling upset over wat happened yesterday regarding the UFO catcher...Next time i will stop you from changing hor...

Gtg and iron my clothes and chat awhle more wif my dear and i'm off to bed le...




[U]'r3 [B]eInG [L]oVed [B]y [M]3




snow fairy at 23:37;

___________________________________



Headed back to my dear's hse...and i fall aslp..i was so tired...had my dinner and off i went hm sweet hm le...cos my dear have to go sch tomolo liao...

Received a msg frm Effie saying tat she broke off wif Ugene le...I'm so shocked...She dun wanna us to call as she scare she might cry...Msg her but she did not reply..Ooh mI gosh..Juz hope tat she will be alrite...



--------------------------------------------------





Saturday



Meet my dear & remus at my area and off we went Town to have our dinner while waiting for Huishi to knock off at 9.30pm....Had our dinner at Cafe Cartel...I tried the Hawanii Pork Chop..So nice tat i finished it..Dear was so surprised...As usual, my dear got his all time favourite Pork Rib same as Remus...After dinner went Takashimaya cos i wanna show dear which design i wanna buy..Try only cos i'm going to buy at CK Tangs (i got a $70 voucher there)..Dear said tat is nice...Dear eyeing on a GUESS watches too...not much time left so never headed down to Tangs...Dear said we will buy tomolo...cos he might be getting either a Levis jean or the GUESS watches...

Catched the movie 'Wars of the World' at GV plaza...Can only get the mid-nite show..gd seats, gd location..*lolX*...After movie went supper at Kelock Road..Prata again..Couldn't finished maybe dun really feel like eating bah...Ended our day wif prata le...Reached hm...bathe and i fall aslp straight...so tired...



[U]'r3 [B]eInG [L]oVed [B]y [M]3




snow fairy at 23:58;

___________________________________



Watched Inital D again in the cinema at JB...Mega Pavilion...Cantonese version leh....Dear fetched me @ work and then to Woodlands centre to park his car..Yup!! we'r not driving me..cos not very familiar wif the road there so better not...Travel there by bus, queued at custom...There's so many ppl there, maybe peak hrs bah...Reached JB and off we chop chop go n buy tickets le..scare tat no more tickets..Bought our tickets showing at 9.50pm but the seats is abt 4th rows to the screen....First time watching movie outta Spore..same goes to my dear...The tickets there selling damn cheaper..RM10/person on weekends only...

Headed straight for dinner...*shan hungry hungry liao le*....After dinner, we went shop shop as we have so much time left..but nothing interest us...haiz..juz too bad...Juz feel tat JB City Square is juz so pathetic..There's no other fast food beside McDonalds, no ice-cream cafe beside McDonalds, No entertainment center, etc...

Anyway finally it's abt time for movie...The cinema concept is sumthing like Golden Village in Singapore...The movie turn out to be not bad for cantonese version..their cantonese damn power...sum i din even understand at all cos they either spoke too fast or too chiam...Main purpose for watching it again in Cantonese version is bcos of Jay Chou..*keke*...finally got a chance to hear him toking in cantonese...His cantonese is actually not bad...heard frm others tat the role Takumi in movie is very similiar to Jay in real life, a man of few words....Jay's acting not bad not bad...but at least no one felt like throwing tomatoes..*lolX*..

After movie off we went hm sweet hm le...Fall aslp once i finished bathing...wat a tiring day for me...




[U]'r3 [B]eInG [L]oVed [B]y [M]3




snow fairy at 15:56;

___________________________________