[U]'r3 [B]eInG [L]oVed [B]y [M]3

snow fairy at 00:55;

___________________________________



Browse through the website on Tokyo Disney Resort...oOh my...Entrance fee to DisneyLand and DisneySea is separate..*sianz*...To either go DisneyLand or DisneySea is about SGD$80 for a day passport...


Here are some of photos taken during Tine's birthday






The Birthday Gal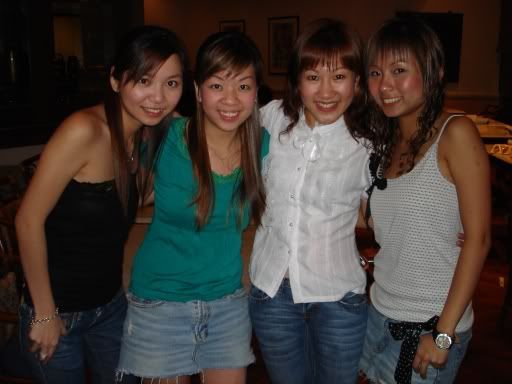 My babelicious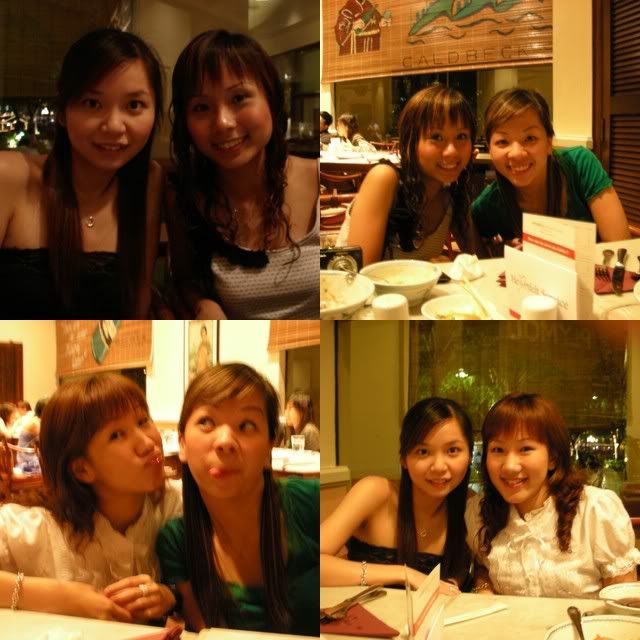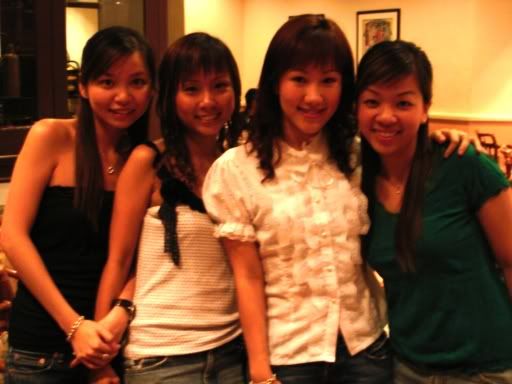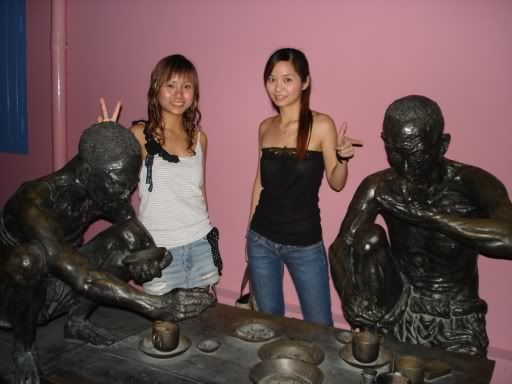 We are having fun...


[U]'r3 [B]eInG [L]oVed [B]y [M]3


snow fairy at 23:08;

___________________________________



Did nothing much for the day..Slept till early noon...Got up, bathe, doll up and off we went Orchard for our lunch...Headed Taka but that area was congested..All thanks to GSS...The whole shopping mall was so different...was crowd with shopper around..Bought a new born disney blouse my sister's daughter..She's giving birth soon...somewhere early July..

Shopped around and later we decided to leave Orchard and headed to Causeway Point for some entertainment and dinner..Got a Disney Princess pack from a game that we played from 'A big sweet land'...This game was fun..Objective is to hit Jackpot and you will get a special gift...Spent around $20 and we got it...Home sweet home at about 9pm+...

Saturday

Woke up at about 3pm..Called my boy and he's still sleeping..Faster got up, get prepared and headed for our 'lunch'at Jurong Point...Had our so-called lunch at about 5pm...Walk around and headed to NTUC...Bought some drinks and a tub of Ben & Jerry's Ice cream - Chocolate Fudge Brownie'...*Yummy Yummy*...Then headed back home to slack...

Friday

My boy fetch me afer my work..Headed to Sunetc for dinner and movie...Catched the movie 'X-Men III'..Rating: 3.5/5..Not bad after all..This movie was good but a little disappointing..I expected more from it...So many of the X-Men died so easily...







[U]'r3 [B]eInG [L]oVed [B]y [M]3


snow fairy at 22:39;

___________________________________



I'm going Japan Tokyo next month...Free & Easy 6D5N...

A last mins holiday urge...Yeap!! Finally one wishlist down....There's alot of research to be done before heading there...sourcing of cheap airfare, hotel, city map, station map and loads more...First of all, airtickets...Just confirmed and booked my tickets through the internet..Surprisingly, airticket to tokyo was moderate and what costs it to be expensive was actually the fuel taxes, airport taxes, passenger facility charges and etc surcharges..they are nearly half of my airticket cost...Even though i managed to get a better price which is afforable but i still want to complaint...Those extra costs are getting higher and higher...How i wish time will stay at those days that there's only a standard flat rate of $39/pax for airport taxes and surcharges...

As for the hotel, staying in tokyo really cost a bomb...a 3 star hotel @ $180 per night per room...*wOoW*...Yet to book the hotel as i still cannot find an ideal one...Wish to stay more to the central area and near to the train station so we don't have to keep travelling station to station (travelling in Japan is expensive too) and this will also make things more easier for us...

But come to think about it, i feel abit scare as once we touches Narita Airport, we were be the 'chicken' and they will be the 'duck'...They dun understand what i'm talking..I dun understand what they are talking..In fact, few of my colleagues actually advise me that is not wise to travel alone in Tokyo due to commiunication and their station direction was abit of confusing..I know they mean good but i will still prefer free and easy as there's some restriction travelling with tours...eg. you have to change hotel like everyday..follow to their itinerary...alot of temple visit..Last but not least, one free & easy day which i feel that is not enough...*haha*..

Had actually plan some of my itinerary..a MUST GO to DisneyLand, DisneySea, Hello Kitty Shop, Asakusa Temple, Mt. Fuji..I guess there're still more to add on...

That's about it for this week...
Just got home @ 10pm+ from my driving lesson....
Heading bed soon...

..Ta Ta..




[U]'r3 [B]eInG [L]oVed [B]y [M]3




snow fairy at 00:57;

___________________________________



- Monday -

Was not feeling good..woke up in pain during dawn...Went to see a doc and had a MC to cover my day..*rest*..

- Sunday -

A normal Sunday...Had our lunch at Bukit Panjang Plaza Cafe cartel..Foods there taste abit weird..Branches at town were more of a standard...After, went to Jurong entertainment centre...and then headed back home to slack..Took a short nap before dinner...Had our dinner at Taman Jurong..Curry Fishhead...*Yummy Yummy*..Ended my day at about 9pm+...

- Saturday -

Catched the movie 'Da Vinci Code'..Rating: ?? ...Don't really know how to appreciate or rate this movie...Mystery movie...throughout the movie, question marks kept knocking on my head...bombastic words that i don't fully understand..they bring me round and round to the pictures and lastly Jesus was their focus point..There're so many linkages between them..Some details that i found it kinda bullshit...eg. Tom Hanks as Robert Langdon can crack the hidden code in seconds.*wOow*..Audrey Tautou as Sophie Neveu reserve driving skill was amazing...Jesus was born a human not a immortal..Jesus had a wife named Mary and they gave birth to a daughter and blah blah blah..I wish i have a chance to watch this movie again to flash back what i had missed and confussed...Tat's definitely not in cinema...*lolx*..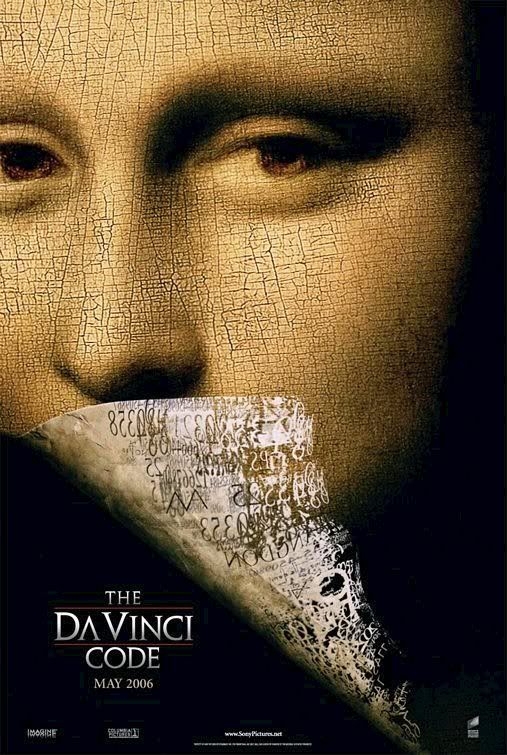 [U]'r3 [B]eInG [L]oVed [B]y [M]3

snow fairy at 00:44;

___________________________________



* Thursday*
Late for work again...Overslept again...Faster prepared and rush to work..Was struck with work the moment i stepped into the office..little time for slacking & gossiping..Got my appraisal result today...Overall result not bad..I'm pleased about it...

* Wednesday *
Meet my boy for dinner after my work...Then after, headed for my driving lesson...

* Tuesday *
Meet my babelicious after work for gossiping session...Received presents from Tine...She got me a Mickey & Minnie cookie with tin from HK DisneyLand & a Lancome eyeliner...

* Monday *
Meet my boy after work..Headed Bugis for our dinner...

* Sunday *
Woke up at about 2pm while my boy got up at 11am..Bathe and doll up myself...Just about to stepped out of the house, i got heat up by my boy..He made me mad...Not to go into details but we are ok after a few hours...Went Funan, China Square to shop around and headed back home to slack...Headed Causeway Point for our dinner...

* Saturday *
Didn't head town today...Not many movie showing recently, tat's why...Cannot remember what actually we did but most of all we are slacking and lazing around the house...




[U]'r3 [B]eInG [L]oVed [B]y [M]3




snow fairy at 22:15;

___________________________________



Dear Friend,

In Singapore, living in Highly Dangerous Building (HDB), most people have already got used to Paying and Paying (PAP).

Not only do you pay, you Pay Until Bankrupt(PUB). If that's not enough, somebody still Purposely Wants to Dig (PWD) more from you. So what can you do when you are in the Money Only Environment(MOE)?

When you are sick, you may not be able to use your Cash Prior to Funeral (CPF) fund, and if you happen to be admitted to the Money Operating Hospital (MOH) one time. If you are out of luck, you may meet doctors who Never Use Heart (NUH) to treat you and you will be sure to Give-up Hope (SGH).

To help ease the traffic, motorist gace to pay Cash on Expressway (COE). If that doesn't help, they can always Eternally Raise Prices (ERP) on the roads. If you don't own a car, you can always make a Mad Rush to Train (MRT) or get squashed in the bus Side By Side (SBS).

Lastly, under all these pressure, there are not many places we can relax, not even the good old place we used to go because it has become So Expensive and Nothing To See Actually (SENTOSA).




[U]'r3 [B]eInG [L]oVed [B]y [M]3




snow fairy at 23:21;

___________________________________



Work was fine except that time pass abit slower..Meet my babelicious for a shopping session after work..Had a great time in Orchard...Total damage about $140...Got myself two skirts, one blouse, one 3/4 pants and a lace tube bra...Had our dinner that Din Tai Feng...Love having their Xiao Long Bao... Ended our day at about 10pm+...

Sunday

Meet up my boy and headed for Bah Ku Teh at MS...Then after we went to China square..Bought myself a Hello kitty cosmetic pouch...Saw a range of cute baby disney handphone strap in those tigam machine...Try my luck and i got myself a baby minnie..Love it so much..I will change once the color of my current one fade off...After, we proceed home for a rest....

Headed Causeway point for our dinner and also to the amusement centre...Ended my day at about 10pm+....

Saturday

Woke up late afternoon...Faster call up my boy and faster get myself prepared...Then after, i faster headed to the polling station before i meet my boy...Headed Teck whye for bah ku teh but it's sold out...But actually is kinda predicted as we reached there at about 3pm+ 4pm...Then headed Jurong for lunch instead..After, back home to rest and i took a short nap...Booked the ticket online for 'Mission Impossible III' at Suntec...Rating: 4/5...A good piece..I love this movie right from the beginning to end..Loads of action screen that keep me occupied...

Ended my day at about 2am+..




[U]'r3 [B]eInG [L]oVed [B]y [M]3




snow fairy at 23:56;

___________________________________



Pulled myself out of bed in the morning...*tired & sleepy*...I need never ending beauty sleep...No choice but to prepare for work..Dragging myself in a half awake manner to work...Half way through the journey suddenly it starts to rain...It's pouring heavily and i'm caught at the bus-stop with my colleagues...At that moment i think i feeling more awake...Was late and drench when i reach my office...so suay...

Was piled with work the whole day..but i still eat snake abit cause it's friday...*lol*...

Meet up my boy after my work for a facial at FIL...i had a firming & auralight treatment while my boy got himself a whitening & auralight treatment..Their service was prompt & it's professional..That place look classy too...May consider to go there again...

After we had our dinner at Thai Express...we brought ourselves to the amusement centre...Got myself a cute dog plushie...Ended my day at about 10pm+...

Thursday

Dress extra casual & was also extra pretty today for work...cause i'm meeting my babelicious after work to advance celebrate Tine's birthday at Merchant court hotel..

A smooth working day...and i knock off on the dot...Dolled up myself and headed to meet the birthday gal first...Meeting point: Outram MRT station..Soon after, Ling & fie reached and without further delayed, we headed to Merchant Court...

The foods there was not bad...but their durain paste was the famous...They serve the best durian paste..*i'm loving it*....We had loads of fun and we can't stop snapping photos...i enjoy myself much ya...

*shall upload those photos once Tine & Ling sent me...

Thanks to Fie's bf, Jeffrey for sending us back home...Ended our day at around 11pm+ 12am...




U]'r3 [B]eInG [L]oVed [B]y [M]3




snow fairy at 00:56;

___________________________________



Sunday

Went Bugis for lunch, a thai resturant...Was so surprised when we were told that it's their last day operating...*sad*..One favourite down...Later, we went Plaza Singapura for movie..Catched the movie 'The Wild'...An animation movie...Rating: 3/5...In fact, this is not my gender of movie but overall it's quite interesting...Headed East Coast Road for our dinner..Hong Kong Cafe..Had my favourite maggie noodle soup and peanut butter french toast..*two thumb up*...

Saturday

Wake up early noon..and my boy is still asleep...Called and wake him up cause i'm hungry and craving for 'ba ku teh'...Faster got prepared and we headed to Tech Whye...This stall is hot-favourite..Always run out of ba ku teh by 2pm..Reached at about 10mins past two...and they still have it...Luckily, if not it will be a waste trip...After that, headed to Lot1...Went to return the library books and also to walk around...Need some digestion...Bought some pastry before we proceed back...my tea-break...*haha*...

Took a short nap before we headed Jurong Point for dinner...Was actually wanted to have 'Subway' but they don't have have the bread i wanted..so headed for Long John instead..Walked around, bought some grogeries and i bought myself some cosmetic from SASA..Back home, i headed for my shower...

Catched the movie 'Gozu' downloaded by my boy....Rating: 2.5/5..After watching, this movie in fact gave me loads of question marks...It's a movie with not a definite ending...But i was feeling hungry after the movie..so my boy cook me maggie mee before we headed to our slumberland....
Friday

Took a half-day leave...Had my lunch in the office sponsered by my boss...A promotion lunch..After that, called up my boy and he's still sound asleep...Ooh, must be got home late the previous night...So without much hesitation, i offerred to hop over his house first...

After, we headed FJ Benjamin to get his GUESS watch done...Took his lunch and off we went Raffles Place to check out a shop and after we zoomed to Suntec...Did nothing much there too...Had dinner at Pastamanie..Headed back home 9pm+...

I feeling hungry and bored...I guess i have to disturb my boy from his slumderland....




[U]'r3 [B]eInG [L]oVed [B]y [M]3




snow fairy at 10:14;

___________________________________