Just had my lunch...perhaps a non-nutritious one..Had instant noodles & instant minestrone soup...*haha*..I'm not trying to save up..Is just that i got a sudden urge of having instant mee...And in fact, this lunch costs me $4.50...I never knew that instant stuffs are so expensive..*lol*...but nvm, once in awhile...
Met my babelicious last evening for dinner at Secret Garden at around Bugis area...A treat from our Babelicious, Ling.....The atmosphere there was nice & classy..Services there also not bad, they are all so polite...Food there i should said so-so only except for their desserts 'Tri Chocolate with ice-cream'..*thumb up*..Overall, dinning there was great and we enjoyed ourselves..Thks for the wonderful dinner, Ling...Being part of our group, of course we got her a gift..A 'Tiffany & Co. Elsa Peretti Eternal Circle necklace...Hope she will like it...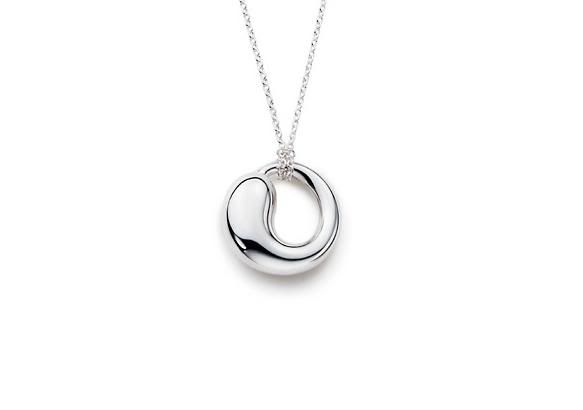 Tiffany & Co. Elsa Peretti Eternal Circle necklace
'Ding Dong'...Gtg...Ta Ta!!
[U]'r3 [B]eInG [L]oVed [B]y [M]3

snow fairy at 12:57;

___________________________________



Had a quick lunch...faster blog a little & i shall continue with my game...

Have no programmes in mind for today...Forgot to bring along "Click' DVD to work in case later after my work we go no where to head...But nvm, maybe i can stay up to play 'Mario' game...I miss playing it...Only reach up to chapter 2...still a long way to go...Wonder when can i complete this game...Anyway now is my chances to grab hold of the controller...Cause the 'Resident Evil' games that my boy bought haven't arrived yet..Once arrived, i doubt i can play it so freely..Was quite addicted to gaming recently. Ever since, my boy got a gamecube set & i got a PSP set...i just got myself a PSP 'The Sim 2' game...i know is kinda lame but is fun...*haha*...

Did nothing much this week except on Wednesday...Met up with Mervin & gf for a buffet dinner at Joaqium...Quite expensive to dine there...but foods there are much more cleaner and fresher as compare to those at Bugis or Marina Sqaure..*lolx*..

Ok...'Sim 2' loading....

~Gtg~

!!Ta Ta!!



[U]'r3 [B]eInG [L]oVed [B]y [M]3




snow fairy at 12:40;

___________________________________



Finally today is Thursday..One more day and it's friday...And i can finally see my boy...It has been 4days that i last met my boy...Might be meeting him tonight but I doubt so...ErmM, nevermind...Will see how it goes later....

Check out my tagboard...Someone leave me a tag..but i doubt is from my babelicous, Ling...cause that person left a unfamiliar email address...Wonder who's this person?? Do i know u, Miss??...But argh, nevermind....I love you too....

Placed order to purchase a couple Ralph Lauren Polo-Tee...Too bad i got them in different color and design..but again nevermind...Is still a Polo Tee of a same brand and the same design range...

Meet up my babelicious at WestMall after my work yesterday...Had our long chat and before we head to shop around...All of us always have stuffs in need to buy without fail whenever we're at WestMall...Dun understand why...Bought a skirt for work and two collagen & whitening facial mask...Ooh ya, we planned to club on 1st/Sept..Venus: Club Momo(i guess should be confirm)..*lolX*...Thks babelicious for accommodating me...*haha*...Reason being, i abit mountain totoise..never been there before...So my babelicous gave in to me...It's has been quite sometimes i last club..I guess my last time to club was during this CNY to MOS with my boy..*Awaiting..Awaiting*...

Ooh ya..i just recalled something that i'm supposed to do long long long ago...I have still yet to post my Tokyo photos...Ooh, it's already 2mths overdued..*lolx*...Haiz, sad to say that photos are still with my boy and still yet to download into his PC...There's some problems with his PC at the moment and its require reformatting...After serveral tries of reformatting, things still don't function well..So, so, so...unless i'm active enough to download those pictures into my computer..But nope, i'm a lazy gal...So i shall just WAIT...




[U]'r3 [B]eInG [L]oVed [B]y [M]3




snow fairy at 12:56;

___________________________________
Adidas Jacket - Wanted to purchase it last Sat at The Cathay but is not available anymore
Polo Ralph Polo Tee - Initially wanted to get a couple polo-tee but they're out of stock for ladies size 'S'..Unless i want another design...
Gucci Tote - Is too expensive to get it...Retail price is around $1K...Moreover, boutique already out of stock...
In fact, is good in a way, bad in the other...Good that i can save this amount of money for rainning days..*trying to console myself*..Bad is that i do wish to spend alittle to pamper myself...Till now, I didn't get to buy anything that's costly since i last took my bonus this June...That's sad!!..*haha*..oOh ya, I did spent on something that i can't see or feel now..Not even a single noise from it...My one-way return ticket at $2.6K...I guess this gonna be the most expensive thing that i unwillingly got for myself this year...
Btw dun get me wrong..I'm not wealthy or trying to boast around..All what i was doing is just purely pampering myself to the fullest...I saved hard and only spent for holiday and luxury items once in a blue moon...*haha*...Because i always believe in this saying: No one will love you more than you yrself do..If you don't pamper yrself hard, you will regret in no time(sooner or later)...
[U]'r3 [B]eInG [L]oVed [B]y [M]3

snow fairy at 22:52;













Started off my day in a funny way...When i was half awake, i saw numbers in my dream..*haha*...Ooh, It is a sign telling me something...*lol*..Hopefully it is...Never mind, will try out and see how...If i strike i will be a millionaire...First thing i will do is share this amounts with my loved ones and also last but not least, a holiday is a MUST...*Argh*..I guess i'm dreaming early in the morning...How i wish to at least strike a Group 2 or 3..I dun dare for more..Any of these will actually make my life more beautiful...*Dreaming!! Dreaming!!*

Didn't do much stuffs last weekend..But don't know kept bumping from friends to friends..Funny weekend...Shopped around Plaza Singapura but nothing caught my eye..That's sad!!..Catched the movie 'My Super Ex-Girlfriend' at The Cathay on Saturday...Abit lame in fact...Not really a good catch...

My hands are in a very bad condition lately...When i said 'bad', i mean it...They are so itchy...Dying to pamper me wth stuffs...I actually thought of buying myself another branded bag..probably GUCCI...This is the only branded i can afford now...*lolx*...But, but, but...Too many buts!!

Okie...Gotta rush to be a 'millionaire'....Ta Ta!!




[U]'r3 [B]eInG [L]oVed [B]y [M]3




snow fairy at 00:19;

___________________________________



Was not in a right mood today..was feeling abit moody when i stepped into the office...*haiz*...What's a bad start...

Sunday

My boy came fetch me at noon and headed for our lunch..Really have no ideas what to eat so when we passby Glass House we decided to have Fish & Co. instead..*haha*..That lunch costs us $41++...An expensive lunch ya...After, we headed ChinaTown Square then Suntec..Bought my boy to shop around at Suntec & Marina Square...Din manged to get anything that i like...*shit*...Ended our day at about 9pm+...

Saturday

Slept till 2pm and received a wake-up call from my boy...Hurry prepared and headed for our lunch at Teck Whye Bah Ku Teh...Later headed back home to slack for awhile...Watched the movie 'Nightmare before Christmas' which my boy download..It was indeed a nice show...In fact, it is better than 'Corpse Bride'..After, doll up myself to get ready to head town...Soon after, headed Takashimaya to shop around and also to collect my Tiffany & Co. accessories as well...Had our dinner at Food republic...Later headed Plaza Singapura for our movie 'Hard Candy'...This movie was horrible...low-end production...*lol*...Hell loads of talking...Ended my day at about 2am+..

Friday

Met up with my ex-colleagues at Holland Village...Headed to a dinning restaurant named 'Indo-chine'..doesn't really know the spelling but is something like this...I don't really like the food there as i'm not used to eating Vietnamese food...The main purposes of this gathering was to celebrating Kenneth's farewell but in the end and till now, we still does not know where is his new company and etc..His mouth is tight-zipped...Chit-chatting all the way till 11pm+...




[U]'r3 [B]eInG [L]oVed [B]y [M]3




snow fairy at 12:51;

___________________________________



Received a call from my babelicious, Effie late noon yesterday...She coming for an interview in my company next tuesday...All the best ya!!!

Today is my boy's convocation day...*haha*...He will be a look-alike harry potter with his grown on...*lol*..Too bad, i won't be meeting him tonight so wouldn't have the chance to see it...

My boy came fetch me after my work yesterday...Headed to Causeway point for our dinner and some entertainment...Initially was to hang around there till is time to fetch his dad from the airport..but received a call from his mum saying there's typoon in HK so all flight has been cancelled...So which means his dad is not able to attend his graduation ceremony...So after, we headed to SGH hospital to pay visit his grandfather...His operation was a sucessful one but by the look of it, he's in serious pain..Hope he will get well soon...

Come to think about it, my whole family are falling sick...All infected with serious sore throat, flu and coughing...And i'm the only one who is still jumping & hoping fine at the moment..*lol*...Maybe because i'm hardly at home, tat's why...My dad, brother & sister and recovering soon...Left only my mum who is still suffering...Her sore throat was worst...I can hardly hear what she's trying to say...Seeing her in this state i feel so heart-pain...Hope she will get well and better soon...*haha*...

Will be meeting few of my ex-colleagues tonight...




[U]'r3 [B]eInG [L]oVed [B]y [M]3




snow fairy at 12:27;

___________________________________



Add in some stuffs in my wishlist....
Polo Ralph Luren Polo-Tee & A full range of Tiffany Open Heart...

Wanna get a couple Polo Ralph Luren Polo-Tee..*haha*...One for myself and one for my boy...a present for him ya..I guess it has been sometimes i last gave him something...And since i can get discount so why not...*keke*...Gonna inform this news 'lobang' to my babelicious and see if they are interested...Gonna try out the sizes and model soon ya....

Met up wif my babelicious yesterday after our work to Lot1..Couldn't really remember when was our last time there..But i know is quite sometimes ago....I miss my babelicious muchz...Din see them for nearly a month...*Ooh mi gosh*...this is the longest record ever...We bitch from 6pm plus till 11pm...For the whole of these few hours, our butts are been stucked to our seats...No shopping, just purely gossiping & dining...Tat's amazing ya!!..

Received gifts from our babelicious, Ling...She bought us earring, blouse and some Disney towels from her Taiwan trip....We all simply love it...Thks, Ling..*haha*...I don't know since when we came out with this kind of practise that whenever whoever went overseas for holiday, the one who is enjoying will definitely buy some gifts for the rest...Receiving gift is kinda sweet...*keke*...And don't knw since when we came out with some kind of draw lots to pick our gifts as they come with different colours, pattern, character and etc...And i was actually quite lucky...Always get stuffs of my favourite character Mickey & Minnie Mouse....Thks babelicious for all of the gifts...Keep it up and continue to pamper ourselves ya!!

'Ding' 'Dong'..Lunchtime over!!!
Got to go back to my workspace....




[U]'r3 [B]eInG [L]oVed [B]y [M]3




snow fairy at 13:07;

___________________________________