snow fairy at 23:19;

___________________________________



Finally photobucket is up..and hopefully it will stay on...

So here you are...

Firstly, photos on last night dinner with my beloved boy, then followed by 'Kiss'mas gathering photos...plus some pics on the present that i received from my friends & beloved ones..


Sky Dining with My Boy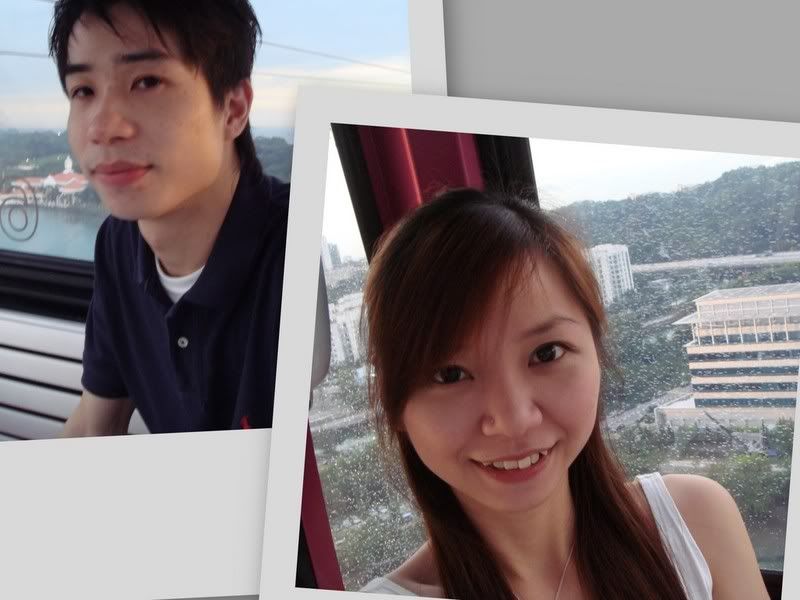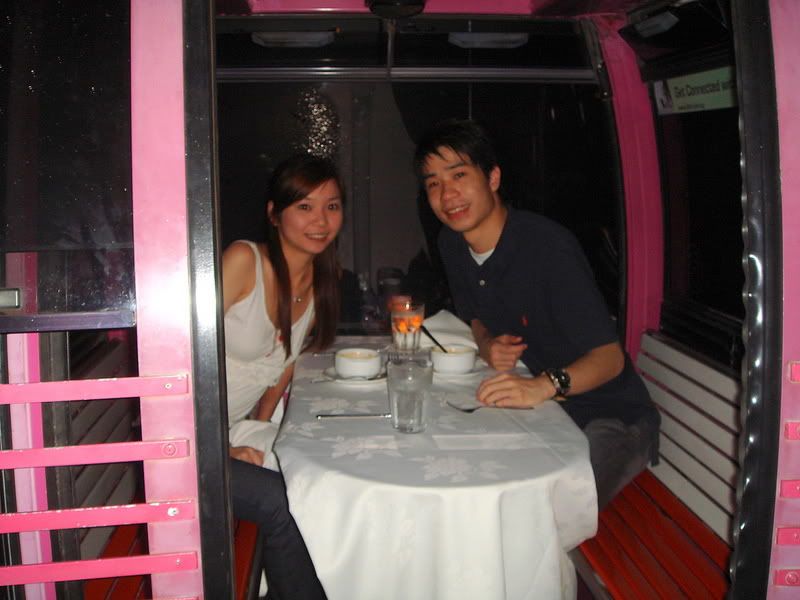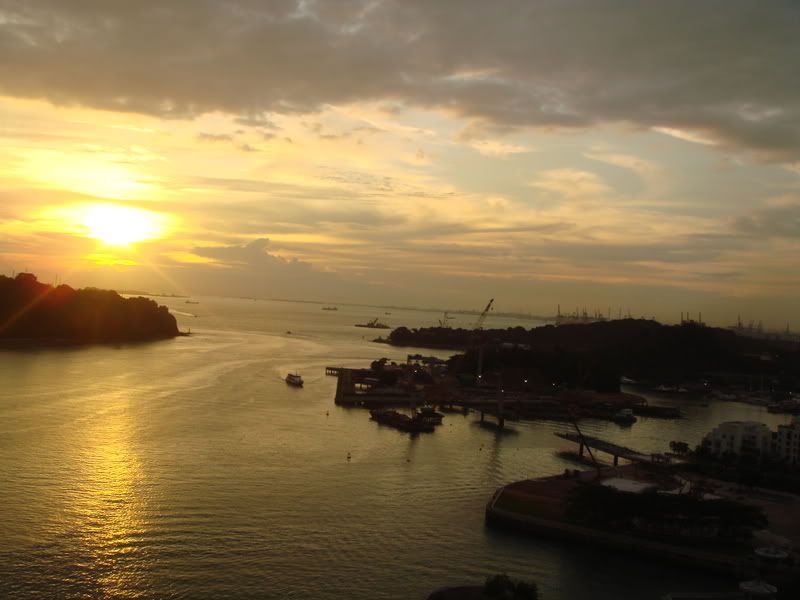 The view before sunset...It's beautiful..
a candid shot..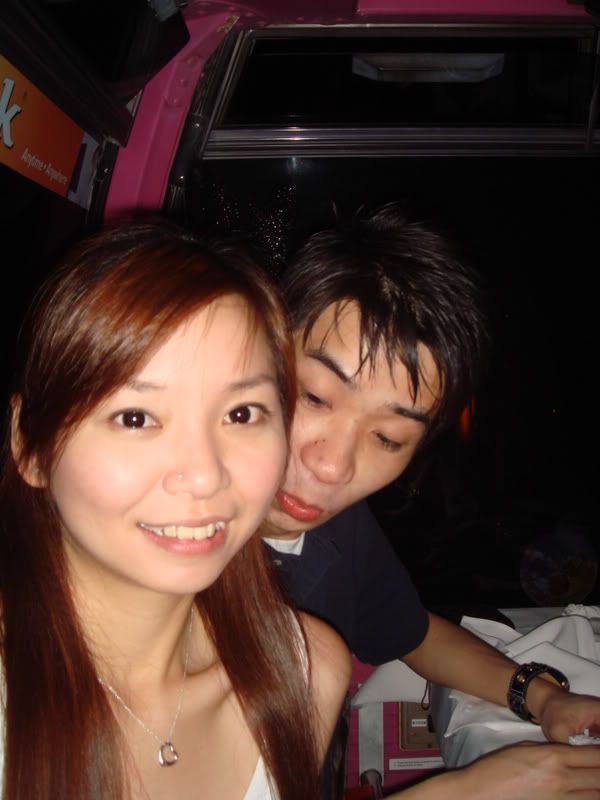 Argh!! a "Peeping Tom"..
Caught him!! He's trying to slience me..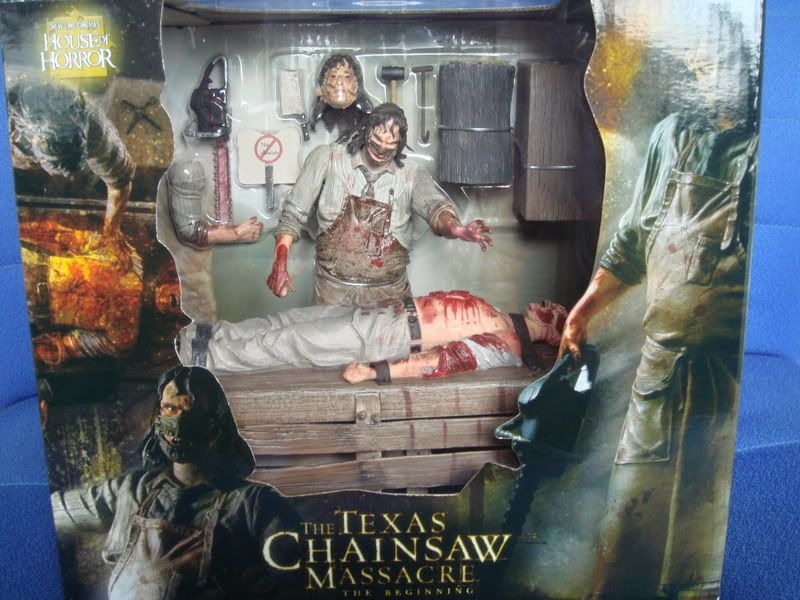 The pressie for my boy..His favorite..
X-Mas Gathering with Ex-colleagues @ Orchard Swensen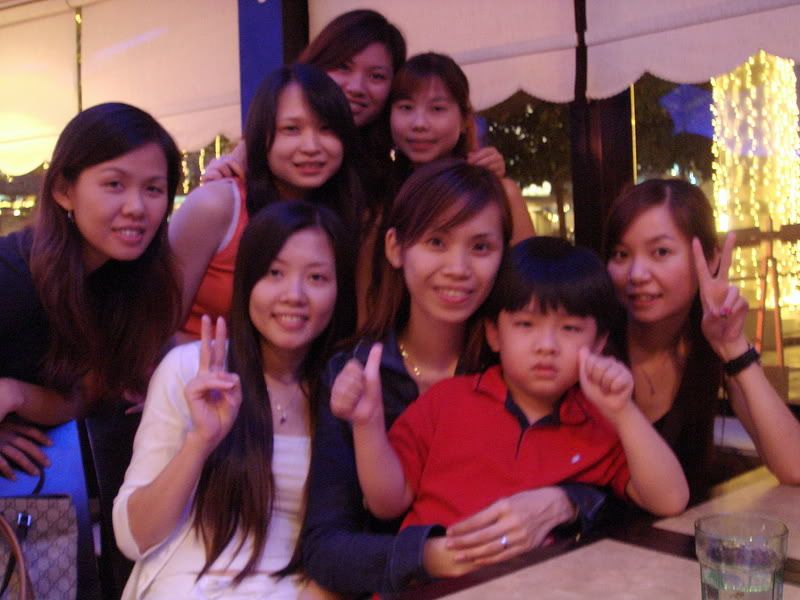 The handsome guy for the day..
Gift Exchange..[Before]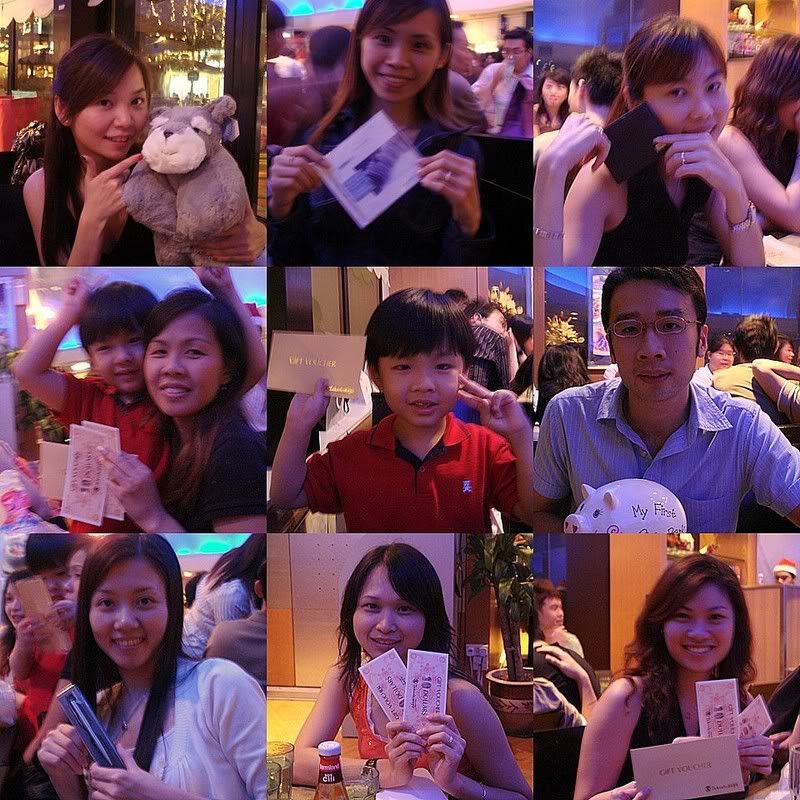 Gift Exchange..[After]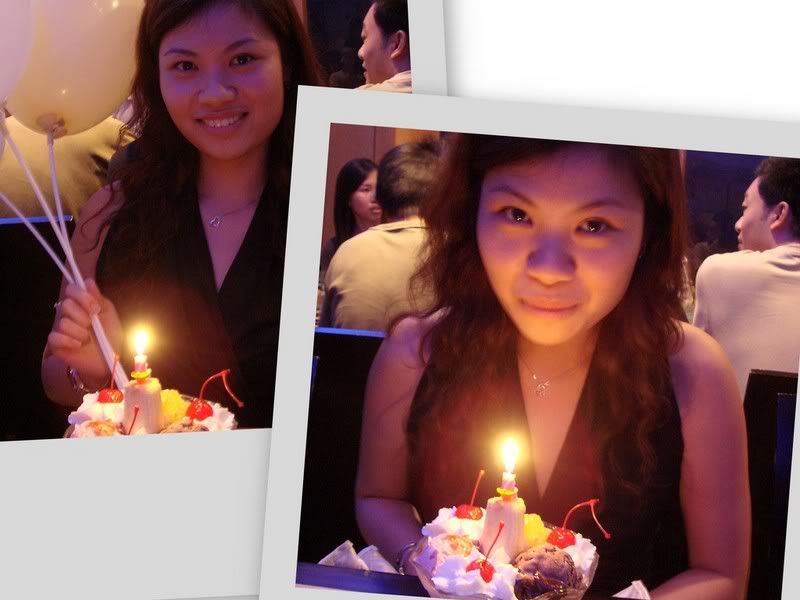 A surprise Birthday Celebration for Cerissa..Happy belated 24th birthday ya!!
Guess who??

Presents...Presents...Presents...


All these all from my boy..
From my boy as well..
Left: Dom & Gf..
Right: My colleagues
From my boy's mommy..It's from Hong Kong DisneyLand..
[U]'r3 [B]eInG [L]oVed [B]y [M]3

snow fairy at 22:32;

___________________________________



May you LOVE ME more & more each day!!




Happy 25th Birthday!!!




Last but not least, all the best ya!!

******



My Boy's Day - Slept till about 1pm+..really sleep till my heart's content.Feeling so fresh...Wakie up, get prepared, dress up and off we headed to Lot1 first...To have our lunch @ Pepper Lunch and to get our MIP card done before we made our way to Vivo City..Time flies when you hope that it will pass much slower...Not knowing it's already 4pm+ when we reached Vivo..The whole place was so quiet and path way was clear..few of a human soul wondering around..abit not used to the emptiness surround there..but it's the best time to shop..no squezzing, no waiting..Walked and shopped around alittle..Got ourselves only a bag of chocolate from Spain Chocolate Factory..Oh, it's super expensive..$16/100grams hor!!..Paid to taste what's so special about their chocolate..

Afterwhich, it's about time for us to proceed to HarbourFront Cable Car Station...Took the complimentary ride to Mount Faber Station for our dinner...Dinner commence at around 7pm and ends at about 9.15pm..We took about 130+ photos all in all for the day..*haha*...but mostly were my self shot, as if it's my birthday...Thereafter, took the complimentary ride back to HarbourFront Station and was then i recalled that there's no coffee & tea served with dessert during our 3rd round..*shit*...But nvm, it made no different as i will leave the coffee untouched..
After, headed to Haagen Daz for an ice-cream dessert despite we're feeling quite full...Craving for ice-cream,i wonder why...Ordered a Banana Split and we shared...Home sweet home at about 10pm+...



Sunday - Slacked throughout the whole day at home..both of us were so tired and too reluctant to move our body around..Woke up at about 2pm+...Get prepared, went for our lunch, back home slack alittle, ate some titbits, took a short nap, woke up @ about 8pm, wash up and prepared for dinner, back home laze around, surf the net alittle(it's laggy), read alittle on novel, ate Royce' Chocolate, watched soccer match, proceed to bathe and zZzZ....that's about it!!!


** Photos for the day will be updated shortly.. **





[U]'r3 [B]eInG [L]oVed [B]y [M]3




snow fairy at 23:26;

___________________________________



Yesterday - Woke up at about 1pm...Get prepared, dress up and off i meet up with my babelicious..Yup, it's our girly shopping Saturday...First, meet up with Tine at Orchard Mrt..while waiting, I went to collect a toy boxset from a seller from Yahoo..Afterwhich, off we headed to Far East Plaza to have our lunch before we start off with our shopping spree there and at Wisma, Taka and etc...

Had a foot rest at Paragon Delifrance..Oh, their services were so super lousy and horrible..they just can't understand simple English...And guess what? The best part of it was there's a fly in the ice-cream..*oh, shit..pretty disgusting*..That totally ruined our appetite..Left the waffle with ice-cream untouched...

Thereafter, Tine left to meet up with her cousins..and we made our way to Bugis..Done some shopping there as well..*keke*..I bought nothing much from there..too tired to walk further..In the end we decided to go for some nails pampering..I had manicure while Ling & Fie had pedicure..chose the graduation type as it look kinda cool..*haha*..i was in the midst trying to DIY it but I just couldn't get the correct effect..so paid to master the art of it..*keke*..Soon after we are done, Fie left us as she need to fly to the hospital (her sister was admitted to the delivery ward)..Left only me & Ling..Waited for Ronald to come over and then to Geylang to have our late dinner..We had FrogLeg Porridge..*craving..craving*..It's has been so long I last went there sia..Ended my day with Ling & Ronald at about 12am+..Thanks you for the ride back home ya!!

My damages for the day:
1 x Spag Top from Topshop
2 x Lingeries from Topshop
1 x Eyelash curler from Sasa
1 x Oil-blotter film from Sasa
2 x Nail Art Pen (White & Green) from Far East
1 x Nail Art decor pack (white diamond) from Far East
1 x Neca toy (my boy's birthday present)
1 box of Chocolate from Royce

Got home, done with my necessity...Bathe, unpacking and packing of clothes..too slack to on my comp so I continued with 'Devil beside Me'..a Taiwanese drama..After watching about 2hrs..received a call from boy..Oh, he's too drunk to drive..Faster get prepared..off I took a cabbie to MU to fetch him back home..Thanks god, he didn't carried himself to drive if not I can't imagine for the worst..*phew*..

Friday - Met up my boy after my work to Suntec..Had prates for our dinner..Inititally wanna watch 'Night at the Museum' but Remus invited us to watch it on Sunday..So in the end we catched the sneak preview of "Pan's Labyrinth" (also known as "El Laberinto del Fauno")..currently screening NC16(cut)..a Spanish dialogue movie with English sub-title..Rating: 4/5..*thumb up*..It's a magical yet earthly..brutal but beautiful film..no doubts i will be watching the R21 version again..Ended my day at about 3am+..



Quote for the day (inspired by a novel) :
Be original; look for vintage..Most importantly, BE YOURSELF..
Do not copy for the sake of copying, have some of your own ideas and style!!

[U]'r3 [B]eInG [L]oVed [B]y [M]3




snow fairy at 16:12;

___________________________________



I hope you know i'm speaking ill about you...*Pls use your 'sensitive' power*..

You may have the rights to do/say whatever you want/like..but don't be so OBVIOUS...i'm getting abit sick...cause it's kinda shameful if people get to know about it...

I always thought that you're *unique in your own way but it seems like you prefer people to see you as LOW-CLASS...

Maybe you will get offended by what i said but who cares..
Let me tell you, in the other hand, you had offended me..so i don't give a damn...


But whatever it is, i've said what i need to say...

If you still wish to continue, by all means...

*haha*..maybe is time for me to learn how to mellow my temper...


One thing that makes me happy out of this incident...I never knew that i'm(we're) your role model..




[U]'r3 [B]eInG [L]oVed [B]y [M]3




snow fairy at 12:55;

___________________________________



Can you pls stop doing this?

U're getting on my nerves...

Argh!!..u're horrible..extremely horrible..

Damn sickening...




[U]'r3 [B]eInG [L]oVed [B]y [M]3




snow fairy at 21:25;













Reported extremely late for work today...*shit*...

After such long break, i'm too relutant to bring myself back to work...still having some kinda holiday fever....

Oh ya, i nearly forget about my boy's birthday which falls on the 8th this month..*shit*..in fact, i actually totally forgot about it until he mentioned it the day before..I still can't believe that i've overlooked this issue..Haiz, whatever is it, gonna start planning now before it's too late...I guess i need to recover it and in order to make myself feel better, i gonna get him a present even though he already asked me not to get anything for him..Opps, but now in my mind i have no ideas what to get for him...It's not going to be an easy job buying a gift..not any branded stuffs can cloud nine him..His passion and focus are all on his precious toy..Gonna crack my brain and think real hard..

Yesterday (Replacement Holiday) - Spent my day slacking at my boy's house...Headed Jurong Point during noon and also to the libaray to collect the book that i had reserved...Without realizing, it's already 4pm+ before we headed back home to relax...Rest and slack till 7pm+ before we go to Geylang for our dinner...Claypot Chicken Rice..*yummy yummy*..Home sweet home at about 9pm+...




[U]'r3 [B]eInG [L]oVed [B]y [M]3




snow fairy at 12:43;

___________________________________
Here some updates..

I'm now blogging at my boy's house..

Before I start off with my usual posting, here are some necessity things that need for a new year...

******

A brand new day of the year..A brand new start..
Hopefully this year of mine will be a smooth, problem-free, sad-free..All on the positive side ya!! These applys to all my loved one as well..

I'm blessed and at the same time glad that I had attained a few stuffs for the past one year..Although is not a big deals but at least there's something that I can see and enjoy using..

My score for 2006:
A Gucci Sling Bag
A Gucci Tote Bag
Trip to Tokyo with my boy
A Driving License


My resolutions for 2007:
Shed off at least 2kg of weight
To shower my boy with more love
Spend more time with my loved ones
Trip to States
To excel in my career..A promotion..
To learn something new
Most importantly, to enjoy my life..a happier & healthier me

******

Woke up at about 2am+..kinda force myself to get up..faster get prepared and off we headed for our lunch before we go to Jurong Point to shop for groceries and have some entertainment..Thereafter, headed back home to slack..

Was just browsing through the net trying to locate the best hawker BBQ chicken wings..Couldn't really find one that is nearby..I guess good food are mostly not located at West area..That's pretty sad sia..Got this urge of having BBQ chicken wings since Saturday..

Don't care..later gonna pester my boy..die die wanna have BBQ chicken wings for dinner..


Yesterday (New Year's Eve) - Wake up early noon..Get prepared and met up my boy for our lunch..Afterwhich, back home for some rest...*keke*..took a 2hrs short nap..After, prepare to hit Orchard first, had our light dinner @ Fish & Co. while waiting for Remus & Huishi...

Met up with them at about 11pm+..Inital plan was to club but, but, but Remus is with his sandals..So in the end, we drove our way to Esplande..to catch the 8mins fireworks..Was struck in a terrible traffic jam + road block..In the end, we countdown in the car and watched the firework from ECP expressway..It's kinda cool as in no squeezing or not needing to scare of any foam/party spray and etc..but didn't really get hold of every single beautiful moments..But nvm, better than nothing..

Thereafter, we continued our journey to East Coast Road hawker centre to 'da ci da he'..We had it all planned but few of the shops are closed..eg, BBQ chicken wings was our main purposes..*shit*..and it's closed..*sad*..that ruin my plan..

After that, headed to Boat Quay to join Junshi, Jianli, Dehua and blah blah blah..
Home sweet home at about 4am+..

The day before yesterday (Saturday) - Spent my day with my boy, Remus & Huishi at Vivo City..Catched the movie 'Borat'..Rating: 4/5..It's a hilarious plus alittle offensive movie..Some may not like it but those who are more open minded would understand his jokes.. and laugh till your heart's content..I should credit him on his courage to run naked in front of so many people..A daring dude ya!! I have seen his TV reality jokes show before..same style..kept making fun of people..but i myself prefer his TV reality show more than this movie..

After that, we headed to Mount Faber..Altivo was fully booked so we went to Faber Rock..*haha*..it's just beside Altivo..Odered ourselves a dessert each and some fingerfood...Ended my day at about 2am+..


[U]'r3 [B]eInG [L]oVed [B]y [M]3

snow fairy at 18:56;

___________________________________