Will be meeting my babelicious and also going to the SHISEIDO's sale today again after my work...*keke*..din get enough of it...
Was on leave yesterday...Woke up early to help my mother...My sister In-laws are coming to our house...to pray pray, to take all those trad. things back over to their hse and etc..Meet up my boy early noon...Went for our lunch and then to SHISEIDO's sale at orchard...*keke*..the queue was long and inside was mountain ppl mountain sea...ppl are pushing, squeezing here and there just to get to best deals so likewise i'm one of them too...so aunty...*lolX*...Lucky to have my boy to accompany me...While i'm going round to get my necessary, he help to queue for payment...Bought alot of stuffs for myself and also some for my colleagues...Soon after i'm done, went to shop ard for awhile..and then back to his hse to slack and dinner...Was back home only at abt 11pm+....
I already bought a present for my boy's bd present...*keke*...Will only give it to him on the day itself...Hopefully he will like it...
[U]'r3 [B]eInG [L]oVed [B]y [M]3

snow fairy at 16:45;

___________________________________



Sunday

After a long and tiring week...A simple and slacking day for me...Received a wake up call from my boy..faster got myself prepared and meet my boy..Zoomed off to Robinsons CentrePoint to get my boy's bed sheet, Sunshine Plaza for lunch and then to shop for toys at China Square..Actually wanted to buy a ' Chicken Little' vinyl toys but is out of stock..*so fast*...Haiz, should have buy it last two weeks when we were there...Wasted...After all, went back hm to slack..Din go for my soaking..ermM..i kinda lazy so does my boy..Slack the whole day till dinner time to Jurong Point..Shop ard and get some titbits and drinks...Went back his hse again to slack...Ended my day at abt 11pm+...

Saturday

A very long day for me...Woke up god damn early..My body was aching..Too much cleaning liao...*keke*..Woke up at 9am, faster get prepared and meet my boy...Off we went to East Coast Park...Not to there for romantic with my boy early early morning but to participate for my company 'Active Day' event...Went there just to sign my name and off we went for breakfast at MacDonalds...Miss their breakfast...*yummy yummy*...Went back hm after that...Took a short nap while my boy watching his downloaded movie..*haha*...Soon after i woke up, off we went for lunch...*hungry hungry*...Went back his hse to slack, watch TV...Got myself prepared at abt evening and off we went to Ochard..Catched the movie 'Harry Potter & the Globet of Fire' at Plaza Singapura...*keke*..Got myself two pushie soft toys from there too...a Mickey & Minnie Mouse in Christmas suit..Spent less than $30 bah...*so lucky*..Ended my day at abt 1am plus...*so tired*...

Friday

a tiring day for me...Went straight home after work..First thing i do was to get changed, tie my hair and become a maid in the very next seconds...*so aunty*...Was busying cleaning, packing, wiping my room...Arrange everything in order...esp. my pushie soft toys...Finished packing at abt 9pm plus and had my late dinner at abt 11pm plus...Watched some TV and then faster get myself into bed...Such a tiring day...




[U]'r3 [B]eInG [L]oVed [B]y [M]3




snow fairy at 12:50;

___________________________________



ErmM..i was late today...*haha*..was quite late...I have a gd nite sleep but still dun knw why din i manage to wake up on time..Maybe is bcos weather was too gd to carry on zZzZ..

Meet my boy after work yesterday..Lucky tat he keep his promise if not i will sure be really very very angry with him..*lolX*..Had a very early dinner at his nearby market before heading back his hse..Journey back we still thinking whether shall we continue with our plan anot...After slacking for awhile, we decided to continue with our plan..Faster get ourselves change and head down to the pool...It's so freaking cold...All the way i'm soaking inside the hot steam pool cause i knw the pool at the other end sure very very cold...but in the end i was been forced to get into it...It is only cold when u first step in but after awhile the temperature was not so bad...Teach my boy how to float when body lying flat..*haha*..he still can't master it...I guess ppl in their hse must be thinking tat are we nuts..This kind of weather still swim..But to me, it can be shiok in a way..Can you imagine the whole pool area was yours?? No children shouting here and there too...After all the fun and laughter we decided to go back as we are quite tired after using so much of our energy...my muscle tired too...Faster bathe liao, dry my hair..Slack for a short while more, my boy sent me back hm...

Suppose to meet my babelicious later..but i'm so bad..I cancelled this appointment..I'm feeling real sorry i'm really quite tired..for the past two weeks, never have a gd rest at home after work..Was packed with programmes everyday...Till i cannot take it today, din manage to wake up on time for work...there's still lot more to go...*bless me*...

Yuppie, will be going for a soaking again this coming sunday with Remus and Huishi..*keke*...Wonder if my babelicious wanna join anot...




[U]'r3 [B]eInG [L]oVed [B]y [M]3




snow fairy at 17:19;

___________________________________



Supposed to meet my boy after my work yesterday...But due to his forgetfulness he forgot that he's meeting me in the end he agreed to meet Remus cause he's selling him the used TV in their old hse..have to help him carry and send it to his hse...*so sad*....always bluff me...suppose to go for a swim on sunday, but he's lazy so he said monday then now tuesday..let's see again if he will to break his promise again..

In the end i went for a hair dye..My aunt do it for me...Got my hair in 'copper' color..Not tat obvious but i somehow like it..Actually wanted to highlight but thinking tat it will damage my hair so i changed my mind...My hair is always not in a top right condition as my hands are always very itchy...either to always dye it or go for re-bonding till my ends are so dry...

Tot of changing my cellphone..My contact will end early Dec'05 and StarHub is giving me a $50 phone voucher...*so gd*...I wan a SUMSUNG phone but have no model in mind yet...Any ideas??...My sister juz bought a SUMSUNG e730..*so gd, her husband buy it for her*..Ling also using this phone..Tine tot of buying this model too...Always love using SUMSUNG phone...so lady-like..*keke*...Actually come to think abt it, i juz got my cellphone changed to SAMSUNG e800 in May this year...Now wanna change again..haiz..To change or not to change???

Ok..gtg..back to my workspace liao le...Ta Ta...




[U]'r3 [B]eInG [L]oVed [B]y [M]3




snow fairy at 13:28;

___________________________________



I miss my babelicous...It since so long we last meet....Fie asking if i can meet on Wednesday..me still not confirm yet..but i guess should be ok...

Meet up my boy for lunch and then help him to pack his stuffs again from his old hse..Supposed to go for a evening swim but he's lazy in the end slacked till late nite..Watched 'Troy' showing in HBO..*Nice Nice*...Reached home at abt 12am...faster bathe and get myself to bed...

Went KTVing with my boy and friend at Party World on Saturday...Used my birthday voucher given by Singnet..if i'm not wrong, 15% discount...*lolX*...Went to have supper at the Hong Kong cafe till late nite...Ended my day at abt 4am plus...

Meet my boy for dinner on friday..Came fetch me and then off to bugis for a short while and then back to his hse..And again slack and slack...

Meet my parent & sister after my work on thursday..Went to shop for her stuffs...for those trad. ceremory necessary needed things...

Was on MC on Wednesday...due to stomache cramps...Was always into this kind of pain...Haiz...

Went for company dinner at a Thai resturant on Tuesday..Food there not bad but abit too oily...I guess Thai express is better...*lol*..




[U]'r3 [B]eInG [L]oVed [B]y [M]3




snow fairy at 17:28;

___________________________________



Went back home straight...for dinner and also accompany my parents to BPPlaza to shop for some groceries..Reached home, faster bathe and prepare myself to be in front of my TV to catch 'Da Chang Jin' and is when my phone ring...My boy called..Saying tat he's coming over to pass me something...'A piggy'..This piggy look so round..look something like three little pigs..He caught it at Causeway when he's with Remus...Soon after i went back home and continue my TV program...Did some wrapping for my pushie toys too...haiz..Had some hard time trying to figure out how to wrap it nicely but too bad i still can't master the arts of it..To me, it still look not bad..hopefully to others, they dun feel awful..




[U]'r3 [B]eInG [L]oVed [B]y [M]3




snow fairy at 23:46;













Hasn't been blogging for the last few days..Was busying helping my boy to shift his stuffs to his new house...When we are almost done and something bad happens...i broke his toy..A spare parts from his favourite toys "Ancient predator"...I feel so sorry and regret that why din i be extra careful when handling..Haiz...he got so much trust on me tat i can handle with care but still accident happens...When the moment this thing happen, we are both startled and my bf did throw some tantrum towards me...although i dun feel gd and abit disppointed by his reaction but somehow i can still understand how my bf feel...

We din chat over the phone for that day..I dare not call him..partly i'm abit not happy and secondly i guess he's busying trying to fix up the loose parts...I also dun wish to worsen the situation and i think is better for him to cool down first and also to have time to recover my emotion..Till now, i can still deeply recalled the whole scenario and so does my boy...But lucky, we patched things up the very next day...

Watched the movie 'Cello' at Plaza Singapura on Saturday...To me, tis movie sucks...Rating: 1.5/5..Ermm..i dun really understand this movie..Can someone tell me??..Heard from the web, they were saying tat there's a twist towards the end but till now i still couldn't figure out what is it...haiz...




[U]'r3 [B]eInG [L]oVed [B]y [M]3




snow fairy at 15:07;

___________________________________



*eRmm...wonder wonder when will be my turn?!...

Went shopping for GOLD and bedroom stuffs for my sister at Causeway point with my parent...Bought quite alot of stuffs and spent alot too..Wedding really need alot of money...No money, no talk...Reached my home and have a bathe at abt 9pm+...so tired...




[U]'r3 [B]eInG [L]oVed [B]y [M]3




snow fairy at 23:27;

___________________________________
Photos @ Hard Rock Cafe with my babelicious...
It's my Birthday..
Me & my babelicious...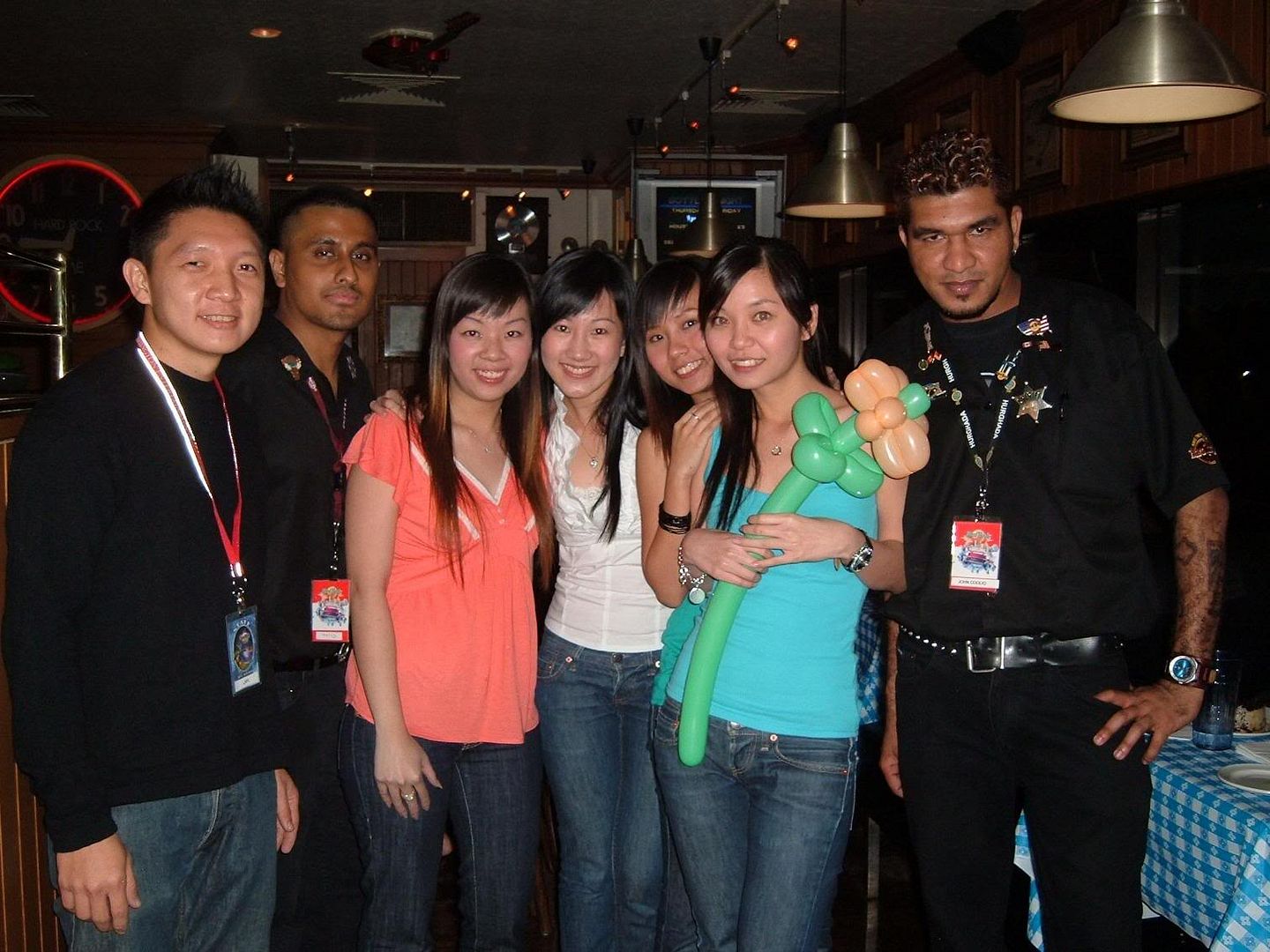 Wif Hard Rock Cafe staff..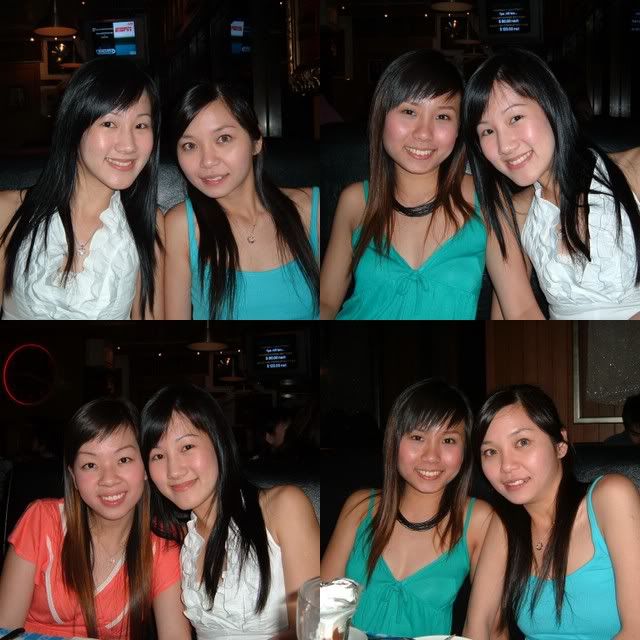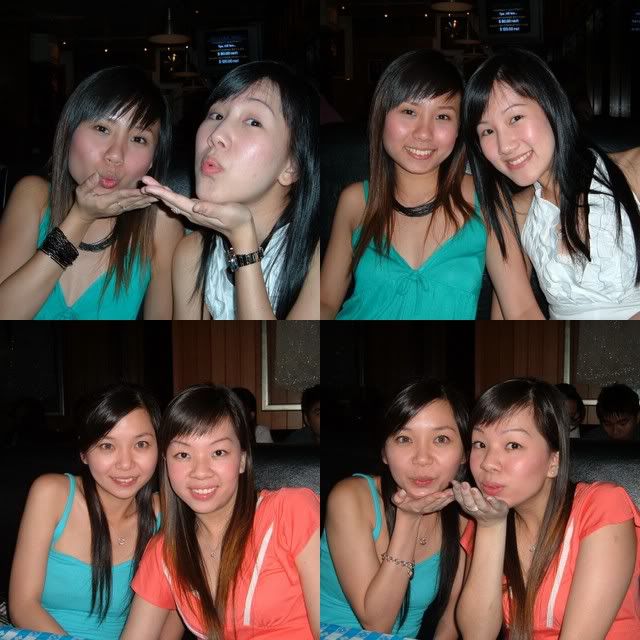 [U]'r3 [B]eInG [L]oVed [B]y [M]3

snow fairy at 23:46;

___________________________________



Had our dinner at Hard Rock Cafe...Foods there not bad, portion alot, price fair expensive...Had Fish & Chips while they had Burger sets meal each..Took alot of photos and then is when i reliased that 'Where is my tiffany ring?'...At that moment I couldn't remember where do i dropped it..*shan think hard*..In the end, thks to tine to drop me clue..I guess i left it in the office.*hopefully*...Will be asking my dear to fetch me there tomolo to check it out..

1st surprises:
Soon after i finished using my brain...Suddenly, there's a birthday delication for me...So very very soon after that, few of HRC's staff gather around with a ice-cream sundae with candle on wishing me happy birthday..i'm touched..*shan tears drop*..*shan so emotional*...But i have to stand on the chair before they can sing me a Birthday song..so i was so paiseh as i can feel tat there're eyes around me...So usual, take photos, make a wish, blow candle and also sabotage time..Got my nose and lip filled with whipped cream...My babelicious left me with no clue how and when they actually coordinate with HRC's staff..

2nd surprises:
Soon after i washed up, here come a birthday cake (Oreo Cheese Cake)...*shan emotional again*...So again, sing birthday song, take photos, make a wish, blow candles and cut cake...*shan still wonderng how & when everything got into so perfectly without been noticed*..The cake was too hard to manage so request for help...gave almost half of the cake to the staff as we are actually quite full and also to thks them for entertaining me around..*shan finally saw the word 'Hilton Singapore Hotel' that dropped from a piece of chocolate and from there and i found my answers to all my queries*..While we are enjoying our Cheesecake, the manager approached with a ballon twist and turn into a flower shape...So nice of him...

3rd surprises:
They passed me my birthday present..*shan tears feel like dropping*..So surprised...Cause before we went for dinner, Tine asked me what i actually want for my present as i dun give any hints to them..Opened the present and it's a lingerie set from CK tangs Dressing room...*sexy sexy*...I'm loving it...

4th surprises:
Asked for the bill and then i found out that my babelicious have already settle the bill long ago..*lolX*...Since when again??..I tot i'm supposed to buy u gals dinner...The bill was a very unexpected amount..Was god damn cheap..We also not very sure why..but we really enjoy our dinner there...*Bill was settled when i went to the washroom to wash up*...

My boy picked us up from there and off we went Double O...Had fun there too...Now i had juz finished bathing and jotting down all my beautiful sweet precious moments..

Gtg to my dreamland..Was damn tired..Photos will be posted soon..Ta Ta...




[U]'r3 [B]eInG [L]oVed [B]y [M]3




snow fairy at 04:40;

___________________________________



Yeap!! I got myself a part-time job(recommended by my boy)...Target to commence next week and all the way till 11/Nov bah...Free transport to and fro..Dinner provided too...So gd, rite?? Envy??

Meet my boy for lunch yesterday..Went Lot1 to walk around and also to get Jay Chou new release album 'November's Chopin'..Not bad..not bad..still got a free poster of him..*so cool*...Soon after faster went home to watch the album MV of his..OOh, he really melts my heart...Slack till dinner and headed Taman Jurong market for Curry Fish Head and then kiss good-bye...

Reached home, faster bathe liao and i'm struck with my TV...Watched 'Da Chang Jin' and blah blah till 12.30pm...faster got myself to slp...

Gonna be a long day today...
Ook..gtg for my lunch liao le..Tata..




[U]'r3 [B]eInG [L]oVed [B]y [M]3




snow fairy at 11:56;

___________________________________



Went for movie at Plaza Singapura yesterday...Catched the movie 'The Exorcism Of Emily Rose'..Rating: 4/5...As said this movie was film based on a true story and it was filmed in a court..Their acting was good but the screaming images was abit disturbing..To me, this is quite scary in a way as demons will hold onto you for the rest of your life, you have happen to see the darkness at 3am...So soon after actually i was like dun dare to go back hm and also scare of 3am...But in the end we still went back hm..Faster bathe and get myself into bed at abt 1am+...

Trailer Link: ~ The Exorcism of Emily Rose ~


Funniest part: Gave my boy a gd nite msg..30mins later, he called..He wanna disturb me from slp and also he told me that he's' scare as he's now alone in his living room..Afraid to see a dark figure...*lolX*...

Love this commerical showing in the cinema..'Chicken Little'...Managed to download from the web...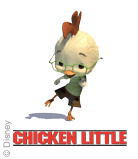 Isn't it cute??

Link: ~ ::Chicken Little:: ~
It is almost similar to the one u see in theatre`Enjoy~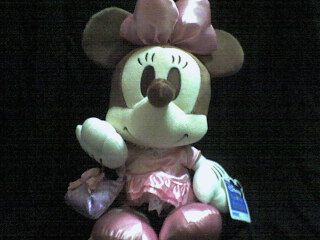 36th Minnie Mouse from Plaza Singapura..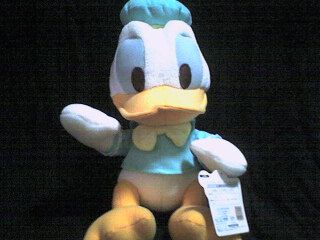 37th Donald Duck from Plaza Singapura too..


Gtg to prepare..Will be meeting my boy for dinner later in the evening...Will be having my recent caving: French Toast again...Ta ta..




[U]'r3 [B]eInG [L]oVed [B]y [M]3




snow fairy at 17:40;

___________________________________