Got outta bed at around 11am+..faster bathe and headed out for lunch then to Jurong Point gai gai...Wanna book the movie' SpiderMan 3' at The Cathay but it seem like good seats were all taken up...*sianz*...
Will be heading Raffles Place with my boy later at 4pm for a medical check-up..hopefully a fast one...thereafter shop around with my boy awhile before meeting up with few of my ex-colleagues at around 7pm..But it seem there's changes so shall see how again...
[U]'r3 [B]eInG [L]oVed [B]y [M]3

snow fairy at 14:31;

___________________________________

ManU

match starting 7pm+ today..Late dinner tonight ya...

Received a piece of 'good' news from my boy last night...He's going for his 2

nd

reservist this End/Oct till Mid/Nov...This training took place in Australia~Wallaby..My boy didn't like it..He's not that army-type of boy...and shit + shit...He won't be able to celebrate my birthday with me as well...*

Argh

!!!*...

Knocked off at 10pm+ last night...I'm so frustrated...I finished up my outstanding issue at around 8pm+ and i simply can't leave..

Ok

, not going to talk in details cause it's sucks big time...



Argh

!! I'm looking ugly recently...what i wore recently were all of my black and white clothes..I look so dull..But no choice for the sake of my late-grandmother i have to endure for another one more day and i can wear

somthing

like blue & green...And i need a hair-cut & facial badly...My fringe is

irritating

me...




Okie

, gonna go now...

ManU

mach starting soon ya!!!

Long weekend for me till next

tuesday

...



TaTa

!!!


[U]'r3 [B]

eInG

[L]

oVed

[B]y [M]3


snow fairy at 19:27;

___________________________________
I'm craving for DURIAN!!!
[U]'r3 [B]eInG [L]oVed [B]y [M]3

snow fairy at 23:01;

___________________________________



Blogging from my office computer...15mins to kill...Everyone went for their lunch except me...have to stay till 12.45pm before I can pack pack pack and GO!!! Applied for a half-day urgent leave this morning....*Hippy*..

The moment I laid my feet on the floor when i woke up this morning, I'm feeling delighted although with alittle tiredness bug with me...stretched my body to my fullest and prepare myself for work...Do the same old routine procedure, bathe, brush my teeth, dry my hair, dress up, make up, tie my hair, wear my shoe and I'm ready for work...Don't get me wrong, I'm happy not because I'm happy to go to work...I'm still having the same old horrible feeling knowing that I'm still surviving in SATO (my existing company)...

I'm meeting my babelicious, Violet at Vivo City in another 20mins time...It has been so long I last met up her..a month plus or so...Although we still keep in close contact but I missed the moment we used to bitch around...*haha*...We planned to go for a shopping spree..hopefully I will buy some stuffs ya...Didn't took urgent leave all because of her lah, is just that I need to handle some personal stuffs later in the afternoon so here I'm with my 'dun-feel-like-working-attitude'...

Okie...Time running up!!

Ta Ta...

**Good news coming up ya!!! Stay tuned!!




[U]'r3 [B]eInG [L]oVed [B]y [M]3




snow fairy at 12:43;

___________________________________



Oh gosh!! That's freaking scared me off man!!! When can I get the hell outta this suffering??

Argh!!!! Enough of my working rants....Back to my weekends...


Sunday

Woke up late morning, prepare ourselves and off we head to China Sqaure..for shopping and lunch...Bought some cutie cutie stuffs for my babelicious..then to The Cathay for an afternoon movie..Watched 'The Hills have Eyes II'...rating: 3/5...It's damn violent and gore...*goosebum*...but frankly speaking, I prefer part one as in storyline more interesting...the mutants in part two are not that scary afterall..the sexual violence make me sick..Argh!! It's pretty er xin...Okie, enough of this gruesome movie...


Afterwhich we headed Bugis to shop and for entertainment as it's still early for dinner...Settled our dinner at a café nearby Bugis...Food there were only a so-so standard...regret not going 'Hong Kong café' for dinner instead...Ended my day at around 9pm+...


Saturday

Perhaps a slacking day for me...Get outta of my bed at 1pm+ after receiving a wake-up call from my boy...I'm feeling fresh in fact..14hrs of beauty sleep ya...*goody goofy*...I'm loving it...Got myself prepared and off we went for our lunch...then meet up my babelicious, Fie cause I need to get myself a new spec...*haha*...she got a very good lobang man...Got my new spec after waiting for 20mins...That's pretty fast, save my trouble for making another trip for collecting...then back home to laze around...Watched the replay match for Manchester United, read newspaper, fixing puzzle and blah blah blah..


Headed Jurong Point early evening to spend our time...Bought nothing much besides some groceries and a few packs of mask from Watsons...Had our dinner at Fish & Co. Soon after, back home I bathe, apply mask and then await for ManU match to start till late night...





[U]'r3 [B]eInG [L]oVed [B]y [M]3




snow fairy at 22:37;

___________________________________



This morning i just throw my anger to the air...I'm really really very very mad ...and now, i'm a happy gal..Soon i'm off from that horrible 'shit'...Has been into my foul mood very often(almost everyday), get really pissed off easily..I hate it...I need professional help....

One good news to share...I've been accepted!!! Shall disclose it later...

For now, i can eat more and sleep well...





[U]'r3 [B]eInG [L]oVed [B]y [M]3




snow fairy at 22:27;

___________________________________



*haha*..i guess i'm more to a greedy piggy...

Make my special trip down to Vivo City just because i simply can't resist doughnut temptation...Normally even for what i crave for, i will pester my boy to go along with me...But this time round, i choose to head down myself and queued alone...the POWER of doughnut...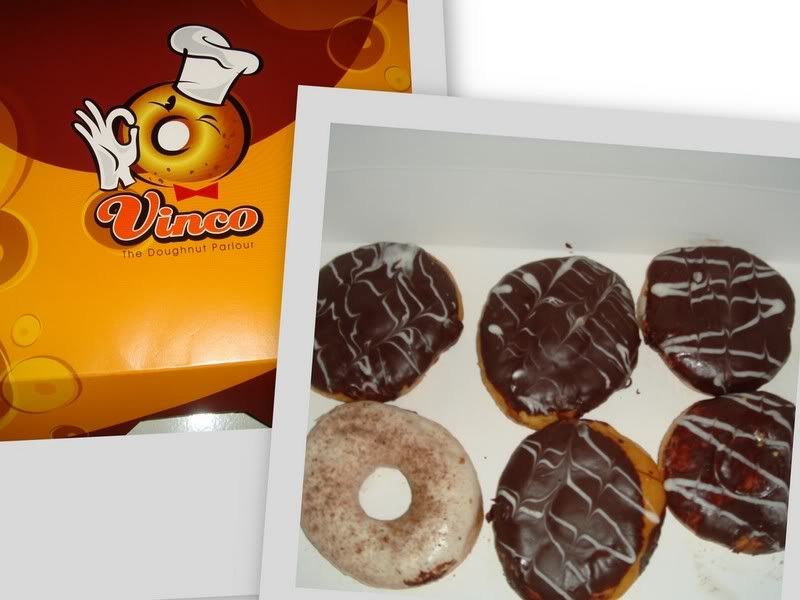 This tells how much i love having Chocolate Delight...*yummy yummy*...I'm a happy gal now..
Went Candy Empire..hoping to see Hippo Kinder Bueno in stock but was in vain...Argh!!! Why always no stock??
Halfway through received a call from my sister, they are heading back home so asked them to drop by Vivo fetch me..*keke*...Of cause while waiting i went shop shop...I wanna head back home with a much more happier mood...bought myself a grey top from Zara & a black heels from Charles & Keith...


Signing off...

Adiós


[U]'r3 [B]eInG [L]oVed [B]y [M]3

snow fairy at 22:45;

___________________________________



Work

Work have been pretty stressful for me recently...On top of that, I had deleted almost 80% of my emails unintentionally just today...SHIT!! accidentally pressed on 'Clear all offline items' button...*stupid me*...Luckily I'm able to retrive back those important emails if not I'm in deep shit...

How come I'm so blur today? Anyway I'm not in the mood for work...


Leisure

Had my weekend fully utilize with programs...Happy that finally it's a NO NO window shopping anymore and I had eaten few of my favorite food...Sad that I didn't get enough of my beauty sleep...

Sunday
Woke up at 9am+...sent my boy to work..He need to help out in an event organized by his company...Then after, headed back home and continue with my beauty sleep till late noon...Faster got prepared, doll up and headed Far East...*haha*...Initially wanted to alter few of my clothes but the prices they quoted me is too costly...so instead went shopping alone while waiting for my boy to knock off...All in all, bought a top from Zara only...Afterwhich, headed to Marina Square for movie again..Watched the movie 'To Sir, With Love'..a Korean movie...Rating: 3/5..Overall not bad...lucky for the twist in the end, if not I will get disappointed once again...Thereafter, headed Geylang for dinner..'Claypot Chicken'..Ended my day at around 10.30pm+..Fallen into my slumberland at 11pm+...


Saturday
As mentioned, I reported work on Saturday...and it's a super long day for me...knocked off at 1pm (on the dot)...Helped my boy get his shaving foam and hair spray before going back his house...Washed up, touched up and off we went to Queenway Shopping Centre...My boy wanna check out the jersey there...After much walking, he bought a Manchester United's (away) jersey afterwhich we headed for lunch before we make our way to Vivo City...First we collected our movie tickets...Then it's my shopping time...*haha*...Finally this time I bought something...A whit tube from Zara recommended by fie..Saw a dress that I fond at MNG but too bad no sizes left for me...that's pretty sad...

Watched the movie 'The Reaping' with Remus & Huishi...Not a very nice show..Rating: 2.5/5 only..the trailer caught my attention but I'm kinda disappointed after watching it...I expected more than that...After that, queued for my favorite doughnuts...Chocolate Delights..*I'm loving it*....One down from my food craving list ya!! It took me like 50mins to reach the counter...In fact, I hate queuing but I still queue for it...

Thereafter, headed to East Coast for our late dinner...Had my stomach filled with wanton mee, BBQ chicken wings & satay...*yummy yummy*...all tasted delicious...*I like..i like*...yet to try their fried oyster but I suppose it should be nice too...I'm drooling now sia...Rested my eye at around 3am+...without knowing it, I had actually opened my eye for more than 20hrs...





[U]'r3 [B]eInG [L]oVed [B]y [M]3




snow fairy at 23:04;

___________________________________



It has been a week i last blogged...For the past few days i had my days passed sadly and busy..I'm really that busy that i can hardly on my computer at home..or perhaps I'm hardly home as well due to my granny's funeral...

Everything happened at Easter Day which is last Sunday..when i was still happily having Easter lunch with Tim's family i guess my granny was still fine...when i was having my dinner that night with my favourite 'Claypot Chicken' i guess my granny was suffering...Heard about her admission to hospital only when i reached home...After hired a cab with my brother, rushed down to pay her visit as the doctor had already gave the hopeless sign mentioning to prepare for the worst..It's anytime now...

The moment when i saw her..loads of needles, pipe were hanging around her that made me feel sorry for her...i didn't know why suddenly her sickness got worsen..I witnessed her heartbeat stopped once but went back to normal in another second...I was terrified...And from there she hang on till the very very morning of last monday....

What a Easter's Day i had!!!

******

Went back home to catch some sleep while my granny was being dress and doll up nicely...That's the start of my granny's funeral...Everything ended on Friday the 13th...

Truely i missed her...

Today my dad will be going to Mandai to collect her ashes and i will pay her a visit at her new home tomorrow...





[U]'r3 [B]eInG [L]oVed [B]y [M]3




snow fairy at 08:43;

___________________________________



ErmM..in fact, we were not feeling hungry yet as we had our lunch at around 4pm just now..Met up my boy real late today as he sent his car for servicing early in the morning..And for that I'm given an opportunity to get outta of my comfort bed at 2pm+...I'm feeling high ya...but the moment when i was up, i can feel my stomach crying for FOOD....*oOh gosh*...

Just checked on today's 4D winning number...I curse and swear...2 sets of my number nearly striked...perhaps my whole family curse and swear as well cause I'm sure they bought the same number as me...Argh!! Why the number jumped here and there? I don't like and i hate it...Second prize & Starter prize, u know?? Shit!!!!!

Manchester United match later at 12.15am with Porthmouth...


******

Did nothing much yesterday as well...Headed out to town for some shopping and light dinner in the evening...And once again, empty-handed...I'm feeling sad, OK...Went for a late night movie 'Shooter' @ The Cathay with Remus & Huishi...Rating: 3/5..not bad after all...Supper at Geylang..my favourite 'FrogLeg Porridge'...Home sweet home at around 2am+...


Charles...




[U]'r3 [B]eInG [L]oVed [B]y [M]3




snow fairy at 19:47;

___________________________________



Sat right in front of my computer, just taken my dinner but still reluctant to bathe myself yet...*lol*...In my mind was like, i just wanna blog....or perhaps to rant around...

Current Mood

My mood for today was not right...In fact for these past few days i have been feeling completely not right...maybe because of my **** that i had now was not an ideal one...


Leisure & Entertainment

Met up with my babelicious last night at Lot 1...I guess I'm been possessed...my babelicious felt that i acted strangely..From an icy, reserved character into a chatty + quick-tempered vixen..Truly i don't know why but maybe as the above said that actually affect me, i supposed..

Tine will be flying off to Bangkok soon..I supposed she's at the boarding gate now..Bon voyage...


*o**

I was being offered...and I've been encouraged...(shall not disclose much)...I know it's lame but it's confidential...


Holiday

Thanks god, today is already Wednesday..Tomorrow shall be the last working day of this week..And I like it....Long weekend ya...





[U]'r3 [B]eInG [L]oVed [B]y [M]3




snow fairy at 20:17;

___________________________________



Gosh!! I'm down with a cursed!!!

I couldn't spot any nice clothes ever since my last shopping spree at Vivo City..That was like a month plus back...Shit!! Has been going shopping with my boy for these past few weekend and was back home empty-handed..I hate it...Argh!!..I need to spend some bucks on clothes...

Apart from no-shopping cursed, I'm down with another horrible curse which has been staying away from me for quite sometime...Has been throwing princessy temper very often recently...That puzzled me..Perhaps I'm out of my mind i suppose...The one who got it was my boy..*Poor boy*..Has been tolerating it since then..Actually he's the one who hinted me on my unstable temper and it makes me went into deep thoughts if not i wonder when will i put a full-stop to it...*keke*...

Nothing much for me to blog about my weekend...It's just some normal routine cycle...

Sunday

Hopped outta bed as early as 10.30am...
Bathe, prepared...Set off to China Square...
~It's shopping time for my boy~
He bought a Gentle Giant Starwars Royal Guard which costs him $270...
Headed Suntec City for Lunch..
Had my favourite 'Pratas' @ Suntec Convention Centre...
~Shopping~Shopping~
Shopping spree was in vain....
Had our all-time favourite Ben & Jerry's Ice-cream..(Biased..the waiteress there gave bigger scopes to guys...)..For that, it's my boy duty to order each time we go...
~Shopping~Shopping~
Back home as said, empty-handed...
Helped my boy with his new friend...
Slacked & Surfed the net alittle...
Had Claypot Fish for dinner...
Home sweet home at 9pm+...

Saturday

Woke up at around 12pm+...
Prepared and headed LOT1 for our lunch...
Back home, slacking...(tried to nap but just couldn't get into my lala land)...
Soon after, headed Jurong Point...
Had our dinner @ Crystal Jade La Mian...
Shopped for awhile...
Rushed back for home to watch Man United match and blah blah blah...
Went into my slumberland at around 2am+..




[U]'r3 [B]eInG [L]oVed [B]y [M]3




snow fairy at 00:53;

___________________________________