******
Yesterday, a slacking Sunday filled with eating, zZzing and telly-ing...Got outta bed early noon, get ready and off we made our way to market for our lunch by foot + bus...It's a super sunny day man..While walking to the bus-stop, I'm sweating like mad...Once back, I took a shower AGAIN before I settle down and laze around!!! Soon after I took my usual short nap till dinnertime..then catch some telly and blah blah blah till god knows what time I fall asleep on my cozy bed...
Saturday
Got a disturb call from my boy at around 1pm+..Faster dragged myself up and get prepared..Had our lunch at Teck Whye and chop chop my boy sent me back before he went for his RT...Argh!! Sickening RT..making my Saturday sounded boring..Took a nap while waiting and finally he's back at around 6pm+...Got up and get prepare to hit town...Just before we are about to leave the house, his dad want to dine with us...so we headed Jurong Point Soup Restaurant instead..After, we headed PS straight, by then almost all the shops were closed..but still I managed to pick a leather belt from Dorothy Perkins..after a store discount + 10% membership discount with additional 10% Citibank discount, I paid only $14.40 for it...I simply love GSS loads!!!
Thereafter, watched the movie 'Pirates of the Caribbean: At World's End' showing at The Cathay...Rating: ???...ErmMm, I seriously don't know how should I rate this movie or perhaps I don't have the rights to rate it either..Firstly, I'm not a fan of Pirates and had never watched any of their previous movie..Secondly, throughout this whole 3hrs movie I couldn't really understand the whole pictures of it..So all in all, I'm confused...Home sweet home with loads of question marks above my head...
Friday
A happy shopping day for me...I'm excited since afternoon..knowing that I will be hitting town for a shopping spree after work..and indeed I got what I wanted...but I still want MORE!!!..
Make my way to Orchard myself as my boy got to do some OT-ing...Mphosis is having SALE again..Thks to Ling for that information...Bought 2 black tops, 1 green top, 1 green/black top, 1 skirt and 1 dress from the sale..+ 1 blue top from Topshop & 1 black halter top from ???(forgotten the name of the shop)...Total damages for the day is considered worth spending...To my disappointment, not all major shopping malls participated in this late night shopping thingy...Thought that I can still shop for more but most of them were closed at the usual normal hours...No choice ended my shopping mood at around 11pm+...
[U]'r3 [B]eInG [L]oVed [B]y [M]3

snow fairy at 13:12;

___________________________________

TGIF!!




Late night shopping today...





[U]'r3 [B]eInG [L]oVed [B]y [M]3




snow fairy at 09:15;

___________________________________

Good News!!!! Good News!!!



Someone in my house striked first prize today...*Goody goofy*...


Awaiting for some extra pocket money ya!!!!





[U]'r3 [B]eInG [L]oVed [B]y [M]3




snow fairy at 22:21;













[ Edited with photos ]

A dun-feel-like-waking-up Wednesday..Argh!! Dragged myself up for work and now I'm feeling sleepy..I need more of my beauty sleep...

Leisure

Was out with Violet for shopping at Orchard after work yesterday..so bad of me to leave her half-way our shopping (Promise!! More shipping time next week ya!!) as I received a last minutes call from my boy saying that he got free movie ticket for 'Shrek 3'..As I'm a fan of the previous two movies, I wouldn't wanna give this a miss...So we shop till 8pm before I meet up my boy to Great World for the movie...Rating: 3.5/5...It's neither a very good or disappointment movie, I was caught in between..Although in Part 3 the storyline was alittle boring with loads of love between Shrek The Ogre & Princess Fiona but still, it invites a lot of laughter (provided you understand the meaning of the jokes)..If all you want is love & laughter, I can guarantee that you will sure have it all by watching this movie...


Work

As usual, reported work just in time...Work has been fine recently...except that I'm alittle bit bit free sometimes or perhaps most of the time...*lolx*...Everyone were busy except me...and time seems to be moving pathetic slow when you're idling...Hopefully when days goes by I'm able to occupy myself with more work instead...Idling too much at work can lead to laziness...





Mini Snack that Violet bought for me...Thks gal..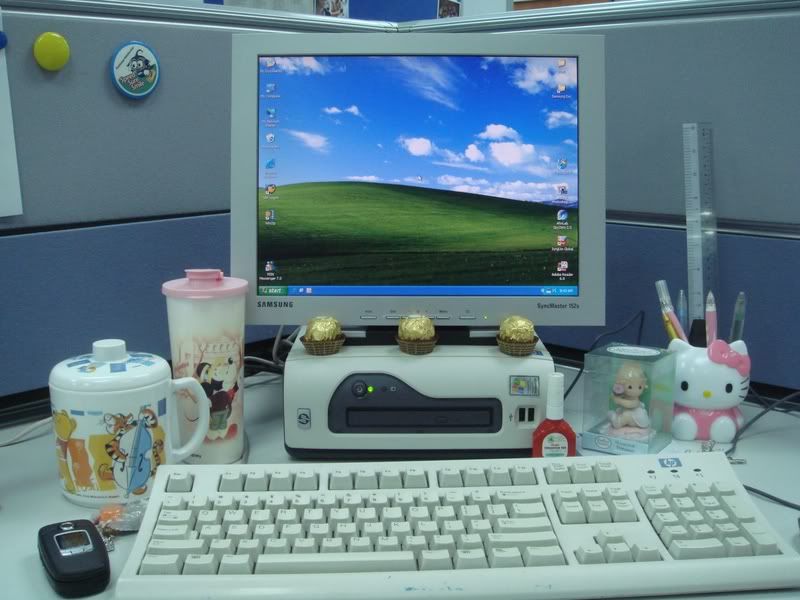 My work desk..
A gift mirror from my colleague who is back frim Vietnam...
My Precious Moments Note Pad at work...This shows that i'm not skiving..
Precious Moments Birthday Miniature..It's so lovely!!
[U]'r3 [B]eInG [L]oVed [B]y [M]3

snow fairy at 13:13;

___________________________________



Although there's no shopping this weekend afterall I'm still a happy gal...We woke up extra early on Sunday to Bugis for lunch then to China Square to walk around before we departed to Changi Airport to fetch his dad...I told my boy how i wish I'm heading towards the departure hall instead of the basement arrival hall...My boy fulfilled my wish..He bought me to departure hall to walk around...Alamak!!! Slap forehead!!!

Comes to think about it...Almost everyone around me is heading overseas for holiday recently..especially for Eunice(company trip) and Aunt Ruby with Uncle Steven all heading States..I'm turning green...i doubts I'm going anywhere with my boy this year...but still, I'm crossing my finger for miracles to happen...

Having some tiny little pimples outbreak on my face recently..I guess it's due to the medicine that i took a few days back...These tiny little pimples are making me UGLY...Argh!!!



Beng!!Beng!! My boy once commented that this Tee was cute and i bought it on impulsive...Wore it yesterday and i fall in love with it..Beng!! Beng!!..(pardon me with my yellow zZzing pants)..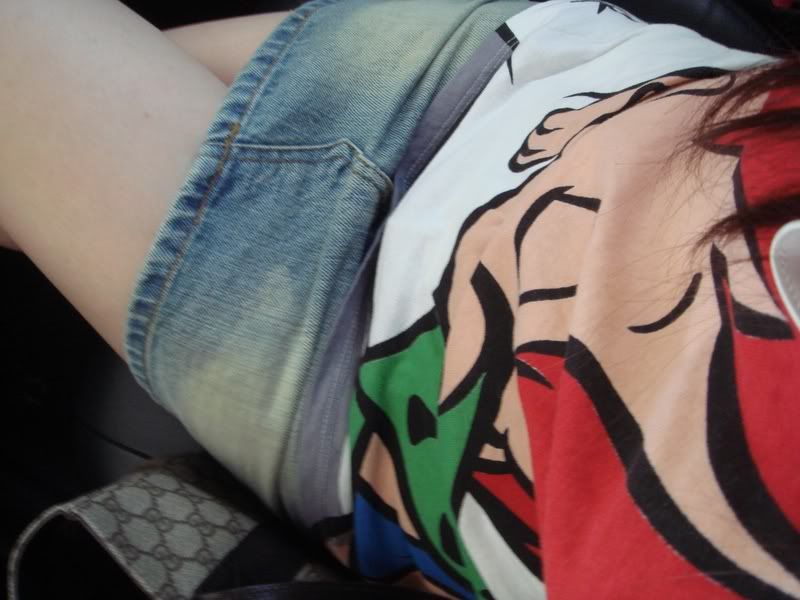 a proper demni skirt to go along ya!!
Here some Tine's Pre-Bd Celebration photos to share: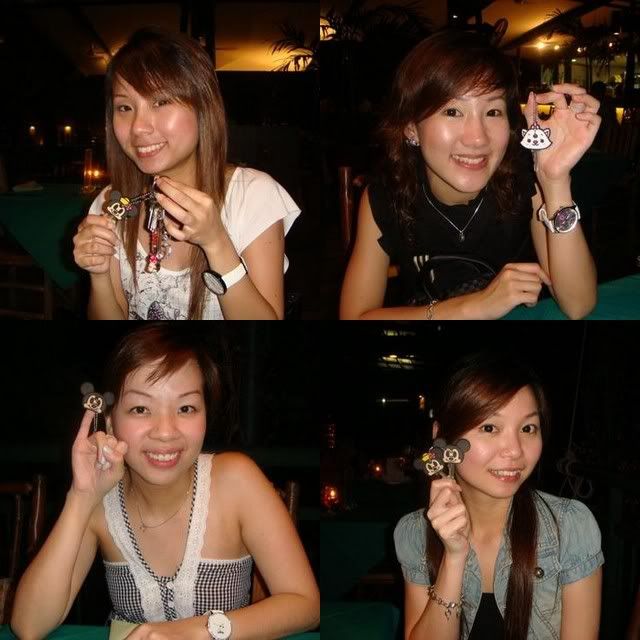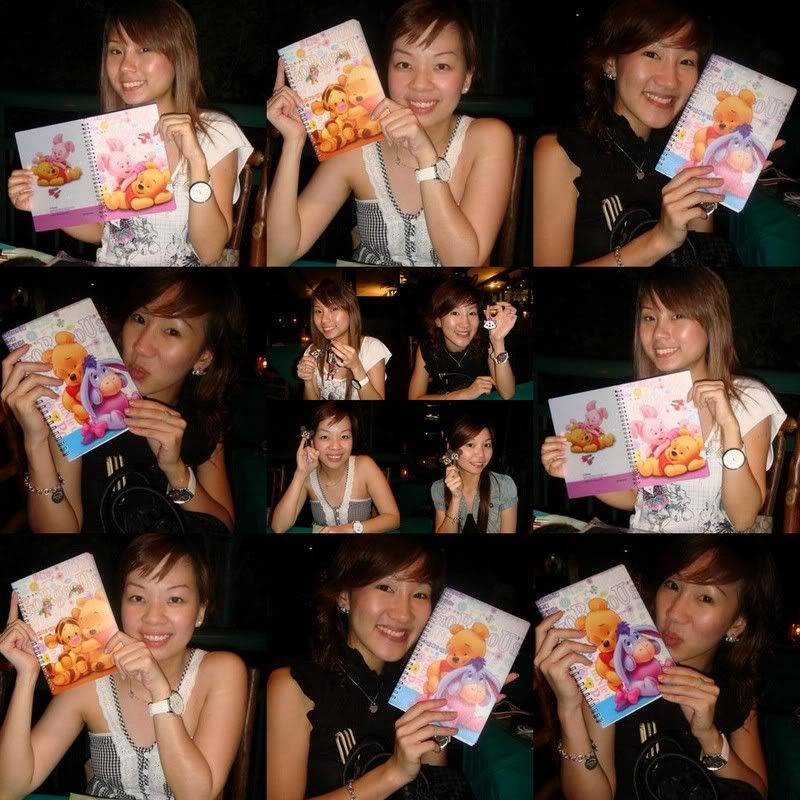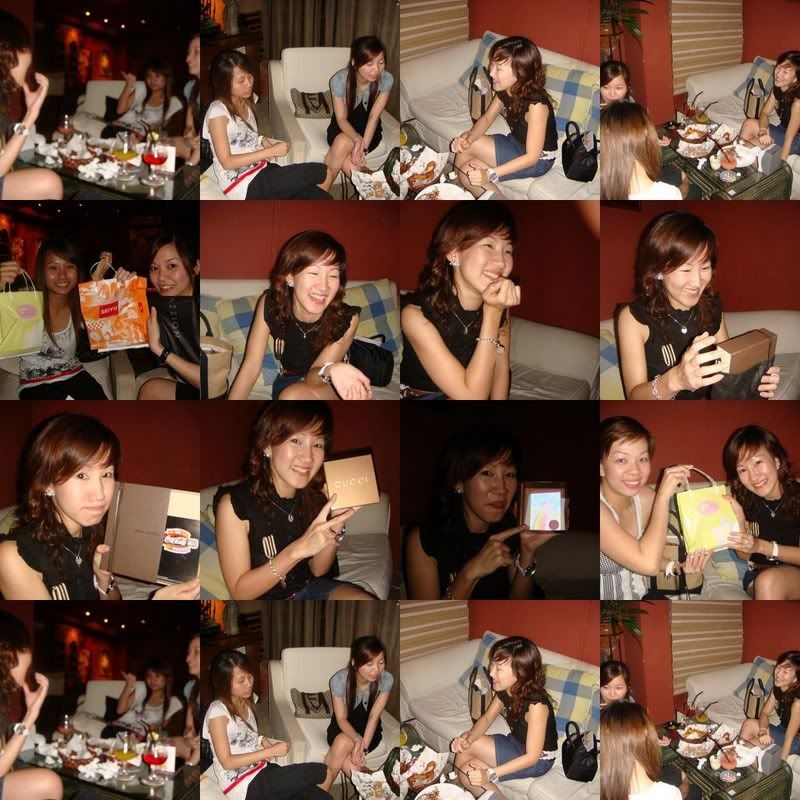 That's about it....

Shall put a full-stop now..Gonna catch some telly and do face-mask before i call it a day...


Charles





[U]'r3 [B]eInG [L]oVed [B]y [M]3




snow fairy at 19:57;

___________________________________



I'm fully recovered from FEVER!!!..but still down with some cough and sore throat...

Blogging from my boy's place as i got nothing to do...don't really feel like napping as i have nap more than enough for the past few days..

I'm feeling hungry suddenly..my stomach is crying...*Argh*...Can't go for dinner as my boy not home yet..gonna endure for another hour or so...He so ke lian, kanna re-training for his IPPT unlike me slacking at home..I guess for the next 3weeks no shopping day for me on Saturday...*sob sob*..

Oh ya, my sense of tasting seem abit weird recently..Everything that goes into my mouth turned out to be alittle bitter..Haiz, maybe due to the medicine that i took that affects my sense of tasting...*hate it*..wonder when will this bitter bitter thingy goes off..with this condition, no point eating heavenly food...I simply can't taste them!!! But, but, but,

I MISS THEM!!!




********
Speaking of the devil...Just yesterday i was asking my mum how come Comfort haven't replied to me..And today i recevied their email..Although is not anything great but i'm contented that at least that nasty driver gotten what he deserved..~whahahha..

It goes:-
Subject: REPORT LODGED AGAINST DRIVER OF TAXI NO. SHB 2457Y
Our reference: 2007/05/0881

Dear Ms Cheng

I refer to your report lodged on May 08 and wish to extend sincerest apologies for the unpleasant incident.

ComfortDelGro drivers are expected to practice safe driving at all times when plying the roads. We will not hesitate to discipline drivers who fail to observe road safety and flout traffic rules.

In this spirit, we have conducted an investigation and issued a warning to the driver. He has been cautioned to adhere to safety standards set out not just by the Company but by the Traffic Police as well. We have updated his service record with the complaint and will be monitoring his performance closely.

We will continue to reinforce our communication and training efforts to educate our drivers on the importance of road safety.

Once again, we apologise for the inconvenience caused.

Yours sincerely
Jean Ho
Customer Service Officer
Customer Service Centre

********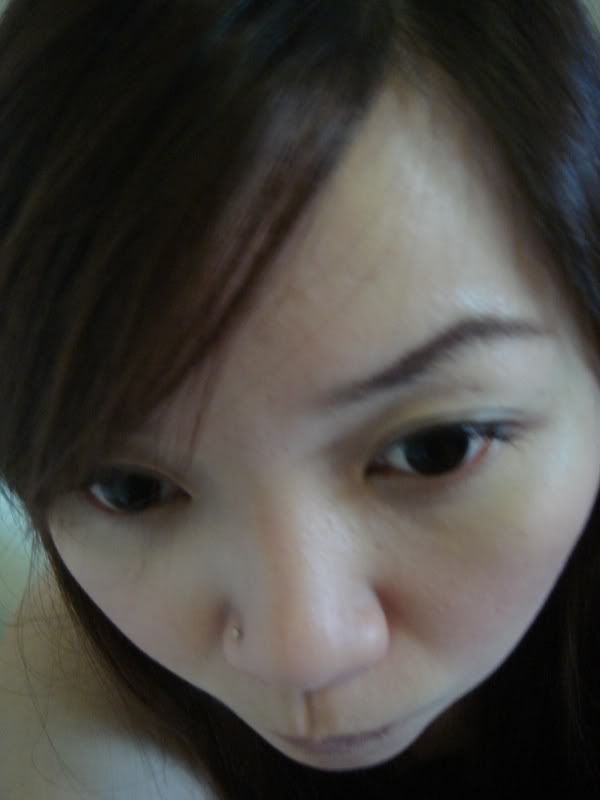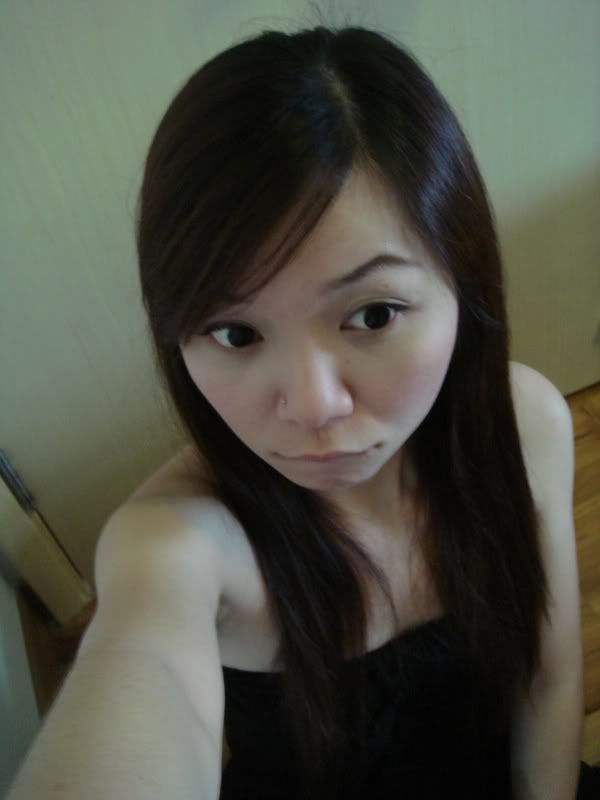 ** Just received a call from my boy...He's coming back soonnn...


[U]'r3 [B]eInG [L]oVed [B]y [M]3

snow fairy at 19:19;

___________________________________



Running a high temperature again yesterday while I'm working...The feeling was horrible..headache is killing me softly..My feverish body is making me weak too..Totally no mood in doing anything at work...Msg my brother asking him to fetch me from work as i really got no strength to carry myself back home..Once home, my dad forced and fetched me to see a doctor...

My temperature running at 39.5degree..recognise as high fever, suspect dengue fever..The doctor was kinda surprised how do i managed to survive working for the whole day at this temperature...In fact, I'm surprised too...Got myself a two days MC to rest at home..

After some medication and sweating last night, I'm feeling much better now...except for my body aching that's still hurt...guess my temperature was back to normal too..hopefully it won't come back again...

By the way, I'm a dirty and smelly gal now..I have not bathe myself since yesterday morning ya!!! I'm dying to clean up myself sia...but i just can't...*Argh*...

Okie..Just took my medicine..the drowsiness is taking effect soon...


Ta Ta




[U]'r3 [B]eInG [L]oVed [B]y [M]3




snow fairy at 11:32;

___________________________________



No time to load Tine's birthday photos into my computer yet..Shall try to do it within this week bah...

By the way, my weekend was great..Watched '28 weeks later' at The Cathay on Saturday...a zombies type of movie with rating: 4/5 although there're a few goofs...a well paced, with a few jump from my seat movie...


Gonna take my rest soon...


Ta Ta




[U]'r3 [B]eInG [L]oVed [B]y [M]3




snow fairy at 21:11;

___________________________________



Guess what? I jogged almost 2rounds around my house after work today...Healthy lifestyle ya!! After bathing, i'm feeling fresh but with alittle muscles aching now...Hopefully i'm able to push myself to exercise regularly so that i can wave good-bye to my flabby fats..*cross finger*..I'm on a mission..I have to shed off another 1.3kg of my weight to hit my resloution of the year...Had my weight measure @ 46.3kg the other day i went for my medical check-up...*Hippy Hippy*..


Work

Still ok-ok..not bad...shall not mentioned too much as i'm still new..One thing bad about it is the strong unpleasant odor in the powder-room..Luckily i'm not a frequent visitor if not i think i will faint...


Gonna catch some telly now...

Adios





[U]'r3 [B]eInG [L]oVed [B]y [M]3




snow fairy at 21:01;

___________________________________



Secondly, Happy advance Birthday to my Babelicious, Tine..Hope you will like the pressie we got for you ya!!!..Thanks for the wonderful dinner...although with the accompany alots of mosquitoes here and there (i got a few big red red dots on my leg..so itchy), nevertheless we still enjoy our night..May you enjoy your lovely day with your loved ones tomorrow..Keep us posted in details ya!!!


A non-working day for me...Woke up at around 10am+, accompany my mummy to BBP for breakfast...Then back home, took a short nap till 2pm+..faster bathe and get prepared to meet Tine for a shopping spree at town..

Took a bus there..Waited like 40mins for her as something cropped up at her side...While waiting, went shopping alone..Soon after her arrival, we went for an early dinner at around 5pm+..Carry on shopping at Far East, Taka & Paragon till 8.30..a happy shopping day i had...*I like..I like*...Bought home a black tube top, a white cardigan and a hot pink tube dress...


Work

I'm starting my work tomorrow at Samsung...Hopefully everything turn out good..*cross finger*..


My Anger

Filed a complaint to CityCab last night..This driver freaking pissed me off...I'm boiling..

The e-complaint goes as:-

*********
To Whom It May Concern:

I wish to lodge a complaint to the CityCab driver of SHB2457Y who is on duty at around 11.12pm on 07/May'07. Although I'm not a passenger of his but I can't imagine if I am one. This driver was a reckless driver even there's a passenger behind him. He seem to be asking for a challenge after he high beam me on and off a few times when he was behind me along PIE. Maybe to him, I'm driving slow but I'm sure I'm within the speed limit. Finally he decided to keep to the 2nd lane, traveling just beside my vehicle. I intend to slow down and let him overtake me but he didn't. Instead when I brake he slow down, when I speed up he speed up too. These braking & speed up thing continue for at least two exits when he finally exited at Woodland Ave 3. He made me missed my exit by doing all these. Is this how CityCab taught their driver? To challenge other driver, making them misses their exit just cause they think that they are driving slow? Is this the right attitude a driver carrying the name of CityCab behaves?

The way this driver reacted was simply dangerous. By giving a on and off repeatedly high beam can affect a front vehicle driver's vision especially when he tailgate. In additional he's such a bully by doing braking & speed up not letting me bypass him and exit.

I'm not trying to be mean but I do wish to hear from you for an explanation on the above stated even though I'm not a customer this time round.

Hope to hear from you soon.

Thanks & regards
PeiSan Cheng

*********

Okie..Enough of my nonsense...More updates on Tine's dinner celebration soon...waiting for Fie to send us the photos as well..
Gonna hit my comfort bed soon...


Charles




[U]'r3 [B]eInG [L]oVed [B]y [M]3




snow fairy at 22:44;

___________________________________




Mood: Hippy Happy...Countdown!! Countdown!! I'm meeting my bebalicious in another 10hrs time...but i'm still feeling UGLY...Argh!!! I hated it!!!!

Reported over the radio station this morning..ManU will be wining the Premier League for this season...*hurray*...~Phew~..lucky for a draw match for Arsenal vs Chelsea last night that crown United the champions...*I like..I like*...I can't wait to see them playing against each other...

Okie, gonna prepare my resignation letter soon..I'm so scared...I'm hoping I'm not bringing any kinda inconvenient to my dept member..*cross finger*...


Charles..




[U]'r3 [B]eInG [L]oVed [B]y [M]3




snow fairy at 08:06;













Mood: Cloud nine


A quick updates before i ended my day today....

Came back home sweet home after a 2days/1night stay at my boy's place...parted with him just 2hrs ago after our dinner at Chomp Chomp..It has been so long i last went there...it's my boy first time there...Thanks to Melvin who directed the route there..

Watched a mid-night movie 'Spider-Man 3' with Remus & Huishi at The Cathay on Saturday...one thumb up for the good seats with no stinko or inconsiderate ass around...two thumb up for the movie..the action sequences was pretty good...I like Spiderman with the Venom's suit, it looks kinda cool..


*******

Work

Finally my misery contract with the agency ended last friday and tomorrow i'm going to hand in my resignation letter...I know i'm terribly bad but i seriously cannot take their non-systematic working style and double job scopes...As mentioned, my official assignment started 1/Apr...It's a new hand-over job by the management therefore when i just joined the company some time in March they are unable to tell me what problem will i encountered in advance..But never did i knew that it was so super problematic to the point that i've unintentionally thrown my anger to my mentor a few weeks ago...To be frank, i'm been pampered when i was in Pioneer..everything was so systematic and easy..and most imporantly they hated double job...

I guess i gonna have a hard time passing this letter to my boss...He's such a good boss with no temper and he's not bossy at all..but for my own selfishness i have to do it...



Entertainment / Leisure

A pre-birthday celebration for Tine tomorrow night at The Labrador Park..*hippy hippy*..I've never been there before so kinda excited how it look like...Dining by the sea, i supposed if i'm not wrong..*haha*..


More updates soon...

Ta Ta..





[U]'r3 [B]eInG [L]oVed [B]y [M]3




snow fairy at 01:23;

___________________________________




Reported late for work...(I did it on purpose)...Woke up as usual today but knowing that's raining I headed back to slack for awhile more...Waited till no heavy rain still alittle drizzling, I start to prepare myself..too lazy to bring along an umbrella with me...Journey to work was a smooth one with no kan-cheong spider, no squeezing, not any foul-smelling stinko people...~Phew~...I hated that smell till the core...*yucky*...


Labour's Day

Initial plan was to catch the movie 'SpiderMan 3' but due to the overwhelming respond, there're still no good seats available...*sickening*...Although I'm kinda expected these but I just didn't intend to book tickets in super advance..*keke*...so I'm kinda deserve it also...but nevermind we shall wait and wait and wait till the best time then...I woke up with hunger cause I skipped my dinner last night...faster got up and get prepared and headed market for lunch...Had my stomach filled with Chicken Rice & Fishball...*yummy yummy*...headed back to slack and took my short nap till dinner-time...Helped ta-bao food for his grandparent while we had Golden Pillow...Catched some HBO movie before I went home sweet home at around 10pm+...Had a nice good-night chat with my sister last night before I fell into my slumberland at around 1am+...


Monday (Company holiday)

As planned, went for my medical check-up...I waited freaking long for everything...*sianz*...luckily I had my boy accompany if not I will go mad and crazy...As it's still early, we walked around alittle before we went to Marina Square...Took us some time to find a parking slot as well..*hate it*...Faster my boy walked me to City Link as I'm meeting the group at Raffles City...My boy went for his own entertainment as well..a last minutes KTV-ing gathering with his colleagues...Met up with Cerissa, Jolin, Violet and Shirley who came down later..Chit-chatting and gossiping till late night...Ended our conversation at around 2am+...Reached home, bathe, un-pack and pack and just before i wanna switch on my computer, i received a message from my boy checking if I'm still awake...Fetched my boy at around 4am+...Couldn't really went into my lala land as I had coffee at around 10pm+...so kept tossing and turning till god know what time I fall asleep...



I really had a good weekend spending quality time with my boy...*i like..i like*...






[U]'r3 [B]eInG [L]oVed [B]y [M]3




snow fairy at 13:15;

___________________________________