Woke up early noon...
Hopped by Far East...
Sent my boy's pant for aleration...
Lunchie @ a Muslim Resturant...
~Shopping~Shopping~
(while waiting for collection)..
Once done, went to Vivo City...
Bought movie tickets for 'Epic Movie'...
~Shopping~Shopping~
Had Ben & Jerry Ice-cream..
~Shopping~Shopping~
Dinner @ Kim Gary Resturant..
'Epic Movie' showtime..
Home sweet home @ 12am+...
Due to all those post CNY sale now, i can't stop pampering myself with clothing..It's just too tempting..especially mphosis..they are having 50-70% off storewide..that explains why most of my damages are from there...
My damages:
1 x 3/4 black pant from Blz..
1 x white cardigan from Far East..
1 x white top from M)phosis..
1 x red ranger back from M)phosis
1 x black&white spag top from M)phosis
1 x pokka dot skirt from M)phosis
1 x black skirt from M)phosis..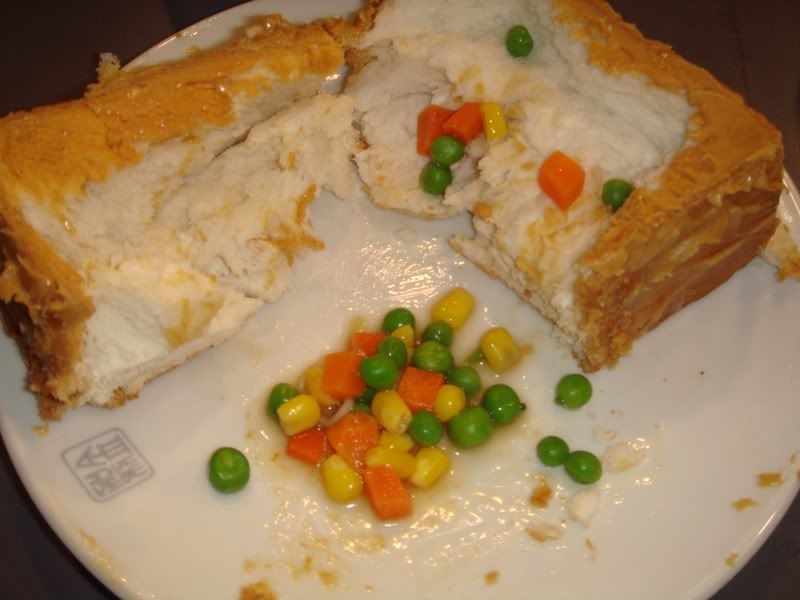 THE WORST FRENCH TOAST I HAD EATEN EVER...the 'after' version created by us..

[U]'r3 [B]eInG [L]oVed [B]y [M]3

snow fairy at 01:56;

___________________________________



Blog alittle before i continue with my k drama series...

******

Had a great time hugging with goodies last night at my boss's house..I tell you, his wife can really cook...i'm loving it..The kueh lapis was nice, curry chicken was nice, black pepper chicken puff was nice, everything was nice except for the pineapple tarts which was abit too sweet for me...but still, I enjoy myself eating and eating non-stop sia...haiz, what a waste..This will be my last time tasting it...i gonna miss it..Headed back home at around 9pm+..Enter into my slumberland at around 2am+...





Working colleagues & Partners..



[U]'r3 [B]eInG [L]oVed [B]y [M]3

snow fairy at 22:10;

___________________________________

[Edited with photo]

I'm back...Just finished watching the whole episode of 'Which star are you from?'...*thumb up*...shall start off with a new drama soon 'Fireworks'...

ErmM..this year was not a happening year for me...did like only 2 house visiting (my grandparent's house and my boy's house) for these few days..How come? I wonder why too...Haiz, i guess I'm just too lazy to do house visiting...my niece got the most red packets..*envy*..All in all, i took only 10 red packets...Argh!!!...

But nvm, tomorrow I'm going to my boss's house...a few red packets awaiting for my arrival ya...

Oh ya, comes to realise that i haven't started gambling at all..*sianz*...It makes my CNY a boring one..but nvm, it means I'm keeping my $$ sound and safe...*lolx*...

Okie..time for me to cut my crap...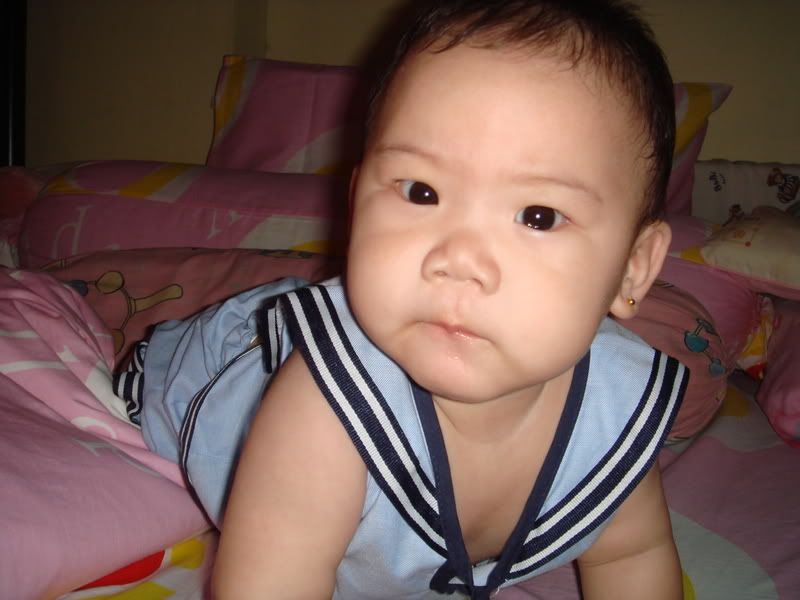 My hyper-active niece...To me, she look more like a boy ya!! And she's real round...

Anyway once again, enjoy this CNY fullest...eat till your heart's content..

Ta Ta...


[U]'r3 [B]eInG [L]oVed [B]y [M]3

snow fairy at 23:49;

___________________________________





This MV is kinda sad...*sob sob*

Although i'm not a fan of BoA..But this song is pretty nice...


**Gonna continue with my k drama 'Which star are you from?'..

Ta Ta..




[U]'r3 [B]eInG [L]oVed [B]y [M]3




snow fairy at 23:43;

___________________________________



Check this out:



I wonder..do they know that they were been filmed? I supposed not..if not they will ask him to stop it..but seriously I salute the photographer's calmness..instead of making a big fuss, he handle this effectively..I'm not onto anyone or against anyone..I just felt that this is so much unfair..These two officers jolly well misused their authority...Doesn't mean you are a traffic warden you can just simply park your vehicle illegally anywhere you like just to full your stomach, thinking that no one else will book you..Anyway they got the taste of their own medicine..

Hopefully they deserve the right punishment..


** I guess there's problem with my

tag board

..It doesn't seem like it's loading..but

nvm

, blogger seem to have some problem too..my

archive

posting doesn't seem to appear as well..

Argh

!! too many problem till i can't be bother..


[U]'r3 [B]

eInG

[L]

oVed

[B]y [M]3


snow fairy at 23:35;













May you receive loads of big red packets and indulge yourself with loads of goodies this year..Diet comes later..*lolx*..




[U]'r3 [B]eInG [L]oVed [B]y [M]3




snow fairy at 14:30;

___________________________________



Just got home from Fie's house..so good of her to send us home..Thks ya..As planned, we were there to pamper our nails..*haha*..not me, helped out doing for Tine, Fie & Shihang..Will be pampering mine tomorrow or saturday..

Saw a heels that Fie bought..so nice..i also wanna buy..Gonna hit town tomorrow for last minutes buying ya...*evil thought*..*evil thought*..

******

My V-day

Spent this day just how any other couples do..Hit Bugis soon after my boy came back from the airport..Reached there at about 5pm+..Walked around and also to do some last minute necessity shopping...Got a few items from my CNY shopping list..went for an eye-brow trimming as well..Initially wanted to go for manicure service, was caught by their design..but they were all fully booked so no choice bought the 3D nailart sticker, nail glitter and nail diamonte and do-it-myself..

Afterwhich, headed Suntec to meet up with Remus & Huishi...My boy got me two valentine's disney pushie as an additional v-day pressie..Thereafter, walk around and hunt for the shortest queue resturant to settle our dinner...Not knowing we stopped our footsteps at 'Imperial Teasure La Mian Resturant' (something like Crystal Jade) as not many were queuing..[Argh!! I would prefer eating western food but i think i will faint + blackface if i will to queue]...Don't wanna queue + not much time to spare, we(i) settled ourselves(myself unwillingly) inside instead..Then after shop around alittle (saw a top from MNG, thought of getting it but i'm busy with my ice-cream..so shall get it some other day bah) before we sat in for our movie 'Ghost Rider'..To me, it was not bad, graphics was good BUT storyline goes abit too fast and the demons all dies easily...To my boy, he expected more...Overall rating 3/5...Ended my day at about 12am+...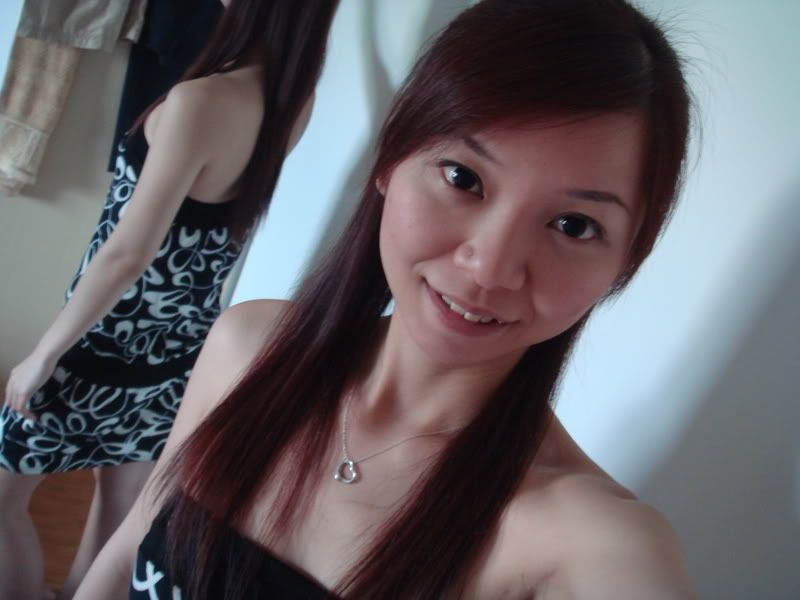 While waiting for my boy..snap snap alittle before it goes low-batt...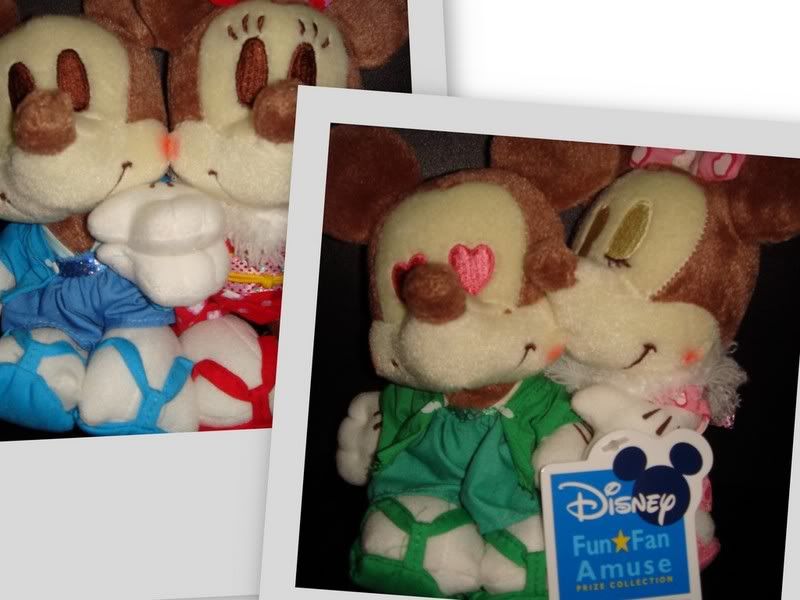 Disney V-day Pushie

Oh ya, while i'm still in my slumberland, received a call from my colleague early noon yesterday saying there's flower for me..Someone (never leave down any name) sent lilies to my office..so sweet..But i'm guessing maybe it's ????..Anyway thks...


White Lilies from Mr. Mystery..

So that's about it for my v-day..

******

Ok..Time to turn in...

Ta Ta..


[U]'r3 [B]eInG [L]oVed [B]y [M]3

snow fairy at 00:41;

___________________________________



Firstly, Happy Valentine's Day to all!!!

******

L is for the way you look at me
O is for the only one I see
V is very very extraordinary
E is even more than anyone
that you adore can love
It's all that I can give to you
Love is more than just a game for two
Two in love can make it
Take my heart but please don't break it
Love was made for me and you

******

Slept over my boy's house since last night..Wakie up early early noon and prepare myself for lunch at Jurong Point..At the same time, run some errands for his dad..His dad wanna buy a bouquet of roses for his mum..So romantic, right? *haiz*..was wondering how come this gene was not pass down to his son..*slap forehead*..So now i'm back to his house blogging while he's doing the fetching at the airport...

*Haha*..By right i should be changing and busy dolling up myself before he came back..but nvm, guess he won't make it that fast..Moreover, the plane had just landed...

Will be meeting up with Remus & Huishi for a movie 'Ghost Rider' later on at Marina Square..more upcoming plan still left unplanned..

Ok..Gonna get ready soon...


Ta Ta





[U]'r3 [B]eInG [L]oVed [B]y [M]3




snow fairy at 15:22;

___________________________________



Hasn't been blogging for the past few days..been busy lazing with my boy and doing bits by bits spring cleaning...In just 5 more days, it's gonna be CNY...For this year, I'm not feeling any excitement..I'm only alittle flying high that i knew i will be having a long CNY holiday (a 5days escape from work) and not to say of all these waiting to receive red packets ya..*I'm broke*...Just got to know that i won't be getting my pay on time for this month..gonna wait till early next month...*Haiz*..

Although CNY is just round the corner..but what came first will be valentine's day which fall tomorrow..No planning yet as my boy need to fetch his dad from the airport..don't know what time..so..so..so...abit hard to head out early or what..but still i took a day off...We shall see how it goes...Was wondering will i be receiving roses from my boy this year??..A big question mark ya..Guess he won't be that romantic to buy me one..He's SOUR...*haha*...Nvm, pamper me with gifts instead (I'm consoling myself)..*lolx*..

How do we spent our 3rd Anniversary?
Had our day simple..Took a half-day leave..headed to handle some personal stuffs before i went over to his house for lunch..Didn't head out soon after as we need to wait for the arrival of a buyer who gonna purchase the i-Gallop that his mum wanna sell away...So without much hesitation, i hopped into the bed and took a 2hrs nap while my boy playing 'Dead Rising'..Everything was done and settled at around 5pm plus 6pm..By then almost half of the day was gone..Faster headed off to Suntec & Marina Square..Walked around and i got a top from ZARA..After much walking, we settled our dinner at Cafe Cartel...It has been quite some time i last went there to dine as we encountered bad experience a few months back..Still, we decided to give it our last try..but things doesn't work out..Kiss good-bye to Cafe Cartel...Afterwhich, watched a movie 'Babel'..Rating: 2.5/5..not a bad one but not that fantastic..Ended our day at around 11pm+..That's about it..


A stranger is concerning on my personal life..This got me puzzled, for a stranger to ask this question early in the morning is kinda weird..making love or not? This is too personal...i doubts i can/will share this with a stranger..But whatever it is, thank for your concern..





[U]'r3 [B]eInG [L]oVed [B]y [M]3




snow fairy at 12:44;

___________________________________



Pour a cheerful toast and fill it!!

Today marked our 3rd year being together and it's not over yet..I'm sure we have many many more to go...

Can't imagine that we had came this far...I've learned and is still learning a lot of hard lessons, been through each other's ups and downs and generally weathered together...

While drafting this post, my mind suddenly flashed back to that very moment..what, when and how we became an item..an officially couple...


This love journey taught me things that i'm most unwillingly to know and not wanting to be told of..and not to say, i've also changed my usual bull-headed, demanding, unreasonable, princessy behaviors to a better one self because of him...*haha*..a great achievement for me ya!!!


Besides that i've learnt real real alot from him...till i can't bear to let him go...



Thank you for being a potato, for me to improve my English speaking ability...
Thank you for using big words in our conversation, for me to learnt new words that i've never used or came across...
Thank you for your patience coaching, for me to operate an UFO cather..to get a pushie based on my own ability...
Thank you for your efforts for getting all Disney pushie that i adores...
Thank you for spending time watching good movies that i've never watched before all over again...
Thank you for your leading me to the path to own a driving license...
Thank you for your easy-going behaviors that made me a stronger person...
Thank you for knocking some senses into me when i can't think straight or simply unreasonable...
Thank you for sharing your/my problems & unhappiness with me/you...
Thank you for able to handle my horrible mood swing...
Thank you for being there for me..spending these three years with me...
Thank you for bringing wonderful & memorable moments into my life...



Last but not least, THANK YOU FOR LOVING ME....






To be continued....


*****



[U]'r3 [B]eInG [L]oVed [B]y [M]3




snow fairy at 00:39;

___________________________________



Generally life has been pretty low-key for the past months..but things are getting better when days goes by..*Goody goofy*...Another 9 days to go till my ORD (Operationally Ready Date) from Pioneer...the sweet scent of freedom is practically wafting in my nostrils..I'm loving it..don't get me wrong, i still love working there..Except for some particular groups of bitches, eveything down there were great..*haha*..Thanks to Pioneer, for me to know this great khakis, Violet..at least something i will value after i'm far far away from those bitches who hated me & Violet to their core..I wonder why??..But whatever it is, it doesn't matter now..We're beginning to see a speck of light in the distant horizon..

Btw, BITCHES, in case if you are wondering, we don't leave Pioneer because of you..Don't think that you have gotten what you want ya..We leave with pride and honor..in additional with a huge pay raise..

********

I'm halfway or rather only 1/4 done with my spring cleaning..*Haiz*...A lot more to go and i shall try to do it bits by bits..i'm a lazy bum ya..Hasn't been dusting and cleaning up my disney pushie soft toys for about 3mths plus 4mths..or even longer than that..can't really remember...Anyway guess they are starting to collect dust now..so tonight's agenda will be on my disney pushie..*haha*..guess that will take me alot of time..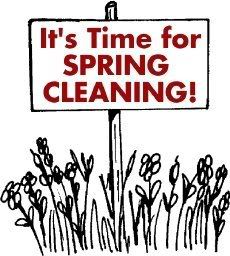 [U]'r3 [B]eInG [L]oVed [B]y [M]3

snow fairy at 00:54;

___________________________________

[Edited]

For today, I'm leading a day seem a year to me...Time pass just like a crawling tortoise..Argh!!

After missing from a day MC, back to work today..Everything seem so different..

Rumors around the office..everyone's topics..asking me this and that..I wonder why this news outbreak from thin air; travelled from ears to ears so fast...I myself kept it low profile but yet outsider still get to know what's going on..I don't know, maybe people who i loathe broadcasted it..But somehow when i knew that 'they' are KPOing on my stuffs, i felt shiok and i'm laughing...*keke*..

Those who are close to me in the office were so surprised on my decision..I was never once in their forecasted(resignation) list...but of cause after all, this will not affect my decision..It's real hard for me to revert my decision back to the usual self...

A big stone off my shoulder ya!!..Feeling happy but yet alittle sad..Feeling relief but yet alittle unbearable..~Mixed feeling~...

*******
Not knowing, i left my cellphone in the office..Not again?? Yup..i'm super duper absent-minded..Always have to trouble my colleague to keep it for me..*oh gosh*..

Hit Bugis soon after we are done with our personal thingy..Grabbed some fingerfood from Old Chang Kee for dinner before hopping in Bugis Street..i'm looking for casual dresses, but was in vain..After much searching instead of getting a dress i got myself a pair of 3/4 jeans..*haha*..Not wanting to walk any further, we ended our day at around 8pm+..




[U]'r3 [B]eInG [L]oVed [B]y [M]3




snow fairy at 22:55;

___________________________________



Woke up early noon today(Sunday)..got prepared and off we went to China Square..then nearby for lunch..afterwhich dropped by a newly opened shopping centre 'Central'..not much there as most of the shops are still in the midst of renovating...thereafter we headed to Bugis and Far East to shop around..Perhaps today was not my day..didn't got anything after a long day walk...is either no sizes left or it just didn't catch my eyes...~Phew~ Luckily i'm done with my CNY shopping in advance if not i can't imagine how crazy or how desperate i am..

After headed Geylang for dinner...Claypot Chicken Rice..Soon after, home sweet home..


Had a relaxing Saturday..or rather a slacking couch potato..Spent the whole day at my boy's house the moment i stepped in after our lunch at Teck Whye..Watched 'MIB II' & 'La Bambi' before we headed nearby for a late dinner..Took some ice-cream for desserts as well..*keke*..Bought some cakes back as i'm carving for it..I love having cakes and i guess that explains where my extra fats came from..*Haiz*..Opps, just recalled that i need to shed off at least 2kg of my current weight..

Was on sick leave again on Friday..Still feeling the ache even i turned in as early as 9pm+..I don't know what gotten onto me..These aches caught me and haunt me from nowhere..



Oh ya..2 items striked from my wishlist..Goody goofy..

Got myself a hair dye @ my aunt's place..I had it in 'Iris Red'..I'm loving it..
Puma Pink Diamonte Watch
It's a surprise gift from my boy for our 3rd Anniversary cum Valentine's day..I'm loving it..*muacks*..
[U]'r3 [B]eInG [L]oVed [B]y [M]3

snow fairy at 22:43;

___________________________________



This issue is making me upset..It's a decision of whether a firm career path with Pioneer or an escape with pay raise..For this decision, i hesitated and think it over and over again and again..

Today is the day i decided to end my journey working in Pioneer..last day should be at End/Feb..

Undergo stressful situation before i have the courage to submit my resignation letter to my Manager..Got through the usual interview session with my boss..but somehow my decision still remains the same even after hours of talk..They mean good but i got my difficulties in me..I feel bad and guess that i have disappoint my group members in some ways..my emotion caught me..

I have a great 3 years plus working there..i appreciated all their support and guidance during my provisional stay there...They gave me great opportunity to learn more things that might not be deploy to me based on my current qualification or experience..for that, they taught me well and certainly i have achieved and learnt alot from them...although my achievement for these past 3 years was not that promising but i managed to earn myself a promotion..

For all, due to my own selfishness, i decided to let go; start from scratch and seek for a career move..Although i know my future path may not be as easy as i thought or smooth-sailing but i'm willing to give it a try..


Once again, i won the title of a heartless freak...





[U]'r3 [B]eInG [L]oVed [B]y [M]3




snow fairy at 21:29;













*Ding Dong*

My lunch kahkis is on sick leave..I'm being left lunch alone...*haha*..those who know me will know how come i choose to eat alone...In the end, nope was caught by some other colleagues to lunch with them..

Just came back and i think it's time i should post some happy stuffs in my bloggy i had for the past few days instead of those emotional thingy...not that great but at least something that cheer me up...at least a time for me to escape and engross in something else...

Remember my post on the food craving list i had previously...Wow, i got them all cleared yesterday..ever the authentic Teppanyaki dinner that my boy promised..last on the list 'Taman Jurong Curry Fish Head'..*yummy yummy*..All thanks to my boy who kept catering to my food hunger...*haha*..

All these while i have been meeting up with my boy almost everyday...maybe due to the problem i had recently, i just don't wish to be alone..I wanna just diverted my attention to something that will cheer me up instead..

Hasn't been pampering my nails recently..abit lazy or no mood, i don't know...I just know that they look plain and pale; just like what i look like now, i suppose...kinda not used to it...so guess today it's time i should do something about it..hopfully i got the mood ya...


Ok..short and sweet...Gonna face the reality and get back to my workspace...

I have a war to fight later...wish me good luck ya!!!


Ta Ta..





[U]'r3 [B]eInG [L]oVed [B]y [M]3




snow fairy at 12:46;

___________________________________