A normal but unusual
Sunday
for me...Went Orchard for lunch and also to collect all my Tiffany & Co. stuffs...Lucky nothing is spoilt, if not..After that we went China Square..Nothing catches my boy's eye so ended up back hm empty-handed..Haiz..in the end kanna bully by him when exiting the carpark...*so bad of him*..but i knw tat he purposely wanna disturb me and bully me...So off we went back his hse to slack...Reached hm not long ago and we received a call from his mum asking us if we wanna join them to Paragon to see furniture and also to have dinner at East Coast Long Beach..Actally we dun really feel like going cos have to wait long at the resturant...But his parents would like to ask for some comments regaring the furniture...so we agreed...Spent abt 2hrs there trying and testing..In the end his dad confirm buying the dining table & chairs and sofa...WOww, even after discount oso very expensive..i guess the most expensive things was the dining chair itself..One chair costs SGD$389...*wOOw*..And his dad bought 8 of it..Can you imagine??..But thks, Uncle..(cos one of the chair is for me.)..Had our late dinner and i reached at abt nearly 12am...so tired...
Meet my boy at very later time on
Saturady
cos he's wif his parent at their new house wif their designer...Meet my boy and remus at 6pm at my area...And off we went to pick up Huishi and then off we went to Suntec 'Joaqium' for our steamboat buffet session..*haha*...Queued very long for it...But is worth it...Really loved the food there...loved all the pastry there...*loved it*...Supposed to headed KTV after dinner but we are too full and dun really have the mood to sing wif our full stomach....so we went to the amusement centre and try our luck...*haha*...
Make a guess if i got anything over tis weekends??
My damages
19th Mickey & Minnie from Causeway Point..Got tis last thursday...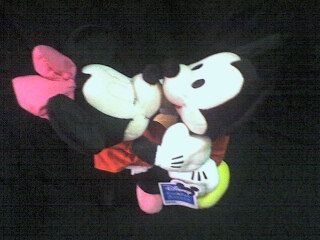 Rear View..
20th Marie Cat (Small version) from Bugis...Got it last friday...Dropped from the basket...
21st Minnie Mouse from Bugis..Got it on last friday...I declared tat i got tis myself..Finally a soft-toy tat i got it myself..So heng, i'm so proud of myself...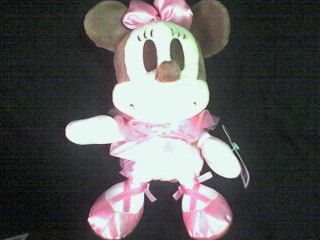 22nd Minnie Mouse (Small version) from Suntec..Got tis on Saturday...
[U]'r3 [B]eInG [L]oVed [B]y [M]3

snow fairy at 23:05;

___________________________________



Will be having our company seventh month praying today during lunch time..Later muz take down the lucky 4D no. Haiz...bought the wrong number last year, if not...Sianz..is juz not my luck i should said...but nvm, i wil try again tis year...*lolX*..need to carry a heavy heavy pail back hm...normal loh, inside the pail there will be salt, sugar, drinks, rice, peanuts, biscuits and etc...*keke*..heng ar, i have my boy ard...He will be fetching me from work today...*so blessed*...

After much consideration, i still decided to cancel my leave for yesterday...Meet my boy after my work to Causeway Point for dinner and also some entertainment programs...Elfin cupid...Got myself a pair of Mickey & Minnie again and a very small version Winnie the Pooh...Shall post the photos when i have the time...Tried out a new machine there where u have to use those shaky circle hook to hook the pink hook attached on the item itself...Our first try and my boy got it...*so lucky*...It seemed easy...After i got two toys we decided to go back hm le...Dun wanna spend anymore $$ leh...Total spending for the day: $30...




[U]'r3 [B]eInG [L]oVed [B]y [M]3




snow fairy at 11:57;

___________________________________



Haiz...will be going to work tomolo le...Kinda feeling ??..i'm still wondering should i cancel my leave on tis coming thursday anot...i will see how again tomolo...

To: My babelicious Fie, Ling & Tine

Thks for all the attention tat u all have given me...it will always be remembered...I lurve you gals to bits...


Our damages...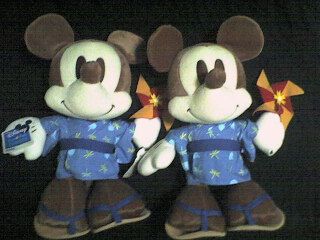 An extra Mickey Mouse in Kinomo tat i got it from Plaza Singapura last Saturday...Sold one of it to a friend of mine...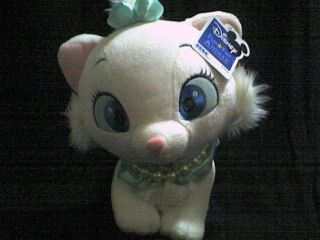 My 17th Marie Cat from Plaza Singapura..Got tis last Saturday...
My 18th Mickey Mouse wif photoframe from Plaza Singapura again..Got tis today...
[U]'r3 [B]eInG [L]oVed [B]y [M]3

snow fairy at 23:21;

___________________________________
[U]'r3 [B]eInG [L]oVed [B]y [M]3

snow fairy at 15:14;

___________________________________



To my surprise, my boy encouraged me to go and try for it...*haha*...but i still decided to let it go...If i did go for the interview today, tis will be my second time trying tis airlines...my very first time trying was indeed a very nervous one..but i was lucky to get in for their second interview...and is also where i been kicked out..*sad sad*...Din knw where goes wrong..but to me is a gd experience...

Meet my dear after my work...He came and fetch me and off we went to Bugis...Went to the amusement centre there to check out if there's any new collection now...*haha*...Saw a collection of the 'Marie Cat'...Set of 3...Not bad not bad...It was too tempting tat we put in a few dollar coins to try our luck...*keke*...After tat we shop ard and then headed for our dinner at one of the cafe there..After dinner we walk ard to digest our heavy stomach...WoOw, went into the shop 'Pretty in Toyoko'...now they got so many type of sticker prints, card prints and etc...u can even choose yr own background pics and also u can do drawing on it..it's amazing...Shall try it one day but first of all i have to persuade my boy..if soft tok doesn't work then i will use the hard type(die die drag him there)...*lolX*...He dun like to take photos from machine..he will only take photos when we are using digicam..cos won't reflect him as a fair guy...'his logic'...

Was back hm quite early yesterday cos both of us are tired...Reached hm, faster bathe bathe, watch abit of TV, chat awhile wif my boy...and i actually fall aslp w/o giving my boy a gd nitez msg...Slp wif the the lights on...din on my fan, air-con and also my radio...i guess i'm too too tired liao le...

oOk...now i shall prepare to go for my lunch le...'Ding Dong'...ta ta...




[U]'r3 [B]eInG [L]oVed [B]y [M]3




snow fairy at 11:57;

___________________________________
Part Passionate Kisser

For you, kissing is about all about following your urges
If someone's hot, you'll go in for the kiss - end of story
You can keep any relationship hot with your steamy kisses
A total spark plug - your kisses are bound to get you in trouble
Part Expert Kisser

You're a kissing pro, but it's all about quality and not quantity
You've perfected your kissing technique and can knock anyone's socks off
And you're adaptable, giving each partner what they crave
When it comes down to it, your kisses are truly unforgettable
The Keys to Your Heart

You are attracted to those who have a split personality - cold as ice on the outside but hot as fire in the heart.

In love, you feel the most alive when your lover is creative and never lets you feel bored.

You'd like to your lover to think you are loyal and faithful... that you'll never change.

You would be forced to break up with someone who was arrogant, acting like the dictator of your life.

Your ideal relationship is lasting. You want a relationship that looks to the future... one you can grow with.

Your risk of cheating is zero. You care about society and morality. You would never break a commitment.

You think of marriage as something precious. You'll treasure marriage and treat it as sacred.

In this moment, you think of love as something you don't need. You just feel like flirting around and playing right now.
What Is Your Best Sexual Skill?

Name:

Age:

Sex:

Sexuality:

Flirting Skill Level - 82%

Kissing Skill Level - 32%

Cudding Skill Level - 20%

Sex Skill Level - 8%

Why They Love You
You pleasure them first.
Why They Hate You
You are too sexy.
This

fun quiz

by

lady_wintermoon

- Taken 3342322 Times.

[U]'r3 [B]eInG [L]oVed [B]y [M]3

snow fairy at 23:43;













Nothing much to blog update recently...not much programmes going on...*boring boring*...same old routine job at work..Sign up for a 'Basic Nail Art Painting' courses wif my babelicious Ling & madly-in-love Fie...A one-day courses on Saturday tat lasts abt 3hrs...*haha*...Wanted to learn sum new nail art designs and the tatics of drawing it...I wonder if we can really learn sumthing out of tat 3hrs...but nvm, go there see see look look...They have full courses for it but we prefer to learn only nail art designs...We three fancy nail stuffs alot...always like to exchange nail designs among ourselves...

Went back hm straight after work yesterday(Monday)....Busying catching up SCV drama programmes...Busy till i forgot to watch 'American's Next Top Model'...*sad sad*..Chat alittle while wif my boy cos he need to hand it one of his assignment tis wednesday....so will not be meeting or chatting wif him today...Maybe a few msgs will do...nvm, i shall wait till wednesday and i can see him le...Miss him so much....

An usual Sunday for me....Meet my boy for lunch and we headed back to his hse to slack...Dun really feel like going out so all we do was watching movies from his computer which he had downloaded frm the net...Watched the movie 'Mr. & Mrs. Smith'...Brat Pitt & Angelia Jolie...Not bad, not bad...Din get to watch it at the cinema cos we were at HK when it started showing...Actually wanted to watch it at HK but the tickets charges there are much expensive than Spore...So we changed our mind better shop more...*keke*....Supposed to continue my vareity show 'The Simple Life Season 3(Interns)' by Paris Hilton & Nicole Richie....Had been wif them since they started tis....Stopped at episode 12 last week..cos my boy couldn't find the download of episode 13...Tis show was well put together wif the personalities of these 2 rich & beautiful gals...Very entertaining...Loves watching them...*haha*...




[U]'r3 [B]eInG [L]oVed [B]y [M]3




snow fairy at 15:39;

___________________________________

Saturday



Got a msg frm my boy asking me whether if i wanna go out early to town...Faster get myself doll-up nice nice and also booked the movie 'Land of the Dead' online at Cineleisure..Had our lunch and sum shopping at MANGO before we went for our early movie..*keke*...My boy liked the MNG blouse tat i bought....Initially my boy refused to let me buy cos he feel tat MNG blouse are always either too low-cut or too revealing...but after i try and let him see he changed his mind and ask me to buy more of it...*lolX*...

The movie 'Land of the Dead' was not bad...Rating: 3/5...but i still prefer 'Dawn of the Dead'...better story-line, much more violent and gross...but the funniest thing was tat in 'Dawn of the dead' those zombie are running here and there like mad...Zombie are not supposed to run...they should be walking like a retarded...*haha*...

After dinner went Takashimaya to shop ard..Sent my stuffs for polishing service at Tiffany & Co...Actually tot of doing it myself at hm cos the previous time they spoilt my necklace hook and they expected me to pay for a new hook...So of cos left wif no choice we have to pay for it....*so angry*...my boy was angry too cos tat necklace was a gift from him for my last bd's present...so now abit scare tat history will repeats...*shan touchwood touchwood*...Went to try on the Roman bangle..*I'm loving it*..i loved the price too..selling at $555..*wooW*...I loved the collection 1837 bangle too..Haiz..i got so many stuffs in mind tat i wanna buy...I wan a SUGAR DADDY!!!

Meet up wif HuiShi and Remus for KTV session at Party World Orchard...Reached there at ard 10pm..Sang till 2am...WooW, so expensive sia...4 of us spent abt $120plus...Haiz...is not a gd ideas to go KTV on weekends...After tat we went Central Mall to have our supper...Saw a pub named 'Club MoMo'...mountain ppl mountain sea...Now then i knw tat Club MoMo is there..*shan so mountain totorise*...Chatted and we planned to go cycling tis coming sunday at East Coast Park..and then suddenly remus asked if we wanna go Bangkok anot cos they will be going on 3rd Sept...*haiz*..too bad my boy cannot cos he need to go sch...*so envy*..i wanna go Bangkok too...i wanna shop shop shop...i miss Bangkok...*leg itchy itchy*...When can i go travelling again??

After all the chatting and all my envy we ended our day...Reached hm at abt 4am++...Fall alsp on my journey back hm...so tired...

I shall go n prepare myself to meet my boy for lunch le...see ya..ta ta..




[U]'r3 [B]eInG [L]oVed [B]y [M]3




snow fairy at 14:22;

___________________________________



My boy called..Told him tat i'm at his condo hse there so he decided to pick me up instead cos he wanted to see a doctor and also to have dinner at Jurong point...So waited for him at the enterance and then off we went to have our dinner first...My boy have no appetite so he take sumthing light..Walked ard and my boy changed his mind saying tat he dun wanna to see a doctor le...So we headed back his hse...

Hoping tat my boy will recover soon...oOk, i shall proceed to my dreamland...ta ta...




[U]'r3 [B]eInG [L]oVed [B]y [M]3




snow fairy at 00:43;

___________________________________



My boy is sick...fever & cough...Msg him hours ago but no reply from him yet...Wonder if he's alrite..Shall visit him later after my work...

oOk..i'm going back to my boring workspace le..ta ta..




[U]'r3 [B]eInG [L]oVed [B]y [M]3




snow fairy at 15:01;

___________________________________



Woke up at abt 1pm++...my boy called to wake me up...Faster faster doll up myself and off we went to Plaza Singapura for lunch...Initially wanted to watch the movie 'Land of the Dead' or 'The Maid'..but they have bad time slot..is either too late nor too rush...so off we went to the amusement centre to keep oursleves entertained...We spent $180+ on Elfin cupid catcher machine and we got nothing...Can you imagine??...We are out of luck, i guess...At tat point of time i'm feeling damn heart-breaking...i'm sure my boy dun feel any better than me...

Supposed to go back hm empty-handed but my boy suggested tat we shall go Causeway Point to try our luck there...and i agreed...Our luck was not tat gd too...but still managed to get ourselves one soft toys 'Marie Cat wif Photoframe'...Tis soft toys is damn expensive...costs abt $200+..abit lose count on how much we had paent...its worth abt the price of my Tiffany ring..*oOh mi Gosh*....I agreed tat there's gd times and bad times..maybe we are down wif luck today...there're times tat we got two in less than $30...so as for us we are counted ourselves much more lucky than others..blessed tat we got oursleves 16 soft toys so far...tis was the first time we felt so dishearten...We already spent far too much on all these....tis is an expensive hobby...we agreed not to play anymore...Besides tat i dun have any more space too...





16th Marie Cat...Tis shall be my last Disney Soft Toys...
[U]'r3 [B]eInG [L]oVed [B]y [M]3

snow fairy at 23:29;













Woke up damn early to prepare myself to JB...Supposed to meet my fellow colleagues cum friends (Jolin, Violet, HengYee & Kenneth) at 10am(Woodlands Custom) but they were late..Waited for abt 20mins for them...can u imagine i'm alone..*so ke lian*..but nvm i enjoy my day there wif them...When we reached there faster faster we change our money to RM...and then headed for KTV at Neway..booked a room from 11am - 2pm...Per head RM6 - RM10 and they serve breakfast...*WoOw*..Cheap cheap....The decor of the room there was nice and spacious...their service was great too..*love it*..shall visit them again...After KTV off we went to fill our stomach again at one of the Kopitiam resturant..ordered alot of foods to pamper ourselves...And then to our shopping of cos...a fruity trip indeed...Bought quite sum stuffs there..2 heel from VNC, 2 tops(Pink& Black) and a causal shorts...*haha*..i spent all my RM...left wif only SDG dollars...*so pathetic*...After shopping we went to 'Seed's Cafe' to rest our tired foot, eat and chat...Had all the delicious cake, laughter and fun there....






All of us inside the KTV room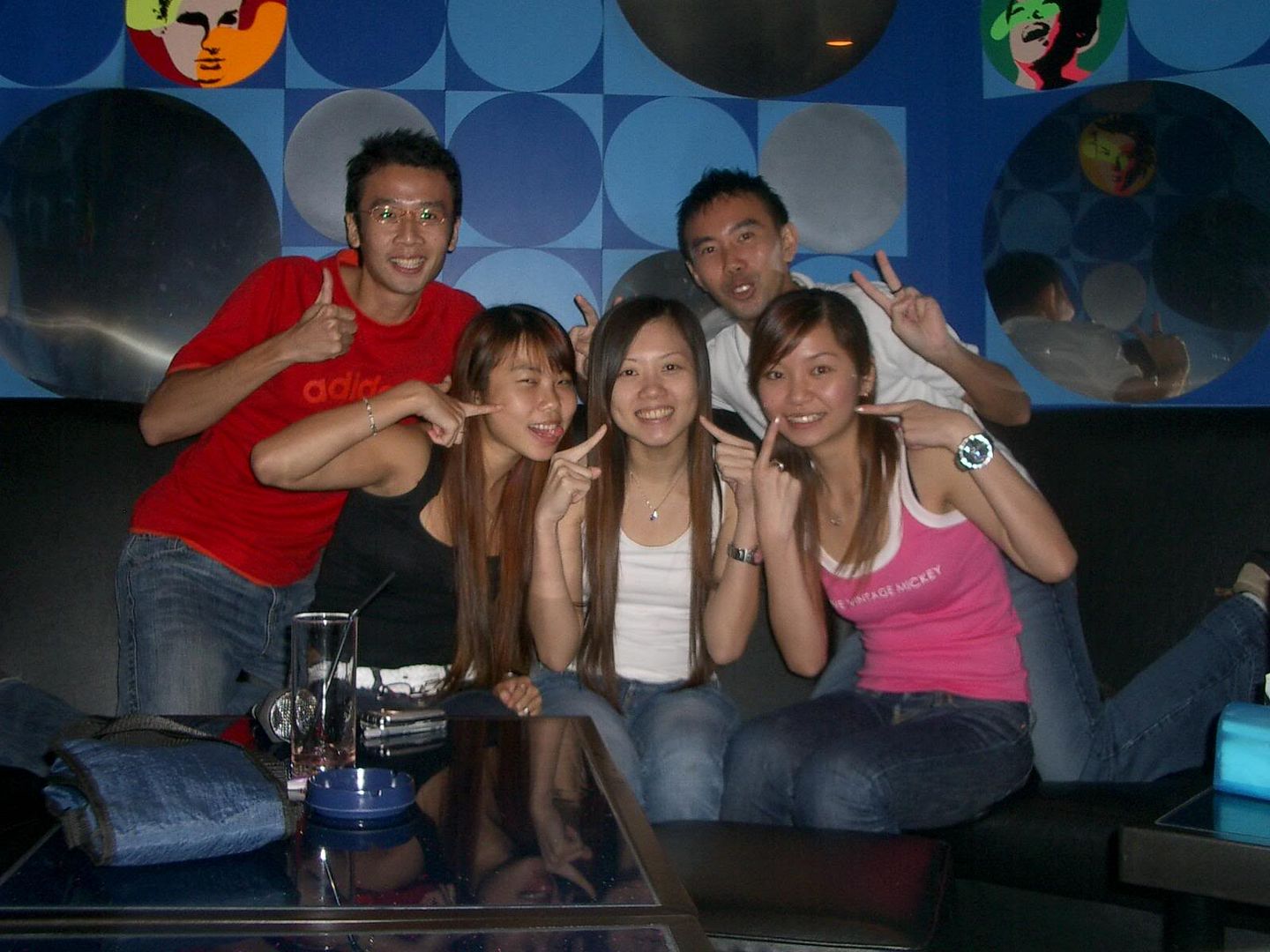 Cutie pose


Have you even see anyone who kanna beaten up still in a smiley face??
Violet & Ken duet while me & Jolin posing for photo
Pioneer S.H.E


Had tis photo taken kinda unwillingly...Supposed to have a self shoot but Violet wanna take it wif me...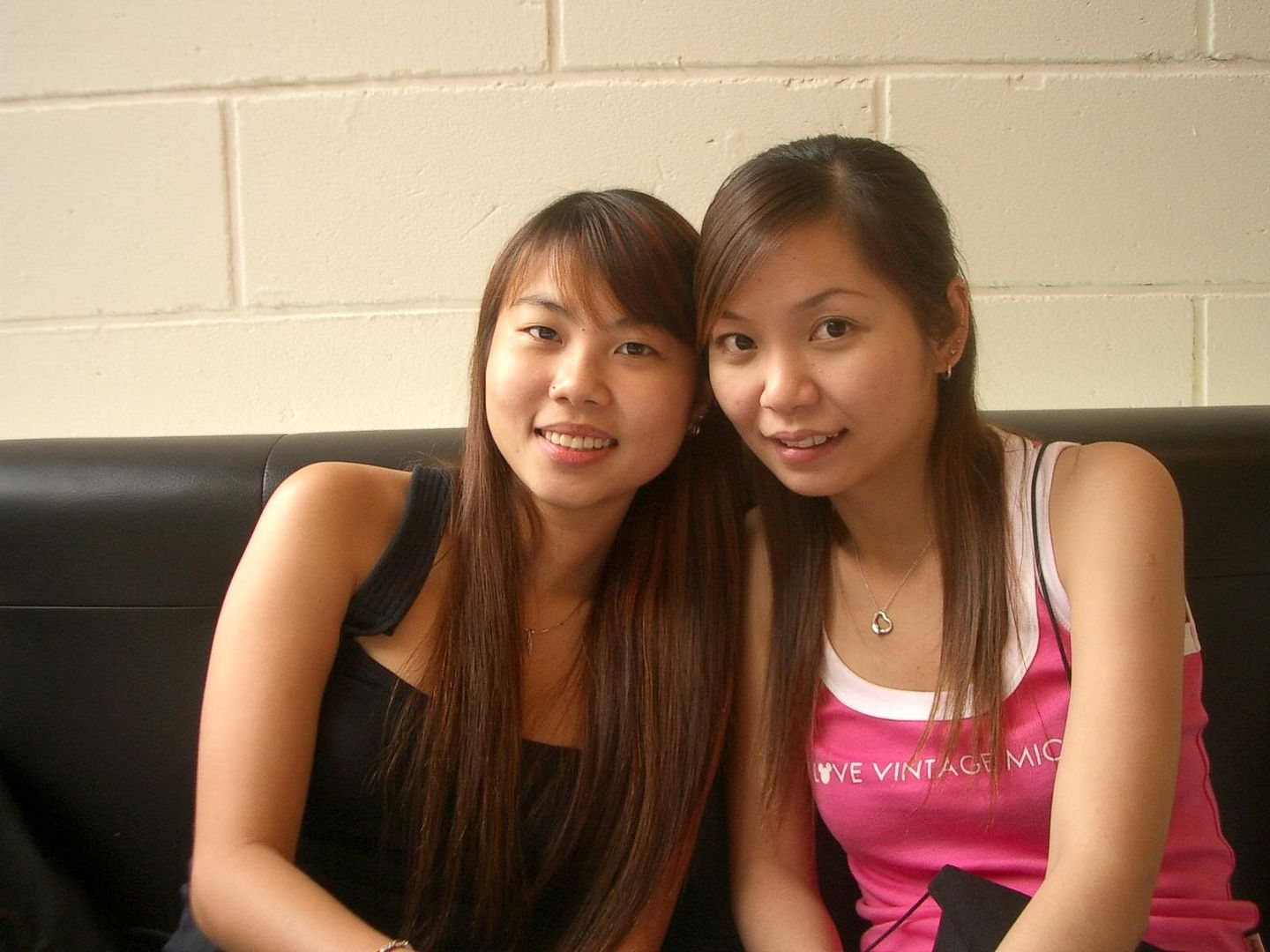 We inside the cafe..So tired to smile le..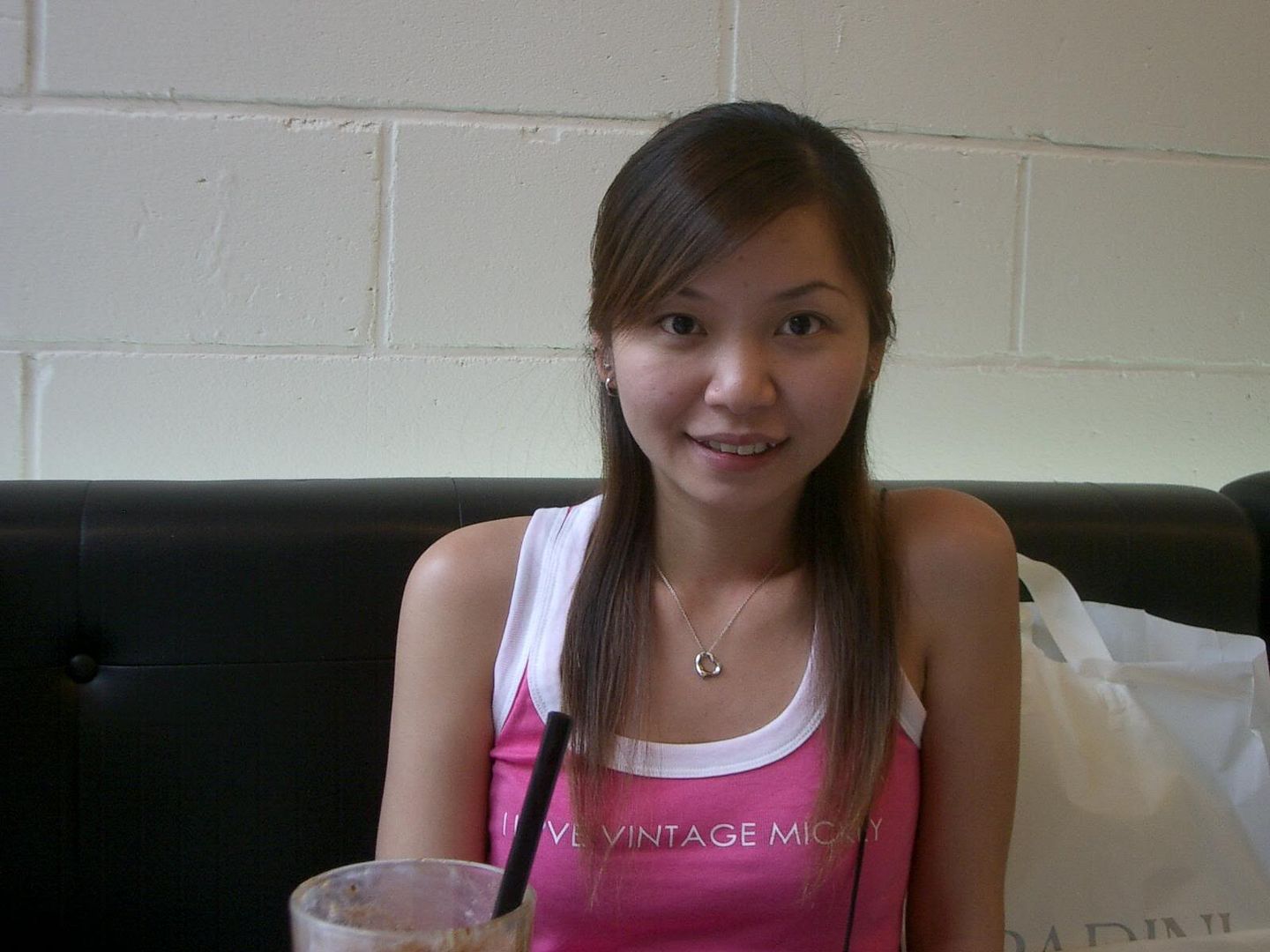 Me..Me...It's ME...


Headed back Spore at abt 6.30pm++...*Traffic jam jam*...Supposed to meet my boy 7pm, Woodlands Custom...i was late..reached at abt 7.30pm...and off we went Causeway Point for dinner..Hungry hungry again..i'm like a pig...*haha*..After dinner, we went to the amusement centre...Saw Jolin and gangs there trying to catch Minnie Mouse in Kimono suit...*keke*..Felt happy for her cos she really got it after so many try...We're all so excited for her...now she's short of the Mickey Mouse to make it a pair...Tok to her in MSN previously, she will be trying her luck tomolo for the Mickey Mouse...*Gd luck*...Soon after that i got myself a Mickey Mouse in Kimono after spending $30...*haha*...tis was a gd catch, a very heng one cos it drop from the basket...Better than dun have...so now i have a complete set le...*so happy*...my wish came true again...lucky tat i din went hm empty-handed...I'm blessed...Thks, dear for all your pampering of Disney soft toys...I'm loving it loads...



My 15th Mickey Mouse (Kimono suit)..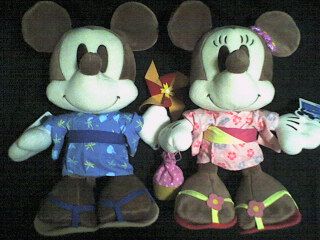 A pair..Isn't it sweet??...*Love it so muchz*...


[U]'r3 [B]eInG [L]oVed [B]y [M]3

snow fairy at 00:33;

___________________________________



Woke up quite early today...was waiting for my boy to msg/call me..dun wish to disturb him from his slp...We met up at 12pm plus...headed bugis for lunch and of cos our all time favourite amusement center...Yup!! they have new collection...Set of 7 wif photo frame...Liked the Mickey Mouse & Marie Cat the most....But we were not tat lucky cos my boy spent abt $30 and we got XX toys...*feeling sad*...It's always almost there and its drop off..*pissed off*...and then my boy suggested tat we shall go Marina Bay to take a look at the collection there but is kinda sad..the road is closed..Public transport is not allowed to drive in till 14th Aug...so we change our destination to Suntec..Went there to try our luck..Again disappointment...XX toys...my boy din give up...he wanted to go Plaza Singapura again..*haha*..In the end we got ourselves 2 Winnie the pooh...and now i got the complete set of tat collection...*shan lalalalala*...Haiz, i guess we should stop tis hobby soon...Firstly, it's an expensive hobby....secondly, my room are full of Disney soft toys can't fill in anymore...We shall see how again...

Was damn tired today..Maybe not enough slp or maybe too much traveling liao le..Fall aslp at my boy's hse two times..before dinner & after dinner...*haha*...only a pig will behave tis way.*Ooh mi gOsh*..



My 13rd Disney toys...Got it from the machine UFO catcher 800..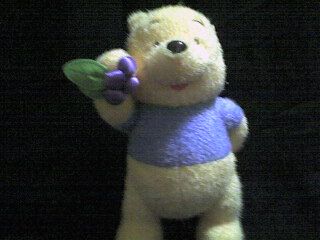 14th Disney Soft toys...the same machine..*haha*..last time we used to think tat tis machine is to earn easy money..but now ...


Flurry Collection - Winnie the Pooh


Yeap!!.. i got the complete set...


Catched the movie 'Charlie and the Chocolate Factory' on Saturday at Shaw Lido..ErmM...a quite boring movie..Rating: 2.5/5..Din really enjoy myself...Actually initially intend to watch 'Land of the Dead' but timing either too rush nor late and so...After movie we went Plaza Singapura for dinner...Went to the amusement centre there too...*haha*..no luck after spending abt $50...Went hm empty-handed...*sOb Sob*...Supposed to meet up wif Fie & bf, Tine & her friend but we got no programme so in the end we went hm sweet hm...

OoPs...is getting late...going to my dreamland soon...




[U]'r3 [B]eInG [L]oVed [B]y [M]3




snow fairy at 01:24;

___________________________________



Come to think abt it...although i'm in a gd spirit but i dun wish to see any spirit floating ard here & there....*haha*...today is the first day of the seventh month (Ghost festival)...*kinda eerie*...so i shall not hang out ard late..but if i really do either i will ask my dad to wait for me at the lift or my bf to send me to my doorstep...i feel tat the most scary part is the lift..dun dare to take lift middle of the nite alone...*haha*...watched too much horror movie liao...

ErmM...ErmMm...guess i won't be meeting my dear tonite...* :( *...cos after sch he have to meet up wif the interior designer on behalf of his parent for the design of their new house at Lakehomez...my dear wanna chop chop get it done so he can then faster faster move in...Have yet to visit their new house..but my dear told me tat his room is quite small...*haha*..shall go and take a look tis weekend if we have the time...

OOk...i shall go for my lunch break le...*haha*...i'm so bad cos i'm always blog during office hrs...*shan eat snake eat snake*...so i shall boom off to my workspace liao le..




[U]'r3 [B]eInG [L]oVed [B]y [M]3




snow fairy at 11:56;

___________________________________



Come to think abt it...my dear, Violet juz gave me shock yesterday..she purposely hide one corner and frighten me...i was badly terrify..She was laughing all the way when she saw my reaction...*so sickening*..It was so mischievous of her to do tis in the office..Tis was the second time she did tis to me...Did my revenge once b4...Told my dear abt tis...he encouraged me to give her a big shock next time....i swear i will revenge one day...We shall wait and see....Wish me gd luck!!!

Meet up my babelicious last nite @ West Mall after work...We were all busying catching up wif fie's BGR issue and we nearly forget to take our dinner...*haha*...We were all teasing her when she break the shocking news to us...*ermM..kinda expected in sum way lah*..She got a BF le...Named 'Johnny "ENGLISH"'...she told us how does it happen, how do they get to knw each other and blah, blah, blah....Sorry for all the teasing hor...u knw tat we dun mean it, rite?? But of cos we will be lovely to support u in tis relationship all the way..Gd luck!! Ended our day at abt 10.30pm....Faster go back hm, bathe, iron my clothes and blow dry my hair...Din chat wif my dear yesterday..*soB sOb*...cos he rushing to finish up sum of his sch assignment...*haiz*..starting to miz him again....

My wisdom tooth is giving me problem again...*Ahaaa....The pain is always going on & off...actually i'm trying not to go for extraction....but tis time round the pain was so unbearable till i have to call up for appointment at Alexandra hospital Dental clinic...Available schedule only on 12Sept..So now i have to bear wif it at the moment..hope tat the pain will goes off eventually...Had a very real bad experience on extraction wisdom tooth juz a few months ago...*having phobia*...fainted twice and also admitted A&E to remove my blood clot inside my mouth...But the gd things abt it was tat i got myself a 5days hospitalize leave...

oOk..i shall go back to workspace now....ta ta..




[U]'r3 [B]eInG [L]oVed [B]y [M]3




snow fairy at 11:13;

___________________________________



Try playing tis game and get sum tips on catching Disney Soft toys b4 u spend any $$ on it...



http://segaprize.com/amuse/ufo/




Ook..i shall go into my tv programme now..Americian Next Top Model...


12nd Minnie Mouse @ Causeway Point

[U]'r3 [B]eInG [L]oVed [B]y [M]3

snow fairy at 21:58;













Current mood is kinda sianz...dun really feel like waking up tis morning...*sOb soB*..no choice have to force myself up the bed and prepared...my face is always kinda aloof early in the morning...especially on monday...always feeling tired..not enough slp...was actually back hm at ard 9pm plus yesterday...but only get myself into bed at 1am...was busying chatting wif my dear, babelicious and friends in MSN till i forgot the time...*is kinda serve me rite*...haiz...i wan a long weekend...i wan PUBLIC holiday...and i knew it's cuming soon...another 4days more....*awaiting*...

Oya..received presents from my colleague again...she bought it from Bangkok...so gd of her to always pamper me wif stuffs from other countries...*keke*..i did my part too when i HK...

Haiz...i missing my dear now...*kiki*...Nvm i will be meeting my dear later to Causeway Point after my work...*haha*...wanna go and check out those disney soft toys there...later gonna buy him sum lozenges during my lunch break...Ok, i shall go for my lunch now....See ya!!




[U]'r3 [B]eInG [L]oVed [B]y [M]3




snow fairy at 11:28;

___________________________________