Woke up quite early today...was waiting for my boy to msg/call me..dun wish to disturb him from his slp...We met up at 12pm plus...headed bugis for lunch and of cos our all time favourite amusement center...Yup!! they have new collection...Set of 7 wif photo frame...Liked the Mickey Mouse & Marie Cat the most....But we were not tat lucky cos my boy spent abt $30 and we got XX toys...*feeling sad*...It's always almost there and its drop off..*pissed off*...and then my boy suggested tat we shall go Marina Bay to take a look at the collection there but is kinda sad..the road is closed..Public transport is not allowed to drive in till 14th Aug...so we change our destination to Suntec..Went there to try our luck..Again disappointment...XX toys...my boy din give up...he wanted to go Plaza Singapura again..*haha*..In the end we got ourselves 2 Winnie the pooh...and now i got the complete set of tat collection...*shan lalalalala*...Haiz, i guess we should stop tis hobby soon...Firstly, it's an expensive hobby....secondly, my room are full of Disney soft toys can't fill in anymore...We shall see how again...
Was damn tired today..Maybe not enough slp or maybe too much traveling liao le..Fall aslp at my boy's hse two times..before dinner & after dinner...*haha*...only a pig will behave tis way.*Ooh mi gOsh*..
My 13rd Disney toys...Got it from the machine UFO catcher 800..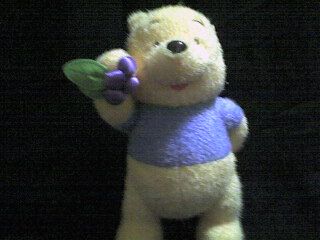 14th Disney Soft toys...the same machine..*haha*..last time we used to think tat tis machine is to earn easy money..but now ...


Flurry Collection - Winnie the Pooh


Yeap!!.. i got the complete set...
Catched the movie 'Charlie and the Chocolate Factory' on Saturday at Shaw Lido..ErmM...a quite boring movie..Rating: 2.5/5..Din really enjoy myself...Actually initially intend to watch 'Land of the Dead' but timing either too rush nor late and so...After movie we went Plaza Singapura for dinner...Went to the amusement centre there too...*haha*..no luck after spending abt $50...Went hm empty-handed...*sOb Sob*...Supposed to meet up wif Fie & bf, Tine & her friend but we got no programme so in the end we went hm sweet hm...
OoPs...is getting late...going to my dreamland soon...
[U]'r3 [B]eInG [L]oVed [B]y [M]3

snow fairy at 01:24;

___________________________________