A normal but unusual
Sunday
for me...Went Orchard for lunch and also to collect all my Tiffany & Co. stuffs...Lucky nothing is spoilt, if not..After that we went China Square..Nothing catches my boy's eye so ended up back hm empty-handed..Haiz..in the end kanna bully by him when exiting the carpark...*so bad of him*..but i knw tat he purposely wanna disturb me and bully me...So off we went back his hse to slack...Reached hm not long ago and we received a call from his mum asking us if we wanna join them to Paragon to see furniture and also to have dinner at East Coast Long Beach..Actally we dun really feel like going cos have to wait long at the resturant...But his parents would like to ask for some comments regaring the furniture...so we agreed...Spent abt 2hrs there trying and testing..In the end his dad confirm buying the dining table & chairs and sofa...WOww, even after discount oso very expensive..i guess the most expensive things was the dining chair itself..One chair costs SGD$389...*wOOw*..And his dad bought 8 of it..Can you imagine??..But thks, Uncle..(cos one of the chair is for me.)..Had our late dinner and i reached at abt nearly 12am...so tired...
Meet my boy at very later time on
Saturady
cos he's wif his parent at their new house wif their designer...Meet my boy and remus at 6pm at my area...And off we went to pick up Huishi and then off we went to Suntec 'Joaqium' for our steamboat buffet session..*haha*...Queued very long for it...But is worth it...Really loved the food there...loved all the pastry there...*loved it*...Supposed to headed KTV after dinner but we are too full and dun really have the mood to sing wif our full stomach....so we went to the amusement centre and try our luck...*haha*...
Make a guess if i got anything over tis weekends??
My damages
19th Mickey & Minnie from Causeway Point..Got tis last thursday...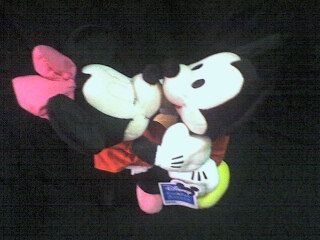 Rear View..
20th Marie Cat (Small version) from Bugis...Got it last friday...Dropped from the basket...
21st Minnie Mouse from Bugis..Got it on last friday...I declared tat i got tis myself..Finally a soft-toy tat i got it myself..So heng, i'm so proud of myself...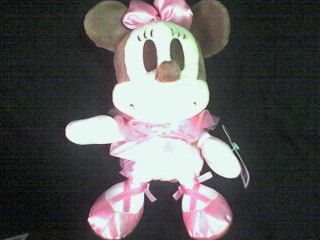 22nd Minnie Mouse (Small version) from Suntec..Got tis on Saturday...
[U]'r3 [B]eInG [L]oVed [B]y [M]3

snow fairy at 23:05;

___________________________________